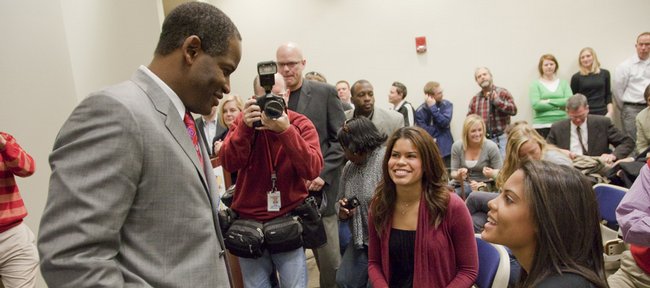 The memories most fans, friends and former teammates have of former Nebraska quarterback — and current Kansas University head coach — Turner Gill involve a heavy dose of football.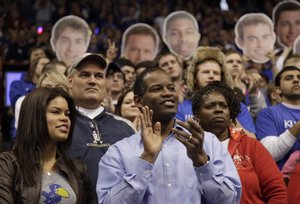 There's the famed "fumblerooskie" in the 1984 Orange Bowl, the fourth-place finish in the Heisman Trophy voting that same season and the three consecutive Big Eight titles that Gill delivered to Lincoln.
But for two people who know him perhaps better than anyone else, the memories of Gill have very little to do with football, especially on Father's Day.
Jordan Gill, 20, a junior at KU, remembers one Fourth of July when she and her father headed to a small town in Nebraska to celebrate America's birthday with family. When they arrived, the Gills hit the fireworks stand, and what happened there changed Jordan's outlook forever.
"We were with my cousins, and we went to a fireworks store, and they gave us three cart-loads of fireworks for free because of who my dad was," Jordan said. "I was kind of like, 'Whoa, this is crazy.' But little things like that kind of gave me hints that there was something with my dad going on."
Gill's younger daughter, Margaux, 15, also recalls her first encounter with the realization that her father was adored by thousands of Nebraska fans.
"I don't really remember a single moment, but it was definitely sometime during my elementary-school years," Margaux said. "Because a lot of people wouldn't believe me that he was my dad. I guess he was kind of a big deal then. It was just kind of weird because, I mean, he was just my dad."
Just 'dad'
All these years later, after successful coaching stints at Nebraska, with the Green Bay Packers in the NFL and, most recently, the University of Buffalo, Gill remains "dad" to two of the most important women in his life.
Jordan, who came to Kansas before her father, said Gill is exactly the same person she has always known, a man who values personal relationships above all and a coach whose passion for the game tends to inspire the best from the players.
"As the season goes on, we'll definitely see some different colors," Jordan said. "But for the most part, I think people are going to enjoy watching my dad coach and watching these players have fun. I think it's definitely going to show on the football field, all the excitement and all the fun they're having."
That's no surprise to Jordan or Margaux, who grew up with fun as a priority. Both can recall dozens of different occasions when their dad would take time out of his day to share a laugh or an ice cream.
"He manages the different atmospheres perfectly," Margaux says. "He has time for his family, and he has time for his work."
In those days, the Gills spent time on just about everything but football. Jordan remembers her dad teaching her the finer points of soccer, with Gill jumping in goal to help Jordan practice her shooting.
On the street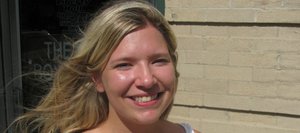 "It was really fun that he was able to help me even though I was basically uncoachable," Jordan said.
There were also dabblings with basketball, bicycles, "horse rides" — in which Gill cruised around with his daughters on his back — and even pingpong.
King pingpong
The table tennis was typically reserved for Gill and the Nebraska players he coached, none of whom could beat him.
"He definitely has some skills in pingpong," Jordan said. "A lot of the Nebraska football players, when they would come over … pingpong was the big deal, and everyone wanted to play my dad because he was really good, and nobody could beat him.
"We definitely played sports in our house. It was always fun because we would team up on him, and he would try to dodge us. He would try to soften down his athletic ability for us a little bit, but it was still fun to play with him."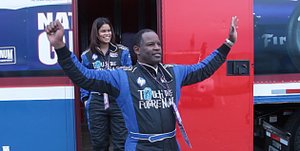 Of course, as with any father-daughter relationship, there's more to this than sports. In fact, both of Gill's daughters recalled more recent events when asked to share a memory of their father that jumps to the top of the list.
"Just a couple weeks ago, I had a soccer tournament in Virginia, so I flew there from (Buffalo) New York, and he flew there from Kansas to meet me, and we basically just spent the whole weekend together," said Margaux, who will attend Free State High and move to Lawrence at the end of July. "He was there supporting me throughout the tournament, and it was just a really fun time. We went out to dinner and just talked and watched sports. It was pretty much a weekend just for us."
For Jordan, the memory goes back a little farther, to high school, when she was nominated for homecoming queen. All of the candidates were asked to write a speech and then have someone read that speech in front of the rest of the school. Most picked teachers; some picked friends. Jordan picked her dad.
"I thought that would be special for him and special for me," she said. "He didn't choke up, but he started reading it a little slower, and I could tell that he was really touched by it. It was really a great moment in my life just because I was able to share it with him. He definitely took it in the highest regard even though it was a silly high school thing. It definitely meant a lot to both of us. Everyone else in the audience was crying, so I guess it was a big hit."
'I think it'll be great'
From here on out, the Gill girls are hoping that their dad is a big hit at Kansas. So far, so good.
The only thing left to do is win. Jordan and Margaux know that. And their take on the topic differs.
"I'm not really worried because he's so passionate about the sport, and he knows how to get his players passionate, too," Margaux said. "I know they'll play their best for him. I think it'll be great."
Jordan, who has lived and died with both KU and her dad's team for the past several years, is substantially more worried, if for no other reason than the fact that her chances at a win on Saturdays were cut in half by her dad's move to KU.
"Oh yeah, I'm very nervous," she said. "I usually have my KU team and my dad's team, and I cheer for both. And now that KU is my dad's team, it's like, 'Whoa,' double expectations on one team. I only have 12 games instead of 24. I'm expecting a bowl, though. That's my Christmas present from my dad."
More like this story on KUsports.com