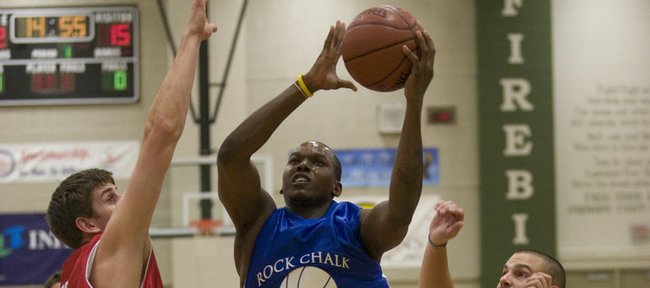 Russell Robinson has decided to shoot his way into the NBA.
"Yeah, I shoot the ball a lot more than I did when I was here," said Robinson, a 6-foot-1, 190-pound former Kansas University point guard from New York. He averaged 16.3 points a game last season while playing for both the NBA Developmental League's Reno (Nev.) Bighorns and Maine Red Claws.
"I shoot a lot better percentages and everything. I'm trying to get my game where it needs to be to be a good pro," added Robinson, a starter on KU's 2008 national title team known more for his distributing than scoring in his four-year college career.
Robinson — he'll be playing for the Indiana Pacers' summer-league team next month in Orlando, Fla., — attempted an average of 12.4 shots a game last year, including 4.3 threes per contest. Overall, he hit 44.5 percent of his shots, 37.4 percent of his treys. At KU, Robinson, who averaged a career-best 9.3 ppg in 2005-06, attempted just 5.3 shots a game and was a 40.6 percent shooter.
"Nah, I didn't play in the all-star game," Robinson said after Thursday's Rockchalk Roundball Classic, when asked if he was so honored by the NBADL.
"I had a pretty good season. In my eyes I was MVP," he said with a laugh. "I had a good season. I got better. I'm making good strides."
Robinson — he dished 5.6 assists per game in 25 games after being traded to Maine — had some breakout performances in 2009-10. He scored 34 points off 10-of-20 shooting (four of eight threes, 10 of 11 free throws) against Dakota. He had 27 points against Fort Worth and 26 points in games against Idaho and Utah.
He realizes he's getting to the point he needs to stick with the Pacers or perhaps head overseas, like former KU players Keith Langford and Sasha Kaun, who both are making over $1 million per year in Russia.
"They made it clear to me there's an opportunity there," Robinson said of the Pacers. "I just have to go out there and play well. This is the summer. We'll see how it goes. I'll play my cards from there. Hopefully I'll be in the NBA. If not, I'll be somewhere making money."
Robinson worked out with the Pacers on Thursday morning then hustled back to Lawrence for Thursday night's charity game, arriving at Free State High for the second half.
"It's always fun to be back and see the fans happy (and) get some love," Robinson said. "This goes a long ways. It helps me out throughout the season," he added of receiving KU fans' support.
Former KU and NBA center Scot Pollard wouldn't be surprised if Robinson makes the Pacers' roster.
"I said when I played pick-up with him as a freshman ... I went home and said, 'Russell Robinson is a pro,''' Pollard said. "So far I've been wrong. I think he has the head for it. He may be a little short, but I think he's got the game. It remains to be seen. He's going to have to catch on a team that wants him and needs him. He won't survive if he's stuck on a team behind two or three guys. If he finds the right situation, I believe he can stick."
Perkins hosts tourney
KU athletic director Lew Perkins on Friday hosted a golf tournament at Alvamar to benefit Douglas County Special Olympics.
More than 100 supporters competed.
Proceeds from Perkins' Golf Classic help fund purchasing of sports equipment, uniforms and travel for the local program.
"For me personally, Special Olympics is an organization I've been involved with for over 30 years," Perkins said. "I can't tell you how much I admire Special Olympians for what they have done with their lives. My wife, Gwen, and I feel very strongly about what the organization does, and we want to do whatever we can to help."
More like this story on KUsports.com