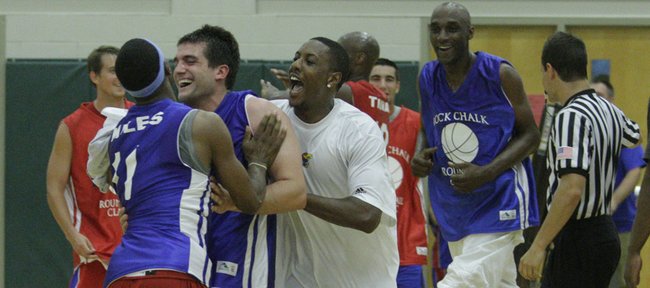 Mario Chalmers, who, as all Kansas University basketball fans know, has a flair for the dramatic, lofted a three-point shot from the corner with time running out in a tie game in Thursday's Rock Chalk Roundball Classic at Free State High.
This time — unlike the 2008 national championship game — the long-distance attempt missed, but was tipped in by teammate Stephen Vinson, allowing Chalmers' Blue team to tame the Billy Thomas-led Red squad, 93-91.
"We were trying to do the same play we did to win the 2008 championship," said the 6-foot-1 Chalmers, who hit a three to tie Memphis at the end of regulation, before KU rolled over the Tigers in overtime.
"The Red team started hacking and playing all types of crazy defense, so we reverted to something else," added Chalmers, who finished with 29 points off 11-of-28 shooting.
It mattered not that it appeared former KU guard Vinson might have scored after the final buzzer.
This KU all-star game was for laughs and also for charity. All proceeds benefited a pair of local families affected by cancer.
"It's like being with brothers," Chalmers said. "Our '08 team is like brothers. It's good to be playing with Russell (Robinson, eight points) and D-Block (Darnell Jackson, 13 points) and see some of the old players who were here my freshman year like Moody (Christian, 19 points) and Steve Vinson (six points)."
Chalmers, who just completed his second season with the Miami Heat, remains a hero in Lawrence.
"Not 30 seconds, if that" Chalmers said, asked how long it takes for somebody to recognize him here and ask him about "the shot" versus Memphis. "I had somebody on the plane come up to me before we landed. It's always fun to come back here. I'm a familiar face."
He'll be back for his second-annual National Championship Golf Classic — July 23 at Alvamar — to benefit his foundation.
"It never gets old," Chalmers said of returning to Lawrence.
He was able to compete against KU's current players in Bill Self's campers game on Wednesday at Horejsi Center. He's also participated in some pick-up games.
"Tyshawn is my protégé. When I came in here, I had people to look up to, so when Tyshawn came, I was the person he kind of looked up to," Chalmers said of junior Tyshawn Taylor. "For us, it's kind of personal. I try to make him better because he's kind of my protégé."
On Wednesday, in the alumni's 20-point loss to the current Jayhawks, Chalmers was impressed with KU's frontcourt players, including Marcus Morris, Markieff Morris, Jeff Withey and Thomas Robinson.
"When I played here, it was most of the guards doing the work, until Darrell (Arthur) got here," Chalmers said. "It's different now. The bigs are doing most of the scoring, and the guards most of the playmaking. The bigs were the ones who stood out (in campers game)."
Darnell, Russell in town
Jackson and Robinson arrived after the opening tip of the Roundball Classic.
Jackson flew back from Milwaukee, where he's a member of the Bucks' summer-league team. Robinson hustled back from Indianapolis, where he's a member of the Pacers' summer-league team.
"They made it clear to me there's an opportunity there," said the 6-foot-1 Robinson, who averaged 16.3 points a game for NBA Developmental teams in both Reno, Nev., and Portland, Maine, this past season.
"I just have to go there and play well. That's what I'm going to try to do this summer."
Former KU teammate Brandon Rush plays for the Pacers.
"I would love to be his teammate," Robinson said. "It'd mean me being in the NBA. Hopefully I'll be in the NBA next year."
The 6-foot-9 Jackson, meanwhile, was picked up by Milwaukee after being released by Cleveland.
"I just got here. I drove fast from the airport. I was probably doing 105 (mph)," Jackson said. "Nah, I was going the speed limit, wearing seat belts. I've been in Milwaukee since the end of March. It looks real good. All I can do is keep working out every day. Hopefully it'll pay off at the end. Nothing is guaranteed until after summer league. After that we'll find out what's going on with me and Milwaukee."
Charity game highlights
Former KU guard Billy Thomas, who has officially retired from pro basketball after playing for Maine in the NBADL this past season, scored 22 points off 9-of-22 shooting. ... New Perry-Lecompton basketball coach Jeff Hawkins, who hit a 40-footer, scored 15 points. ... Christian Moody, who just completed his first year of medical school at KU, scored 19 points. He and his wife recently welcomed baby boy William into the world. ... Former KU center Scot Pollard, who hadn't played pick-up basketball in over a year, scored 17 points and had several dunks. "I was surprised at the dunking part. I didn't know that was going to happen," Pollard said. "The rim got close enough so I could put it down." ... Of teammate Vinson tipping in the game winner, maybe after the buzzer, Pollard said: "Yeah, the Blue team won. I don't think it was rigged. I think he (Chalmers) missed on purpose, and it was a heck of a tip by Stephen." ... Aaron Miles, who played in Greece last year and now makes his home in Lawrence, had five points and numerous assists and might have had the most fun of anybody playing. He said he's not sure where he'll surface next season. "Whatever God wants me to do. I'm happy whatever comes my way," Miles said. "Definitely if the opportunity presents itself in the NBA, that is what I'd love to do. If I have to go overseas again, I love that as well." ... KU staff member Brennan Bechard came out sizzling, hitting his first three threes en route to 11 points. ... Lester Earl, who like Pollard hadn't played pick-up ball in a long time, dropped in 10 points.
Charity game scoring
Red team: Billy Thomas 22, Christian Moody 19, Jeff Hawkins 15, Brad Witherspoon 11, Brennan Bechard 11, Darnell Jackson 13. Blue team: Mario Chalmers 29, Scot Pollard 17, Lester Earl 10, Russell Robinson 8, Stephen Vinson 6, Aaron Miles 5. Note: 18 points scored by Sarah Buckels, a fan who won contest and played in the game.
More like this story on KUsports.com