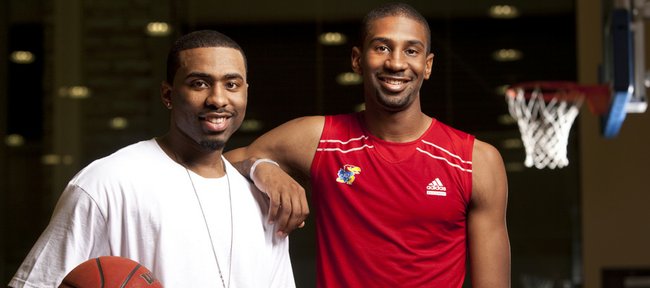 Kansas University sophomore walk-on Justin Wesley tried to keep his eye on the basketball at all times during Wednesday's Bill Self campers game in Horejsi Center.
Photo Gallery
Bill Self camp alumni scrimmage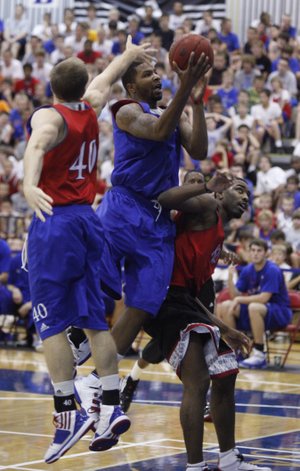 Current Kansas basketball players scrimmaged against former players for the Bill Self's basketball camp's alumni game.
That proved an impossible task since one of his teammates on KU's Red Team happened to be his role model and "hero" — older brother, former KU standout Keith Langford.
"When I watch him play, I'm always amazed. He's somebody I look up to and try to model my game after," said Wesley, a 6-foot-8, 205-pound transfer from Lamar University, who scored two points to his brother's nine in the Red team's 65-45 loss to the Blues.
He watched with great interest as 6-4 shooting guard Langford hit three of nine shots just a few days after returning from Russia, where he spent the last eight months competing for Russian Super League team Khimki Moscow.
"I kind of wanted to play against him just from a competitive standpoint," Wesley said. "It was still fun playing alongside of him."
Truthfully, it was fun just being in the same building.
"Growing up, he was the father figure in our house. Being away from him was hard. Seeing him was a breath of fresh air," Wesley said.
The 26-year-old Langford, who is KU's seventh-leading scorer of all-time, averaged 15.5 points, 3.5 rebounds and 3.0 assists while helping Khimki to a second-place finish (to former KU center Sasha Kaun's CSKA Moscow team) in the Euroleague.
"It's crazy because now I've gotten to play with both of them now," Langford said of his younger brothers, Wesley and Kevin Langford, a former TCU small forward.
"In high school, Kevin was a freshman on the (North Crowley High, Fort Worth, Texas) varsity. I got to play with him a little bit. Justin was out here today.
"Last night, I was watching him play pick-up. Seeing him go from a little guy to being here and experiencing all this ... how many people in the population really get to go through the special thing we have here at KU?"
Langford said he is "extremely excited" to have his sibling follow in his footsteps.
"It just happened he started out at Lamar. A lot of times in recruiting, a situation doesn't go as always promised. It's kind of what happened with Justin, and long story short, it was a dream of his to come here. I made a call to coach (Bill) Self. Justin is definitely a project to take on so it's a fit for both sides."
Keith realizes his brother is taking a gamble walking on at a school with a roster full of talented players.
"When I arrived at KU in 2001, who would have thought I'd come away seventh-leading scorer? That was never in my wildest dreams," Langford said. "If you want to go by scouting reports and websites and all that stuff, you never can do that. If a guy fits, if the guy has potential, has tools, you never know what can happen here. Christian Moody (nine points for Red team), myself, Jeff Hawkins (three points) ... there's a lot of different stories and ways things can work out."
Keith wouldn't let Wesley come here if he didn't think it'd be the experience of a lifetime.
"I mean, Justin's father passed away when he was young," Langford said of Wesley, who has the same mom, different dad. "Being in the house, I had to be there for my younger brothers. It's more a responsibility thing. The thing about him is he listens. That's part of the reason he is here now."
Wesley has followed brother's career closely. He watched Langford play in the Final Four in 2002 in Atlanta and 2003 in New Orleans.
"When Keith was here, I always used to come to the games. I can't even tell you how many, but I went to a lot," Wesley said. "I used to love coming here. Once Keith graduated and time went on, I started to miss it. Being here is awesome — a great feeling."
Keith said he had a positive experience in completing the first year of a $2.3 million deal in Moscow.
"It is an incredible city. A lot of people look at me crazy when I said I liked it better than (playing in) Italy," Langford said. "You can get everything from Papa John's to Applebee's and TGI Fridays. Everything is in English."
As far as development of his own game ... "Individually, I had a really good year trying to continue to make a name for myself in the European market," Langford said. "In the Euroleague, we advanced pretty far, losing to Sasha in the finals. It was a good year."
He wishes the alumni and KU newcomers on the Red team could have kept the score closer against KU's returning players. Mario Chalmers led all scorers with 15 points. The Blue squad was led by Marcus Morris and Conner Teahan, who had 11 each. Winner was first team to 65 points.
Woolridge's knee OK: Newcomer Royce Woolridge scored seven points off 3-of-3 shooting for the Reds. He hit one three.
The 6-3 guard is feeling better after getting hurt in one of his first pick-up games in town.
"I strained a muscle in my knee. I iced it three days, and now I'm good," he said. "Mine was a day before Josh (freshman guard Selby, who broke his left pinkie in pick-up). I was on the sideline watching him. He comes out his first game and just messed up his pinkie."
Selby will be out of action three more weeks. "We're hoping to speed it up," he said of the four to six week recovery time.
"It's a lot of fun. The community is great," Selby said of Lawrence. "People communicate with you, say hi to you. They welcome you in."
Mario leads way: Chalmers, who just completed his second season with the Miami Heat, had 15 points off 6-of-13 shooting. He sank three three-pointers.
"I forgot how easy it was in college to dunk," said Chalmers, impressed with Tyshawn Taylor ramming a dunk after a steal. "You see I can't jump like that any more. It was fun for us, the campers, everybody."
This, that: Sophomore center Jeff Withey, who had eight points, concluded the scoring with a hard dunk. He blocked Christian Moody's shot twice. ... Elijah Johnson hit three threes. ... Three players hurt in last week's campers game were back in action. Marcus Morris hit three of four shots and finished with 11 points; Markieff Morris iced a three and had nine points; Thomas Robinson had eight. ... Former Tulsa guard Tony Heard played for the Red team. He's here this week working his former college coach's camp. ... Chalmers and Langford are headline performer in tonight's Rock Chalk Roundball Classic charity game, set for 7 p.m. at Free State High.
Box score: Red team: Mario Chalmers 15, Keith Langford 9, Christian Moody 9, Royce Woolridge 7, Jeff Hawkins 3, Justin Wesley 2. Blue team: Conner Teahan 11, Marcus Morris 11, Markieff Morris 9, Thomas Robinson 8, Elijah Johnson 9, Jeff Withey 8, Tyshawn Taylor 5, Travis Releford 3, C.J. Henry 2. Blue team score is off one point.