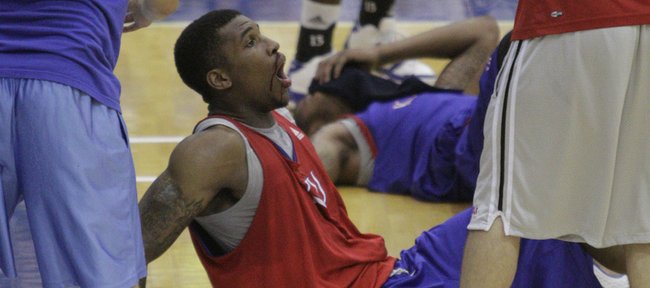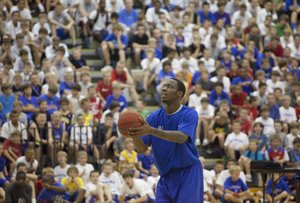 Thomas Robinson looks in the mirror and still likes what he sees these days.
"I've got a slight fracture, but it's not too bad," Robinson, Kansas University's sophomore forward from Washington, D.C., said of the nose he broke in Wednesday's Bill Self campers game in Horejsi Center.
"It hurts when it gets touched, but other than that, I'm still cute," Robinson added, laughing.
The 6-foot-9, 237-pounder ran into 6-9, 240-pound junior power forward Markieff Morris in the paint.
Morris suffered a cut in his mouth that required three stitches to close.
Earlier in the camp game, junior forward Marcus Morris suffered a bruised tailbone after running into Robinson and tumbling to the floor.
"My teammates had a talk. We got it together, what we're going to do, how we're going to play, so it's not going to be as physical," Robinson said of Wednesday's second and final camp game in which KU alumni are welcome to play.
Jeff Hawkins and Brad Witherspoon were the only two former Kansas players who competed in what turned out to be a glorified intrasquad scrimmage last week.
"There's a lot of joking going around that people are battling for slots (in the 2010-11 rotation) already," Robinson said. "We are competitive. It got a little physical. That's what happens."
Robinson — he's 19 pounds heavier than this time last year — was jarred by the contact with Markieff .
"He was coming in one direction. I was going in the opposite. It was a big coincidence," Robinson said. "It was nose-to-nose. It felt like somebody hit me without me looking at them."
Robinson does not need his nose set and doesn't need to wear a mask while playing.
"They gave me the option to wear it. I think I'll pass on that, though," he said.
He certainly wasn't looking forward to calling home and telling his mom and sister he'd broken his schnoz last week.
"My mom probably wanted to fly down here, but she probably gets worried about me jamming my pinkie," Robinson said with a smile.
"It's not a big deal. They tell me to keep playing hard, that's all."
It took three of Marcus Morris' teammates to help him off the court after his contact with Robinson.
"It's better," Marcus Morris said of his back. "The day it happened, I could barely walk. I think it was the immediate pain that really hurt me. I'm getting better. It was very scary."
Robinson, who averaged 2.5 points and 2.7 boards in 7.2 minutes a game his freshman season, sees himself playing on the block again this year.
"I think I'm a 4 (power forward)," he said. "Coach (Bill) Self is in charge of my position right now, and I know myself I'm not ready to be a 3 (small forward). I will continue to do whatever I can to help the team, and right now, it's playing the 4.
"I have to bring what I was recruited for. I kind of lost touch with the kind of player I was last year. I'm a rebounder. I play hard. I bring energy, which this year is what I'll have to do. I think I've improved a lot. I would say coach Self has matured me so much this past year that I'm ready for anything."
He hopes to help make up for the loss of center Cole Aldrich, who elected to enter the NBA Draft after his junior season.
"Cole keeps in touch a lot. Cole has become a mentor to me, basically," Robinson said. "He talks to me about what I need to do."
Lee to Oregon: Former KU guard Michael Lee has been hired as the assistant director of basketball operations at the University of Oregon.
Lee, who went to high school at Jefferson High in Portland, Ore., spent the last two seasons as an assistant coach at Gardner-Webb. He played at KU from 2002-05 and was a student manager with the Jayhawks in 2007-08.
Lee played professional basketball from 2005-07, including stints with the Harlem Globetrotters, Entente Orleans in Orleans, France, the IBL's Vancouver Volcanoes in Canada and the USBL's Kansas Cagerz in Salina. Lee's graduate basketball career ended when nerve damage in his right shoulder forced him to stop playing competitively.