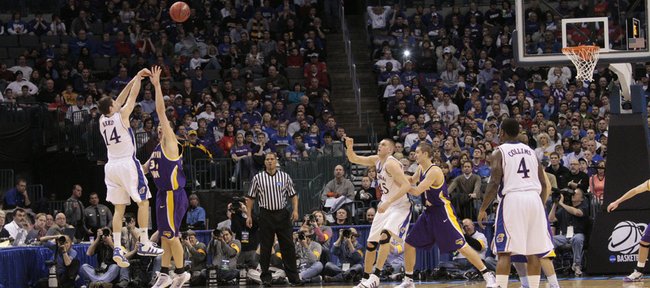 Tyrel Reed didn't say anything about it at the time.
But it turns out Kansas University's 6-foot-3 guard from Burlington played two games in last year's NCAA Tournament with a broken big toe on his left foot.
"I broke it in the Big 12 championship game against K-State," Reed revealed Sunday after signing autographs for three hours at Bill Self's basketball camp.
"I was guarding one of their guys, (Denis) Clemente or (Jacob) Pullen, and jammed my toe into the back of their shoe or something.
"It's one of those things the adrenaline gets going, and it's not near as bad. When you are walking around, it's sore and hurts, but once you get out there playing ... it wasn't terrible," added Reed, who hit four of seven threes and scored 12 points while playing 16 minutes in a first-round victory over Lehigh. He scored eight points off 3-of-6 shooting (two of four threes) in 26 minutes in a loss to Northern Iowa.
"They told me, 'It's going to hurt. It's not going to be comfortable to play at all,' but we have a great training staff. They weren't putting me at risk or anything by playing," Reed added. "It's one of those things that was going to be painful, but once the season was over I knew I'd have time to rest it."
He did not need surgery — just a month's worth of treatment and rest — for the toe to completely heal.
So why the secrecy during the NCAAs?
"I mean, you're trying not to tell people, so if another team hears about it, they may come step on your toe or something like that," Reed said.
"It's here-nor-there, really," he added, asked if the toe affected his play. "I was out there playing, so I've got to do my best job no matter what."
Senior Brady Morningstar said he had no idea Reed had a busted toe entering the NCAAs.
"After the season, he couldn't do individuals (workouts) and stuff," Morningstar said. "I said, 'Why can't you do 'em?' He said, 'My toe is broken.' I said, 'Why didn't you tell me?' He said, 'I don't know.' It didn't surprise me at all. He's a tough little country kid."
KU coach Bill Self certainly appreciated Reed's effort.
"He's a stud. He's as tough as any kid around," Self said. "The thing about it is, late in the season everybody is nicked up. I don't want to give him too much credit because he had no option but to play. There's no option.
"Anybody else who had that injury would have played, too. He's certainly very tough, and his performance wasn't the least bit compromised because he was injured."
Reed averaged 5.1 points with 39 assists against 15 turnovers last season. He hit 49.6 percent of his shots, including 44 of 93 threes (47.3 percent) while playing 15.6 minutes a game.
"He played so well last year. I think he's going to play better this year," Self said Sunday. "I'm so impressed with the progress he's made."
Uncertain time: Several KU players offered comments on the Big 12 realignment situation Sunday.
"I definitely couldn't imagine it," junior Marcus Morris said of KU not being in a major conference. "From being there so many years, and they (media) were talking about us moving to the Mountain West ... it would really be a big twist on that.
Morris said "not at all" when asked if he would have reconsidered his decision to attend KU if the Jayhawks had been in a league besides the Big 12.
"It is funny how everything is going and everything is happening. It will be amazing to see how everything finishes out. Wherever we go, however things end up, I'm still a basketball player," Morris said.
"I would still have come (to KU)," sophomore Jeff Withey said. "I think no matter what we are going to get into a good conference. KU has the reputation of being a really good athletic school. I think for us it won't be a big problem getting into any other conference.
"The Big 12 obviously was a huge conference for football and basketball. It's a shame it's going away if it does go away," Withey added. "You never know what's going to happen. I have no idea what's going to happen."
Reed and Morningstar said there'd be a strain on KU athletes if they are playing in the Pac-10 or Big East.
"With as much traveling as they are talking about, it'd be tough to stay up on your schoolwork," Reed said. "They (players) would be gone for longer periods of time."
"If it's the Pac-10 and all those trips, I think it would be hard," Morningstar said. "Travel is a huge part of your schedule. You are scheduling around classes and everything, which is why you have the conferences because they are in your area. Moving conferences and playing a whole bunch of East Coast or West Coast games ... that could be tough on kids."
No Jayhawk was willing to commit Sunday to being part of a possible student-athlete lawsuit against the NCAA. It's been speculated athletes might want to protest being used as pawns by schools out to get the best possible TV deals.
"I am a little upset. The NCAA has some flaws to it, of course everything does," Withey said. "It's a hard thing. You have to go through the whole story before anything (like a lawsuit) happens."
Noted Reed: "I'm sure somebody would probably try it somewhere down the road. I don't know if I would myself. I don't think I would. I don't know. It's just too bad, really. I love the Big 12. I've been fortunate enough to play in it, and now everything's getting changed."
Morningstar was able to keep his keep his sense of humor: "Are people thinking about doing that?" he asked of suing. "I mean, if we all got a fair share … "
Self believes there's a chance the Big 12 will remain intact
"Not knowing everything going on, I think there is hope," he said. "I think some things certainly have to happen. There have to be some really good discussions in the very near future. I do think there's hope. I know our commissioner is trying hard and has a game plan, and I know our athletic director is definitely working all angles. But that is something we would all love to see happen. I think our commissioner is pulling all stops. Of course, TV plays a huge role in that."
More like this story on KUsports.com