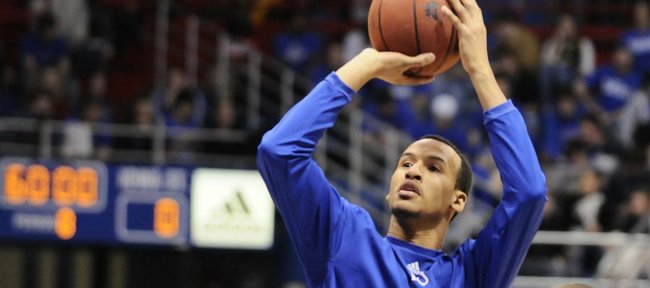 Kansas University sophomore basketball guard Travis Releford has one goal in mind when he hits the gym for individual, off-season workouts.
"The focus is on my jump shooting — the pull-up jump shot," said Releford, a 6-foot-5, 205-pounder out of Roeland Park's Bishop Miege High School.
"If I can make open shots, I'll be able to play."
He smiled when asked if pick-up game reports — and reports from last year's practice sessions during his red-shirt season are true — that his range has improved dramatically.
"It's true," Releford said. "Confidence has a lot to do with it, not really changing my form, but little touch-ups on it (shot). I think red-shirting helped me a lot. I built up a lot of confidence and improved my shooting and all aspects of my game."
He recently showed how determined he is to work on his jumper when he was spotted by an onlooker shooting on his own at night in Allen Fieldhouse with the lights off.
"Yeah, I've been in there several times alone," Releford said. "It's not pitch dark. I can see the rim. I'm just trying to get better and willing to do whatever it takes to help my team any way I can. Defensively, offensively I want to do whatever it takes."
He's following the advice of coach Bill Self, who encouraged Releford to work on his shot during his red-shirt campaign.
"We recruited Travis and said, 'He's pretty good. All he needs to do is work on his stroke,''' Self said. "He has worked on his stroke. He is a natural scorer. He is a high-level defender. He has a chance to challenge for a starting spot."
Releford — who along with the rest of his teammates worked Self's parent-child camp on Saturday in Allen Fieldhouse, Horejsi Center and KU's practice facility — said Self has told him, "you can help the team a lot next year if you continue to improve. He told me to keep doing what I've been doing to become a better player and make my teammates better."
Releford's chances of significant playing time improved dramatically when Xavier Henry decided to turn pro after one season and recruit Terrence Jones elected to attend Kentucky instead of KU.
"With Xavier leaving, I wish him the best," said Releford. "I wasn't really paying attention to all the recruiting and who was coming in. I was hearing about it but not listening to it. It played out well for me. We'll just take it and run with it."
Releford is one of two red-shirts to be back in action this season. Senior guard/forward Mario Little is expected to vie for a starting slot.
"I'm very close to Mario. We had a whole year to sit beside each other on the bench to get to know each other," Releford said. "Mario's going to be real good. Taking this year off and competing with each other, being on the same team, seeing his improvement on ballhandling and jump shooting, he's going to be real good."
Little returned the compliment: "Travis has made a big jump from a confidence level. I feel Travis will be great playing the 3 (small forward), the 2 (shooting) guard, just like me playing the 2, 3, 4 (power forward) or wherever I'll be at."
Releford — he said he's also improved his ballhandling for drives to the basket — will not be the only member of his family playing college ball next year. Little brother Trevor will be a freshman point guard at Alabama.
"He should be a real good player. He should have fun there," Travis said, admitting that there was a time he considered transferring from KU and joining his brother in 'Bama.
"I talked to him about it a few times. It wasn't really a big deal," Travis said. "I'm happy here."
Pollard's take: KU's basketball players would have to endure several long road trips in a given season if the Jayhawks join the Pac-10 or Big East or enter into an expanded league with Mountain West teams.
Former KU center Scot Pollard said that issue is overblown.
"Airplanes go really fast," Pollard said Friday night at Self's Basketball Boogie at College Basketball Experience in Kansas City, Mo. "After spending 11 years in the NBA, I know it's not really that hard getting from one time zone to another. College athletics with the big dollar amounts they are involved with these days ... it will not be that difficult. They will bring more tutors on the road because there will be more dollars involved. College athletics is going to be a lot different in the next few years and years to come than in the past."
Rock Chalk Classic on Thursday: The second-annual Rock Chalk Roundball Classic will be held at 7 p.m.,Thursday at Free State High. The benefit basketball game, featuring Pollard, Mario Chalmers, Darnell Jackson, Russell Robinson and others, will raise money for two Lawrence families currently fighting cancer. There will be photo and autograph opportunities after the game. Fans will have a chance to win autographed jerseys of each player.
Fans can purchase tickets in advance at the Great Plains Media studios on west 6th Street, the 23rd Street Brewery, Signs of Life, St. John's Catholic Church, Heartland Community Church and Lawrence First Church of the Nazarene. For more information search "Rock Chalk Roundball Classic" on Facebook or visit KLWN.com. Send email questions to bhanni@lazer.com. To learn more about the beneficiaries, log on to fosterhopeinitiative.com and selflessgenerosity.com.
More like this story on KUsports.com