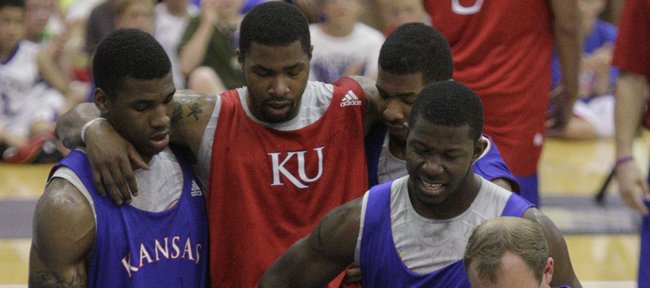 With Jeff Hawkins and Brad Witherspoon the only Kansas University basketball alumni available, Wednesday's annual Bill Self campers game turned into a glorified intrasquad scrimmage.
It turned out to be a mighty physical Jayhawk pick-up game, the Tyrel Reed-led Blue squad outlasting the Reds, 65-62, before 800 youths and about 100 curious fans in Horejsi Center.
"It was pretty competitive. I mean, we had guys getting hurt, guys playing hard like we do every night," senior guard Reed said after scoring 24 points (9-of-12 shooting).
The Burlington bomber hit six threes — he also had a spectacular bucket after driving the lane — in a game in which three Jayhawks suffered what apparently turned out to be minor injuries.
KU junior forward Marcus Morris, who scored 10 points for the Red team, tumbled to the floor after getting hit by Thomas Robinson about 10 feet from the goal. Morris landed on his back and had to be carried off the court by three teammates. Self said Morris has a deep tailbone bruise and likely would be out of action until Wednesday's second and final campers game of the summer.
Meanwhile, sophomore forward Robinson and junior forward Markieff Morris ran full speed into each other in the paint. Robinson suffered a broken nose and is expected to have no contact workouts for at least a week. Markieff suffered a cut in his mouth that required three stitches to close. His nose survived the contact intact. He's not expected to miss any time.
"It's just guys being competitive and playing hard. That's all that is," said junior guard Tyshawn Taylor, who exploded for 25 points off 10-of-14 shooting for the Reds. He also had several passes for alley-oop dunks and hit the lane and baseline for assorted layups.
"Everybody wanted to win so everybody was playing hard and things happen. They'll be all right, though," Taylor added.
Self didn't watch the scrimmage in accordance with NCAA rules, but heard about it and checked in on the walking wounded afterward.
The injured list also included two freshmen who watched from the bench: Royce Woolridge, who is out a few days after tweaking his knee in a pick-up game; and Josh Selby, out four to six weeks with a broken little finger suffered in a pick-up game.
"I guess Thomas Robinson played with great energy because he kind of hurt Marcus, then he and 'Kieff ran into each other and hit noses," Self said with a smile. "Thomas got the raw end of the deal. Marcus has some ice on his back or his butt. They are going to be fine, but they are pretty beat up. They are probably going to be out a couple days."
Reed said bragging rights are always involved when the Jayhawks hit the court.
"Every time you play you want to try to put on a show, but I'm just going out there playing normal like I do, just trying to play hard," Reed said.
Taylor likes the free and easy style of pick-up action.
"I think it's a lot easier to play when you can just play. It's more fun, and you can just play without coaches. It's a lot easier to do that. I can just do whatever," Taylor said. "Really, I didn't want to lose that game. We were down by a lot (13) and we came back and competed."
Self said he believes Taylor will have a stellar junior season after a so-so soph campaign.
"Last year Ty was in position he may have felt more pressure playing because he wasn't playing quite as well as what he'd hoped at times," Self said. "I think he's so talented. I expect him to have a big, big year for us."
The game, by the way, was first team to 65. Elijah Johnson (four points) hit the final bucket — a 15-footer — to conclude the action.
Self on realignment
Self on Wednesday said he has been thinking a lot about conference realignment.
Videos
Big 12 conference realignment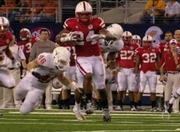 Nebraska is expected to officially announce it is leaving to join the Big 10 Conference on Friday. As many as six other schools may be leaving the Big 12 as well.
"It is, quite honestly, all that I can think about right now," he said. "I believe at the end of the day it could be a great thing for Kansas and all the schools in the Big 12. If we are able to stay together, the conference will be stronger than it ever has been. If it doesn't stay intact, I think we (KU) will be fine, but there's some serious nervousness with me personally. We could potentially be left behind in a worst-case scenario, and then the landscape of our athletic department changes overnight. That's the reality of it. I believe we have to be prepared to fight to make sure that doesn't happen."
He does not like the idea of four mega-conferences of 16 or so teams each.
"You will be down to four power conferences, and they will control all the money. This almost seems like a monopoly-type deal," he said. "I don't think anybody in the purest form of sport would think that's a good thing."
Camp game scoring
Blue team (65): Tyrel Reed 24, Markieff Morris 11, Mario Little 9, Elijah Johnson 4, Brady Morningstar 5, Thomas Robinson 5, Niko Roberts 5, Jordan Juenemann 2. Threes: Reed 6, Morris 1, Little 1, Roberts 1.
Red team (62): Tyshawn Taylor 25, Marcus Morris 10, C.J. Henry 9, Jeff Withey 7, Travis Releford 6, Jeff Hawkins 4, Thomas Robinson 2. Threes: Taylor 3, Morris 2, Henry 1.
Note: Box score is one point off. Robinson played for both teams.
More like this story on KUsports.com