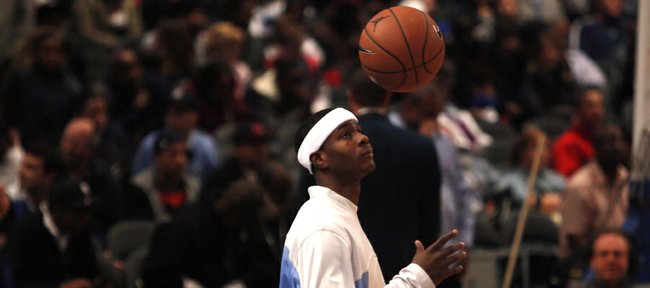 Incoming Kansas University freshman point guard Josh Selby arrived for his first official interview session with local media members Tuesday afternoon sporting a bulky cast on his left, non-shooting hand.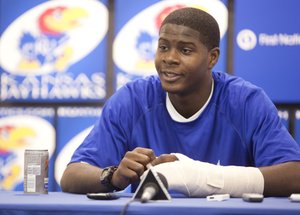 The country's No. 1-ranked basketball player in the recruiting class of 2010 broke his pinkie Monday while playing in a pick-up game at KU shortly after arriving from his hometown of Baltimore.
Selby, who said he first hurt his hand playing pick-up back home, did not need surgery. He'll miss four to six weeks of pick-up action.
"I was always told, 'If you are hurt, you can still play,''' Selby said. He recently continued playing in an IS8 tournament game in New York, flushing home an alley-oop dunk shortly after suffering a tear in his right hand that required nine stitches to close.
"The only time you really can't play," Selby added, "is when you are dead."
The 6-foot-3 McDonald's All-American out of Lake Clifton High realizes this injury will require sitting out more than a month. Selby, whose cast will be on four weeks, with two weeks of rehab to follow, will attend six hours of summer-school classes and also "keep conditioning, work on my body and do a lot of ballhandling drills" in that span.
Selby — he said he'll be rooming with KU team manager Douglas Compton in Jayhawker Towers — has had a whirlwind couple of days.
He graduated Saturday, attended a huge family dinner Sunday and reported to KU on Monday.
"It was an emotional day for my family," Selby said of Monday's travel day. "Not really for me, because I wanted to leave Baltimore (because of high crime rate), but they didn't want to see me go so early.
"My mom was crying all the way to the airport, so my brothers had to drive me. She sat in the back seat."
Selby's mother, Maeshon, admits she had a tough time saying goodbye to her son, who will wear No. 32 here in honor of his mom, who wore that number playing ball in high school.
"You always know it's coming, but not as fast as it did," she said in a phone interview, referring to her only child leaving for college. "I already miss him. A lot of people around here already miss him.
"In our family, if you are a friend, you are family," she added, explaining Josh's use of the term 'brothers.'
"He claims about three that are brothers. Josh has a big heart. Once you are in with him, you are in. There is no gray area."
Maeshon, who reports that she plans to move to Lawrence before the 2010-11 season if she can find suitable work here, indicated her son's injury will be just a minor setback.
"The only call that will surprise me if somebody calls and says Josh can't find a gym," she said.
Selby realizes there's a lot of work ahead as he embraces taking over for former KU point guard Sherron Collins.
"I do feel pressure because Sherron Collins left with a lot of things: He was the winningest player to play in college," Selby said of KU's all-time winningest player. "He was on that team that won the '08 national championship. It's going to be very hard to do, but I think I can fill his shoes."
He said he talked to Collins a lot, "during the season, not after. I guess after that loss (to Northern Iowa in NCAAs) he was down, so we lost contact."
Selby said he observed some interesting things about Collins, Self and KU's fans while attending KU's game against Iowa State last winter in Allen Fieldhouse.
"He can be your friend one day, but he can also get on you. He can push on you and make you work hard," he said of coach Bill Self. "He was in Sherron Collins' head a couple times, fussing at him. He also patted him on the back and said, 'C'mon, let's go.'
"When the team was down, I think Sherron Collins missed a wide-open layup. Instead of booing him, they (fans) cheered him. He made some big plays after that," Selby added, lauding KU's fans who he said, "make you feel like it's your home. You really don't miss your home when you get here."
Selby said his goal is to immediately lead, just like Collins.
"Getting the guys involved, into the game, bring the heart and bring the energy," Selby said of his goals.
"I think it is unusual," he added of a freshman being the floor leader at a tradition-rich school like KU, "but there's some things you have to do. Hopefully I don't play like a freshman this year."
Selby — he said he has closely followed the careers of Carmelo Anthony and Dwayne Wade and in fact speaks with Anthony a lot — insists he's not in a hurry to join them in the NBA.
In the past, he has indicated his dream is to be a "one-and-done" player.
"I am not thinking about the next level now," Selby said. "I am thinking about what's happening right now, which is Kansas. We are worried about winning a national championship. If I get to the next level, I get to the next level, but it's not my main focus."
KU's players and coaches are happy to have Selby aboard.
"I mean, I heard he's good. I've seen some YouTube stuff of him," senior Mario Little said. "Hopefully he'll come humbled and ready to play for Kansas. There have been so many great point guards here at Kansas. We'll be backing him up. I'll tell him little things. Tyshawn (Taylor) will tell him little things. We're going to help him out. It is probably going to be a lot of pressure coming to a university like this and trying to put a team on your back, especially a point guard."
Noted assistant Danny Manning: "It's yet to be determined exactly what his role will be and the impact he will have, but we do think he will be someone who has an impact from Day One. He has a very vibrant personality. He competes at a very high level. Just those two things alone will help our team come together with the loss of Sherron, Xavier (Henry) and Cole (Aldrich)."
Assistant Kurtis Townsend likes the way Selby already is blending in.
"The guys like him. He likes the guys. He's really a good player, a good replacement for Sherron, we think," Townsend said.
Head coach Bill Self has mentioned the fact Selby is the highest-rated player he ever has recruited. KU's coach is not at all down over the fact it'll be six weeks before Selby hits the court running.
"Unfortunately, Josh broke his left hand pinkie after he got to KU last night while playing pick-up," Self said Tuesday. "Even though the cast will be on four to six weeks, he will be able to do his skillwork with limited shooting. We're disappointed, but this is a very small setback in the big scheme of things."
A very small setback.
"I'm excited to be at Kansas," Selby declared. "I just love it here."
His mother added: "I know he's excited to be at KU. I don't know if he's ready for college. It's come so fast. I hope he's ready."