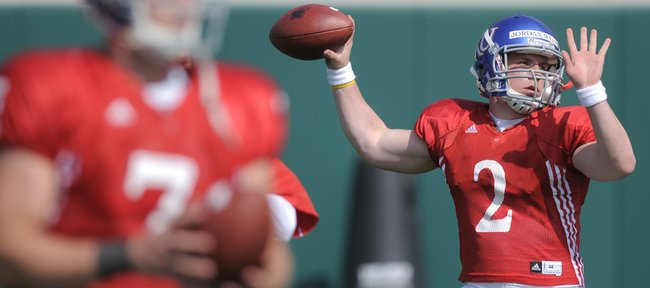 Let the countdown officially begin.
The Kansas University football team will open the 2010 season — and the Turner Gill era — against North Dakota State at 6 p.m., Saturday, Sept. 4 at Memorial Stadium.
That information, along with the start times for three other non-conference games, was released Monday by the KU athletic department.
In addition to opening in the evening on the first Saturday in September, KU will play host to Georgia Tech at 11 a.m. on Sept. 11, will play at Southern Miss at 7 p.m. on Friday, Sept. 17 and will play host to New Mexico State at 6 p.m. on Sept. 25. The NDSU and NMSU games will air on the Fox College Sports network, while the game with Georgia Tech will be shown on Fox Sports Net. KU's Friday game at Southern Miss will be broadcast on ESPN.
Sept. 4 NORTH DAKOTA STATE 6 p.m. FCS
Sept. 11 GEORGIA TECH 11 a.m. FSN
Sept. 17 at Southern Mississippi 7 p.m. ESPN
Sept. 25 NEW MEXICO STATE 6 p.m. FCS (K-Club Weekend)
Oct. 2 *at Baylor TBA TBA
Oct. 9 Bye Week
Oct. 14 (Thurs.) *KANSAS STATE 6:30 p.m. FSN
Oct. 23 *TEXAS A&M; (Homecoming) TBA TBA
Oct. 30 *at Iowa State TBA TBA
Nov. 6 *COLORADO TBA TBA
Nov. 13 *at Nebraska TBA TBA
Nov. 20 *OKLAHOMA STATE TBA TBA
Nov. 27 *vs. Missouri 11:30 a.m. FSN (at Kansas City, Mo.)
Home games in ALL CAPS
All times are Central
Newcomers report today
Several signees from the high school Class of 2010 will report to campus today, when they officially will become members of the KU football program.
The group that will forever be known as Gill's first class includes 18 commitments who signed with the Jayhawks in February and a couple of walk-ons.
Some arrived on campus earlier, but the rest are expected to show up today. Many of them are set for the start of summer school.
Highlighting the class: four-star running back Brandon Bourbon, 6-foot-2, 205 pounds from Potosi, Mo., and four-star wide receiver Keeston Terry, 6-2, 179, from Blue Springs, Mo.
The crew also includes 12 three-star players, including local walk-on Josh Smith, from Hutchinson High, a running back who has 4.5-second 40-yard dash speed and starred at a school that won six consecutive state championships.
Camps continue
Gill's high school camps move forward, with Day 2 of the Overnight Team Camp, which features some of the top high school players from around the area.
The camp season opened Sunday with a one-day skills camp and will continue throughout the month. The team camp runs through Wednesday and will be followed by: The Jayhawks in Wichita Skills Camp, June 10; NFC-AFC Youth Camp, June 12; Skills Camp II, June 13; KU Kicking Academy, June 18; Friday Night Lights camp, June 18; 7-on-7 Tournament Team camp, June 19; O-Line/D-Line Camp, June 19; and Kansas Jayhawks Quarterback Academy, June 20.