Phil Steele won't be surprised if Alabama is the No. 1-ranked college football team in the country when the Associated Press preseason poll comes out in August.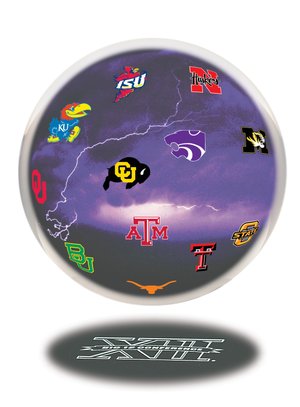 It's just that Steele, one of college football's most well-known analysts, simply doesn't agree.
The Cleveland-based Steele, whom many pundits laud as writing the most informative summer magazine and making the most accurate preseason picks, has a bold prediction for next season that involves the Big 12 Conference and next fall's top team.
Steele's No. 1? Oklahoma.
The same Oklahoma that finished 8-5 last season and played in the Sun Bowl.
"A lot of folks have been criticizing the pick, saying, 'How can you take a five-loss team and pick them No. 1?'" Steele said by phone on Thursday. "This was not done for sensationalism. It's a team I feel has the best shot at winning the title."
It'd be tough to find many people who surround themselves with college football more than Steele. When football isn't going on, he still devotes 55-60 hours per week — "that's a light week for me," he says — to his business. During football season, Steele spends 85-100 hours per week watching games and crunching numbers.
In the last few weeks, Steele's OU pick has been a hot topic on countless blogs, Facebook status updates and Twitter posts on the Internet. His 2010 college football preview magazine, which fully explains the choice, will hit newsstands on Tuesday.
Steele pointed to many facets of coach Bob Stoops' Sooners team that he likes for next season.
"Oklahoma suffered through an injury-plagued season after starting the year at No. 3," Steele said. "They had 42 starts lost to injury. That led the nation. If you factor in what they have coming back, they have an experienced quarterback (Landry Jones) and offensive line, and an experienced wide receiver corps led by Ryan Broyles. Then if (running back DeMarco) Murray stays healthy, look out. This is a tremendous offense. Then the defense is one of the top defenses in the country."
Of OU's five losses last season, four of them were by a touchdown or less. Two of them were by one point.
The Sooners do have a challenging non-conference schedule next season, with a home date against Florida State and a road trip to Cincinnati. Both teams are expected to be in the Top 25.
"OU has a great shot at going 12-0," Steele said. "I don't think it's off the wall too much. The only reason they may not be in the Top 10 (in AP preseason poll) is the fact that they lost five games last year. But that's due to injuries and four close losses."
The Big 12 should have three teams ranked near the Top 10 next season in Oklahoma, Texas and Nebraska. Will any other teams challenge them for conference supremacy?
Below are capsules that include information from three magazines (Steele, Lindy's, Athlon) on where they project each Big 12 team to finish in the standings next season. Let the debate begin.
Big 12 North
Nebraska
Steele: 1st in North
Lindy's: 1st in North ("The Huskers are convinced they're back from years of national irrelevancy. Certainly, they again appear to be the strongest team in the Big 12 North.")
Athlon: 1st in North ("The questions on offense remain. The Huskers have a favorable schedule with an intriguing road date at Washington and both Texas and Missouri at home. If the passing game improves, Nebraska could win the Big 12 and possibly play for the national title.")
Missouri
Steele: 2nd in North
Lindy's: 2nd in North ("The Tigers have a healthy returning quarterback [Blaine Gabbert] with as strong an arm as you'll find in college.")
Athlon: 2nd in North ("The defense loses [linebacker] Sean Weatherspoon, but seven starters return. The Tigers face a key four-game stretch in the middle of the year, starting with a road game at Texas A&M and including a trip to Nebraska that will decide the North title.")
Kansas
Steele: 4th in North ("I think [coach Turner] Gill is a quality coach. He steps into a better schedule this season. They have a better shot at improving on last year's record despite not being as talented.")
Lindy's: 4th in North ("Quarterback is the least experienced position on the field. Gill promises to run the ball, which takes pressure off the quarterback, but puts pressure on a line that will be asked to dominate the line of scrimmage.")
Athlon: 3rd in North ("Turner Gill was a quality hire, and the potential exists for a quick turnaround. KU began 5-0 last season and lost three games by a touchdown or less ... The Jayhawks underachieved last year; a bowl appearance this season wouldn't be a surprise.")
Colorado
Steele: 3rd in North ("They have a shot at finishing up there. They have Iowa State at home, K-State at home, Baylor at home. They don't have to play Texas.")
Lindy's: 6th in North ("It looks more like a 'break' than a 'make' season for coach Dan Hawkins.")
Athlon: 4th in North ("The Buffaloes lost their final three games — all against bowl teams — by eight points or less. There's promise in Boulder, but there are enough distractions about the coaching situation to prevent a winning year.")
Kansas State
Steele: 5th in North ("They probably have more talent this year than last year. It's the second year of [coach Bill] Snyder's system. [Running back] Daniel Thomas is back. But the schedule is not as easy. They only have three Big 12 home games. One's against Nebraska and another is against Texas.")
Lindy's: 5th in North ("The Wildcats are paper thin. Any string of injuries will make success very difficult.")
Athlon: 5th in North ("The Wildcats were one of last season's biggest surprises, nearly winning the Big 12 North. However, this was a team that struggled on the road last season, and five key conference games are away from Manhattan this year ... Bill Snyder can work miracles in Manhattan, but the Wildcats will likely fall short of the six-win mark.")

Iowa State
Steele: 6th in North ("It comes down to their schedule. They draw Oklahoma, Texas and Texas Tech out of the South, three super squads. And OU and Texas are on the road. I have their schedule rated as the toughest in the country.")
Lindy's: 3rd in North ("The Cyclones return almost everyone, including three-year starters at quarterback [Austen Arnaud] and tailback [Alexander Robinson]; their production and health will hold the key to the season.")
Athlon: 6th in North.
Big 12 South
Oklahoma
Steele: 1st in South
Lindy's: 2nd in South ("Expectations remain the same in spite of massive talent drain...and Sooners can meet them.")
Athlon: 1st in South ("Road dates at Missouri and Texas A&M could present some trouble, but the Sooners will find a way to win the Big 12 South.")
Texas
Steele: 2nd in South ("I rate them as the best defense in the country. My biggest question is the offense ... The new quarterback, Garrett Gilbert, has nowhere near the experience level of Colt McCoy.")
Lindy's: 1st in South ("Even with the loss of [safety] Earl Thomas, the Longhorns might have the best secondary in the nation.")
Athlon: 2nd in South ("Cerebral, hard-working and relentless are terms his teammates have used to describe Gilbert, who has a bigger arm and better pocket presence than McCoy.")
Texas A&M
Steele: 3rd in South ("I love the explosiveness on offense. I rank them the No. 9 offense in the country. They get Texas Tech at home. and that could be for third in the South.")
Lindy's: 3rd in South ("An offense that ranked fifth nationally in 2009 returns an abundance of play-making position players, including [quarterback Jerrod] Johnson, who could become the first A&M quarterback to earn first-team all-conference honors since 1991.")
Athlon: 3rd in South ("The Aggies should have no trouble scoring points, but if they want to challenge Texas and Oklahoma in the Big 12 South, the defense has to show marked improvement.")
Texas Tech
Steele: 4th in South ("I'm not saying [Mike] Leach is a better coach than [Tommy] Tuberville. But it's going to be different. Tuberville didn't recruit these players. He said he's going to keep the same offense, but run the ball more. That might limit the effectiveness. Tommy was a great hire, but it might take him a year to get everything down.")
Lindy's: 4th in South ("Departed [defensive] coordinator Ruffin McNeil embraced a bend-but-don't-break philosophy. Enter James Willis, fresh from overseeing linebackers at national champion Alabama.")
Athlon: 4th in South
Oklahoma State
Steele: 6th in South ("They're the least experienced team in the Big 12 this year.")
Lindy's: 5th in South ("A new quarterback, an almost entirely new line and a new offensive scheme could really swell the learning curve.")
Athlon: 5th in South
Baylor
Steele: 5th in South ("If you look at the schedule, there are tough games, but winnable games, like Kansas, Kansas State at home. [Coach Art] Briles has a shot at getting them to their first bowl game since 1994.")
Lindy's: 6th in South ("For Baylor to break its 15-year bowl drought, quarterback Robert Griffin [torn ACL last season] must prove that his knee can withstand the punishment that Big 12 defenses will deliver.")
Athlon: 6th in South