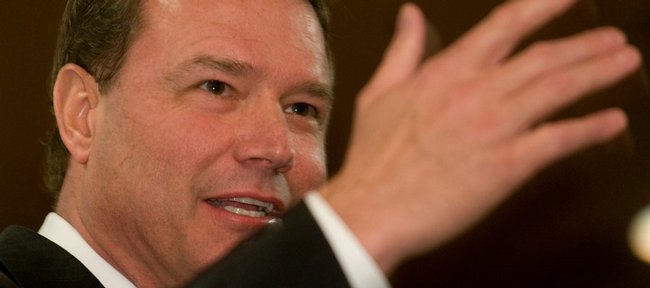 Bill Self stands behind his boss, Lew Perkins, during this trying time for Kansas University's athletic director.
"The biggest thing is I want what's best for our university. I want what is best for our athletic department and I want what's best for our basketball program, and I believe Lew Perkins can provide the leadership at a time when we need strong leadership to do what's best for our school," Self, KU's basketball coach, said.
He took 30 minutes out of an unusually busy Friday — the first day of his weekend Elite camp for blue-chip high school prospects — to meet with the Journal-World in support of Perkins. KU's seventh-year AD is under university review regarding allegations from a former employee that Perkins received exercise equipment in return for access to better basketball seats.
"This conference deal is a big-time concern," Self said of talk that five Big 12 South schools plus Colorado may be invited to the Pac-10 and reports the Big Ten might land Texas, Missouri and/or Nebraska. "One reason why I feel strongly we are going to be OK is because I think we have the right guy fighting for us. I think with Lew's experience, contacts and knowledge of the college environment and the vision one needs to move forward ... I am glad Lew Perkins is our athletic director.
"Lew brings a pretty big bat to the plate. People will listen to him," Self added. "That is evident since he's been here how some things have been achieved. He has talked to me about conference realignment for six months. He said, 'Bill, this is a big deal.' This is not news to him. This is not a time we need to be half-stepping. We need to have somebody in there fighting hard."
Self said that man should be Perkins.
"One thing I know about Lew is he will not run and hide and will do what he needs to do and will make sure the department does what it needs to do to win the trust back of our faithful alums," Self said.
"It's easy to feel the frustration. Heck I feel it. I think everybody associated with the university feels it, but it's not the time to throw in the towel. It's not time to quit fighting and certainly not the time to jump to conclusions.
"If there are problems, and we obviously have problems, so we've got to address them, whether it be individually or department-wise," Self added. "If you fast forward this, 10, 20 years and look back, I think there will be a lot of coaches, a lot of student-athletes well pleased they have these facilities and have the ability to train, to be educated in what we believe to be the best of the best from a facilities standpoint.
"Certainly there's been some things that have happened that have been disappointing like in all businesses. There's been decisions made not popular with some, but you also look at it...where would we be if in fact Lew was not here the last seven years? Would we have the facilities? Would we have doubled our budget and maybe changed the recruiting landscape forever at our university? I really believe we owe a lot to his leadership."
Self has not encouraged Perkins to get KU aligned with any new conference.
"As far as geography and natural rivalries, this league is great for us," Self said of the Big 12.
Yet, KU has no power to stop schools from leaving the 15-year-old league.
"I'm selfish when it comes to our program. I do not want to see schools leave," Self said. "We will survive no matter what, but I think for our chances to compete at the highest level ...it's imperative we keep a BCS Conference alignment."
He said he can understand why reports indicate the Pac-10 would only be looking at Texas, Texas A&M;, Texas Tech, Oklahoma, Oklahoma State and Colorado.
"Geographically those others probably fit better when you stop and think," Self said. "Oklahoma is probably not going without Oklahoma State. The Texas schools will probably not go without each other. And Colorado is closer. I can see why there would be an attractiveness to those schools. From my vantage point, personally, we are definitely tied in with Kansas State. I can't see us doing something unless K-State is in on it as well."
What about Missouri?
"I don't know about Missouri and Nebraska and all those things. I believe there's obviously talks and talks could become serious (with Big Ten)," Self said. "It could be a situation where everybody is investigating and it could stay status quo or it could change the landscape of college athletics totally."
The long-standing KU-MU rivalry would be jeopardized if the teams enter different conference alliances.
"Personally, if it was up to me, I am not going to be so upset that I'd never play (MU again). I would do what's for the good of our athletic department. That would have to come with consultation of administrators."
Self was asked if "the Big 12 could be saved?"
"Very easily if one school says, 'Let's make this work.' Let's just call it like it is, Texas carries the most weight in my opinion," Self said. "You've got three of the top 10 television markets, an unbelievable budget, you've got easy travel, flying directly into a big city. You have a lot of things that Texas can obviously sell. To me, Texas carries a big, big, big stick in this fight."
Would Self encourage Texas to announce that the Longhorns want to stay put?
"I think that would be great if they do that. But I'm not in on the meetings. I don't know the financial ramifications. That'd be a question for the presidents," Self said.
In a worst-case scenario, KU, K-State, Iowa State and maybe Nebraska could be left standing alone to join some conference like the Mountain West.
"We will be fine no matter what," Self said of the third-winningest program of all-time, "but I do think the conference realignment could certainly make the landscape different over the way we've had it over the last 50 years."
Perkins is the one man left to sort it all out and do the negotiations needed for KU to remain in a BCS Conference.
"We all know this is a delicate time right now and understandably so," Self said, "but it is not a time with so many different things going on that we keep the eye off the big picture prize and the big picture is we need as strong a leadership as we can have going into the changing college climate and conference affiliation. We need to get to the bottom of our internal problems so we can move forward. I know everybody at KU is excited about the future."
Self applauds conference for keeping hoops tourney in K.C.
The Big 12 announced Friday that the postseason basketball tournament will remain in Kansas City, Mo., for the next four seasons.
"That's good," Self said. "I thought Oklahoma City did a good job of hosting the Big 12 tournament, but not like Kansas City. I think K.C. is the premier host. Kansas City has always been a great supporter of the postseason tournament dating to the Big Eight. With the success of Missouri, K-State and us, it guarantees a great crowd."
More like this story on KUsports.com