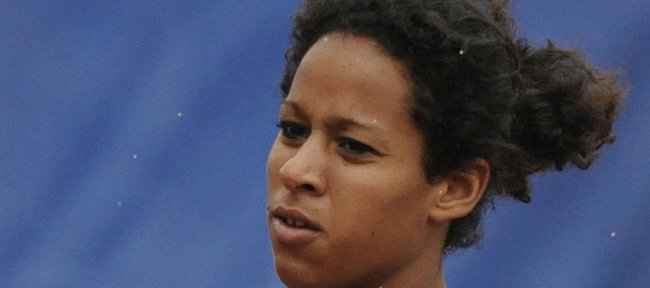 Kansas University senior Lauren Bonds is used to winning.
This fall, she won nearly every race she entered for the KU cross country team, and she also has won her share of races with the indoor and outdoor track squads during her time at Kansas.
Heck, even her earliest memories of running involve crossing the finish line in first place.
"I can vaguely remember my first race," Bonds said. "I was in kindergarten, and it was 400 meters, which is so long when you're that age. It was definitely a struggle, but I think I won just because everyone's bad when they're that age."
With so many victories to her credit, it seemed out of place when Bonds admitted to being surprised after setting a KU record by winning last week's 1,500-meter run at the NCAA Outdoor Championships-West Preliminary meet in Austin, Texas.
"My mind-set was definitely survive and advance entering the race," Bonds said. "I knew there were a lot of great runners in my heat, so I just tried to finish as well as I could."
That she did, in 4:15.98, and by doing so she earned a spot at next week's NCAA championships in Eugene, Ore., where she'll close out her KU career before moving on to law school at Duke University.
Last month, Bonds accepted the Robert Frederick Female Scholar Athlete of the Year Award at the Jayhawk Senior and Scholar Athlete Banquet. That same night she won two other awards, the Prentice Gautt Big 12 Postgraduate Scholarship Award, which she shared with teammate Eric Fattig, and the Senior Athlete of the Year honor, given to 10 Jayhawks.
Bonds leaves KU with a cumulative grade-point average of 3.93, something she hopes will serve her well at Duke. Like winning the 1,500 last week — a feat she also accomplished at this year's Big 12 meet — law school was not always on Bonds' radar.
"I kind of came to law school in a round-about way," she said. "I was really interested in the social-justice areas of what I was learning. So when it came down to thinking about what I was going to do when I graduated, law school just seemed like the most interesting of all the options."
Bonds, an All-American during the indoor track season, earned degrees in political science and history at KU, but the only history she's interested in this week is her own.
After her freshman year, Bonds competed at the junior national meet for USA Track and Field. She knows that option is there if she chooses to pursue it after college. But before reaching that point, she's focused solely on finishing her KU career in style.
"I'm kind of at the crossroads with that," Bonds said of running after college. "Law school next year is going to be a huge time commitment. But I think (running) is something that's possible if I stay organized and manage my time well. A lot of it's just going to come down to how it goes with my last race."
Running a good 1,500 in Eugene might be enough to inspire Bonds to call it a career. However, Bonds has yet to hit the qualifying mark of 4:12 to be eligible for this year's USA Outdoor meet. She hopes she'll achieve that mark at nationals.
"(It's) going to be another big jump," Bonds said, referring to the fact that her best time at KU is nearly four seconds too slow. "But Eugene is the perfect place for that. It's awesome weather and usually no wind. The hay's in the barn. I'm just working on getting rested and staying sharp."
The NCAA Championships are scheduled for June 9-12 at Hayward Field. Bonds' first run will come June 10. She'll run again on June 12 if things go well.
More like this story on KUsports.com