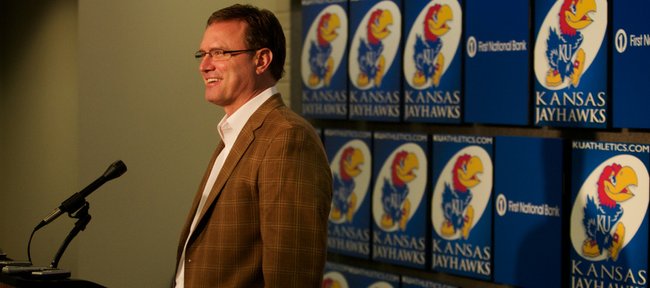 Bill Self would disagree strongly with anybody who says AAU basketball players have been funneled to Kansas University.
"You'd think Kansas, with the history and tradition we have, has done a pretty good job recruiting guys on its own," said Self, set to begin his eighth season as Jayhawk coach.
He was willing to comment Tuesday on the issue of Dana and David Pump summer team-sponsored players playing for KU.
That's been a hot topic since a Yahoo! Sports story quoted Lawrence real estate developer David Freeman saying he, former KU director of ticket operations Rodney Jones and KU grad Roger Morningstar followed the instruction of the California-based Pump brothers when the five allegedly made money scalping tickets during the 2002 and '03 NCAA Final Fours.
The story — which did not accuse Pump N Run of any impropriety in sending players to KU — did mention that Morningstar coached KC Pump N Run teams in the past. Also, it mentioned that, since 2002, Pump-sponsored teams have featured at least nine players who have played at KU, including Mario Chalmers, Elijah Johnson, David Padgett, Omar Wilkes, Jeff Withey and KC Pump N Run alums Tyrel Reed, Travis Releford, Brady Morningstar and Conner Teahan.
"I don't want to say it's offensive because in recruiting at a high level, people do make assumptions," Self said "The one thing I will say from an assumption standpoint, though it didn't state there was any funneling going on, it could be interpreted that was a possibility. By no means in this situation is that remotely accurate. This is a situation where the people in question haven't had anything to do with the recruitment of any of our prospects since we've been at Kansas."
Self went through the list of Jayhawks who played for Pump-affiliated teams. The KC team is sponsored by adidas, not receiving any money from the Pumps.
"Two players were recruited before we got here, and they did play for the L.A.-based Pump N Run," Self said of Padgett and Wilkes. "Since then, we've gotten seven players that have a Pump N Run-affiliation name. Four of them are from Kansas City: Tyrel's dad worked KU camps for 25 years; Brady, whose dad attended Kansas and was a player and family lives in Lawrence; Travis, who grew up in Kansas City; and Conner, who is a walk-on for us, born and raised in Kansas City. I think our chances to recruit them would be pretty good regardless of what affiliation they had basketball-wise.
"Mario Chalmers did play for the Alaska Pump N Run team, coached by his dad. I feel Mario, his mom and dad had a lot to do with that recruiting process," Self added. "The last two are the only two guys we recruited who played for the L.A.-based Pump team. Jeff Withey played a total of two tournaments. His primary AAU team is BBO out of California. Elijah played a total of three tournaments with the L.A.-based team, and his primary team is the Las Vegas Prospects. Those are the facts."
Self added: "I want to make it very clear I do not think there's absolutely anything wrong with having a relationship with people that have contact with prospects. That is the definition of recruiting, whether it be high school coaches or AAU coaches, but in this particular situation, they (Pumps) are not coaches, and the Pump teams are sponsored by adidas. It was put out there that there could be funneling of players. I'm here to say that certainly has not been the case."
It was pointed out in last week's media reports that Self and athletic director Lew Perkins have attended the Pump brothers' summer retreat in California.
"I have spoken at it twice in 10 years. I've attended it along with many others and very well may speak at it again," Self said. "It's one of the best professional development clinics we go to. We hear from great speakers and listen to ideas that may help your ballclub. All proceeds go to cancer research."
KC Pump N Run coach L.J. Goolsby told the Journal-World last week that his program has sent more players to Missouri than KU. He said KC Pump N Run has sent players to Big 12, Pac-10, Missouri Valley, SEC, ACC, Southern Conference, Northeast Conference, Horizon League, Ohio Valley, Mid-Con and Mountain West schools.
"Kids that grow in Kansas City should want to play for Missouri, K-State, Kansas," Self said. "The AAU programs in our area are very, very strong. I think they are very reputable nationwide. I think the (college) coaches that come in contact with these (local) groups see that these coaches are in it for the right reasons and try to do things the right way."
More like this story on KUsports.com