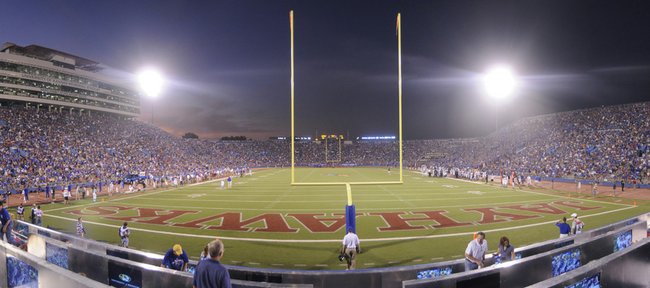 Reader poll
Yes

35%

769 votes

No

58%

1275 votes

Undecided

5%

129 votes
2173 total votes.
Fans of the annual Sunflower Showdown between the Kansas University and Kansas State University football programs won't have to wait quite as long to see this year's game.
KU officials announced Tuesday that the 108th edition of the Sunflower Showdown, originally scheduled for Saturday, Oct. 16, would be moved to Oct. 14 and would be shown on national television on Fox Sports Net.
Game time is set for 6:30 p.m. in Lawrence.
KU athletic director Lew Perkins said the change would bring great exposure to KU.
"It is exciting for this in-state rivalry to be featured nationally with the television exposure of a Thursday night game on FSN," Perkins said. "This telecast will showcase the city of Lawrence and our great university."
The KU-K-State football series is the nation's fourth-longest uninterrupted series in the country. The two teams have played 98 straight years beginning in 1911. Kansas leads the all-time series 65-37-5, including a 37-15-2 mark in games played in Lawrence.
Kansas had won four of the last five meetings, including three straight before Kansas State defeated the Jayhawks, 17-10, in Manhattan last year. KU has won three consecutive matchups in Lawrence, including a 52-21 victory in 2008.
KU coach Turner Gill said he was excited about the schedule change for this year's contest.
"This gives us a chance to show the nation the great support of Kansas football fans," Gill said. "It also benefits our students since school will be out Thursday and Friday."
The Thursday game will be the second non-Saturday kickoff for the Jayhawks this fall. KU also will play a nonconference game at Southern Mississippi on Friday, Sept. 17. That game will be televised nationally on ESPN.
The Jayhawks open the season Sept. 4 at home against North Dakota State.
Additional times released
They might not have announced plans for conference expansion, but Big 12 officials Tuesday revealed an early look at the 2010 television schedule.
Eighteen games have been chosen as part of the Big 12 rights package, and Kansas University will be a part four of them.
Nonconference games against Georgia Tech (11 a.m., Sept. 11, at home) and Southern Miss (7 p.m., Sept. 17, away) will be shown on FSN and ESPN, respectively. Conference showdowns with Kansas State (6:30 p.m., Oct. 14, at home) and Missouri (11:30 a.m., Nov. 27, at Arrowhead Stadium in Kansas City, Mo.) also will be shown on FSN.