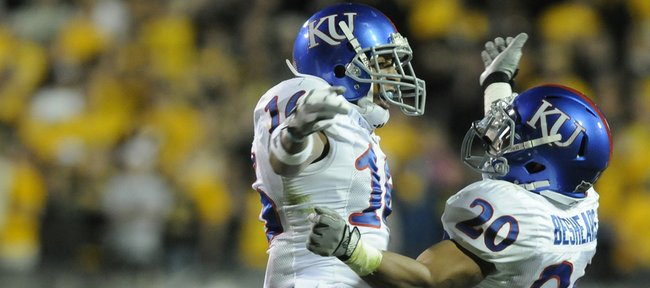 Kansas University cornerback Chris Harris possesses just about everything a coach could possibly want from a senior leader.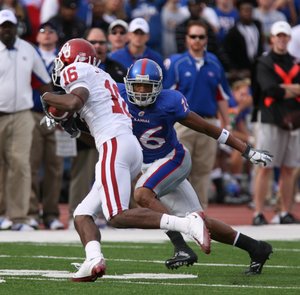 Big-game experience? Check. As a true freshman, Harris was the starter opposite Aqib Talib in the Jayhawks' Orange Bowl victory against Virginia Tech.
Respect from his teammates? Check. Harris, a 5-foot-10, 190-pound senior from Bixby, Okla., said Wednesday at Big 12 media days outside of Dallas that not a day has gone by when an underclassman or two has not come up and talked to him about assignments, expectations or the position in general.
"All the freshman corners, they come to me and say, 'Why do you do it this way,' and 'What do you do here,' and I'm happy to help," Harris said. "They're the future of Kansas football."
Fire and passion? Check. Off the field, Harris has a smile and demeanor that brings positive energy to any situation. On the field, he transforms into a warrior possessed by physical football. Somehow, even though he wears a helmet while he stalks the field, his wide grin can still be seen stashed behind his facemask as he roams around the secondary.
During his three years at Kansas — a period of time that has taken him from cornerback to safety to nickel back and even to the bench — Harris has played in 38 games, started in 29 (most on the active roster), recorded 208 tackles and picked off three passes. In addition, he has two sacks, two fumble recoveries and five tackles for loss.
During last year's 5-7 season, he started all 12 games and, at season's end, shared the team's Don Fambrough Award for unselfishness with Kerry Meier, largely because no matter how many times Harris switched positions, the smile always went with him.

"I'm pretty happy with my career so far," he said. "It's been pretty solid. But I'm just waiting for this year. I expect a lot out of myself this season, my family expects a lot out of me this season, coach (Turner) Gill expects a lot out of me this season. So I gotta come through."
The way with which Harris said the last part of that sentence put into perspective the urgency that the cornerback is starting to feel as his final season in Lawrence draws closer.
"Man, it's gone by so fast," he said of his time at KU. "It's just hard to believe. It's so different now. I watched other guys and learned a lot from them throughout the years, but it's just crazy how fast your turn comes up."
Despite Harris being one of the most experienced and accomplished Jayhawks on this year's roster, he'll be going through a lot of firsts with his teammates this season.
For starters, there's first-year coach Gill, hired away from Buffalo last December to take over for Mark Mangino. It didn't take long for Harris to fall in love with his new head coach and, like many of his teammates, Harris has been re-energized by Gill's presence, attitude and approach to football.
"He's definitely a loving coach who wants the best for us," Harris said of Gill. "A lot of coaches in college football are like robots. But he actually cares for his players and wants the best for us."
Second, for the first time in years, the Jayhawks won't have to face all-world quarterbacks Colt McCoy (Texas) and Sam Bradford (Oklahoma), both of whom were drafted into the NFL last April.
"Oh yeah. That's definitely a relief," Harris said. "Those two are just awesome players. Sam has to be the best player I've ever played against. Easily. It's still going to be hard, their backups were pretty good. (OU quarterback) Landry Jones basically played the whole season and (Texas QB Garrett) Gilbert, he looks like he's pretty good, too. There's always going to be good quarterbacks in the Big 12. That's just the way it is. So there won't be any days off this season. But I won't miss those other guys."
Lastly, Harris will take the field Sept. 4 for the season opener against North Dakota State determined to end the seven-game losing skid that the Jayhawks endured to close out 2009.
"(That) was so tough because it felt like we were so close to winning so many games," Harris said. "Stuff wouldn't go our way. That was the tough part. It would have been different if we were getting blown out every game. But we were in a lot of games.
"I've never been a part of losing seven games in a row. I'm just ready to get a win."
Harris and the Jayhawks report to camp Tuesday. The first official practice of his senior year is scheduled for Wednesday.
— KUsports.com Big 12 blogger Eric Sorrentino contributed to this report.