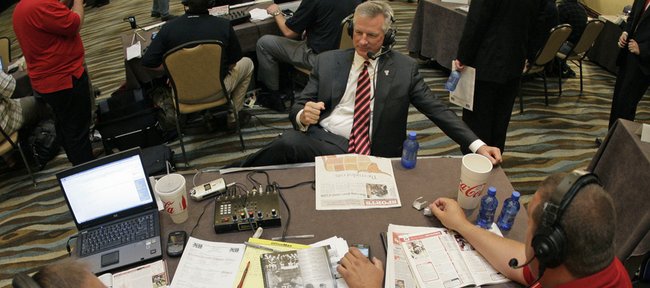 Irving, Texas — Oklahoma State sophomore quarterback Brandon Weeden has something in common with Kansas University basketball guard C.J. Henry: Both are former draft picks of the New York Yankees.
Weeden, a 26-year-old junior, spent five years in the minor leagues as a pitcher. The Yankees selected him in the second round (71st overall) of the 2002 amateur baseball draft. He never made it to the big leagues.
Henry was drafted by the Yankees in the first round (17th overall) of the 2005 amateur baseball draft. Henry, who will be a sophomore on the KU basketball team, never made it to the majors, either.
Sheffield: Leach didn't talk championships
Texas Tech senior quarterback Steven Sheffield said he initially wanted former TTU defensive coordinator Ruffin McNeill to take over as head coach after Mike Leach was fired Dec. 30, 2009.
Eventual hire Tommy Tuberville made a believer out of Sheffield in his first meeting with the quarterback, however, setting out goals about which Leach apparently hadn't talked.
"The first thing he told us was he was trying to win a Big 12 Championship," Sheffield said of Tuberville. "That was something that never was brought up before. Championships were not talked about in the Leach era. It was win one game a week, play the next play, which is a good thing. If you win one game a week, you'll win the national championship. But sometimes it's good to have your goal out there and be like, 'Hey, we're trying to win the Big 12, and let's remember that.'"
Missouri's Washington 'much quicker' this season
After rushing for 1,036 yards and 17 touchdowns as a sophomore in 2008, Missouri running back Derrick Washington had a down year in 2009, with 865 yards and 10 touchdowns.
Washington, who has started the last two years at running back, had two knee injuries that limited his effectiveness last season. A productive and healthy offseason that saw Washington trim about 10 pounds left his coach optimistic. The 6-foot Washington was listed at 225 pounds last year.
"He's much quicker," Missouri coach Gary Pinkel said of Washington. "It's all about quickness and movement. He's a lot quicker guy than he was this past year, and (we) expect that to help him play at a higher level."
Missouri QB Gabbert healthy again
Missouri junior quarterback Blaine Gabbert suffered an ankle injury in the fifth game of last season — MU's Big 12 opener — against Nebraska. The Ballwin, Mo., native played through pain for the rest of the season. The injury might have had something to do with the Tigers losing four of five games in the middle of their schedule.
Gabbert, who passed for 3,593 yards, 24 touchdowns and nine interceptions in his first year as a full-time starter for the 8-5 Tigers, is fully healthy after a few months of allowing the ankle to heal.
"It felt good, being healthy this spring," Gabbert said. "I regained confidence in myself, just knowing I was healthy again and knowing I could do things that I couldn't do the last half of the season. Last year, it was just a nagging thing. There were some things, like getting outside the pocket, mobility factors, where I wasn't as good as I was at the beginning of the year."
More like this story on KUsports.com