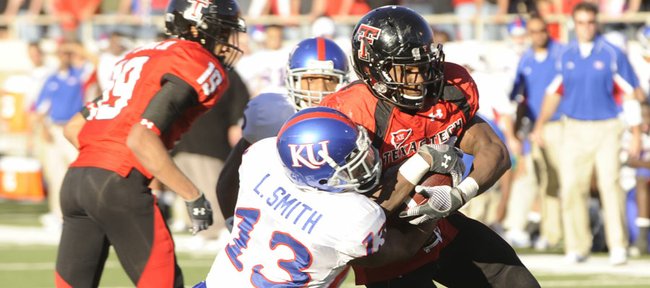 In his four different coaching stops, Robert Wimberly has never seen a position group quite like this year's Kansas University safeties.
Big 12 Media Days
With the Big 12 Media Days starting Monday, KUSports.com wants to make sure you're in the know. Follow the Conference Chatter blog to get the latest from Jesse Newell, Matt Tait and Eric Sorrentino.
He's been on new staffs before, and usually the players try to make inroads to the coach to ensure their own playing time.
"I think that's why," Wimberly said, "I was surprised to see a group so tightly knit."
Call it the Darrell Stuckey effect.
The former KU safety not only was one of KU's best leaders over the past few seasons, he also molded the safeties group that remains.
Stuckey made it a point to talk to younger players on the sideline, helping explain a play or why KU was in a certain coverage.
"When I had meetings with my safeties, they always talked about Darrell Stuckey talking about, 'Hey, we're a group. We're a family. We're a unit,'" Wimberly said.
This year's unity, Wimberly said, isn't hard to spot.
The new KU safeties coach sees his players talking to each other in meetings, making sure everyone in the group understands his assignments.
Other times, he'll spot his guys huddling up in the locker room. Or a few will come to him after practice to ask questions.
He'll even peek over during some scrimmages, seeing his safeties down on one knee, watching the play in front of them and talking through it.
"I've been places where guys are off on the sideline just talking about anything," Wimberly said. "I was very encouraged to see my group focused and trying to make sure they were taking mental reps throughout practice."
Wimberly said KU's three safeties with the most experience have done the best job of picking up KU's new schemes — which include some special 3-4 and 3-3-5 packages implemented by defensive coordinator Carl Torbush.
Senior Phillip Strozier had three starts and 23 tackles last season. He also contributed two interceptions in 2008.
"You could tell he has had game experience," Wimberly said. "He was very good in directing safeties, giving little coaching points about what to expect from the offense. I was really pleased with his attitude."
Sophomore Lubbock Smith started six games a year ago, ranking eighth on the team with 42 tackles. He missed a few spring practices with minor injuries.
"I think fall camp is going to be very important for him," Wimberly said. "But he did show signs that he has a chance to be very special."
Olaitan Oguntodu has the best size of the KU safeties at 6 feet, 218 pounds, and Wimberly said the senior's biggest strength was defending against the run.
A pair of red-shirt freshmen provide KU with depth.
Prinz Kande, a four-star recruit out of Euless, Texas, is still developing.
"He's coming along just fine," Wimberly said. "He has a chance to have a very good career here at Kansas. Still, once again, that learning curve and the speed of the game, and he's still adjusting to that."
Dexter Linton, from Arlington, Texas, also is a part of the future and could help on special teams this season.