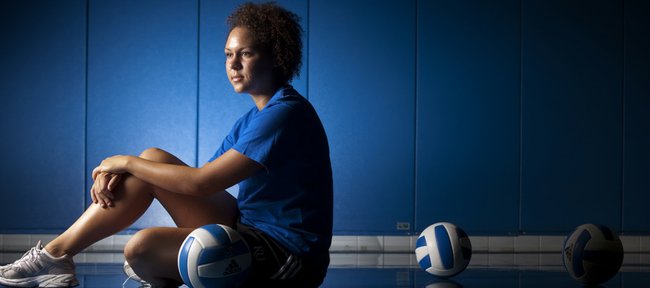 Twenty-five years ago, Julie Manning endured every emotion in the book while watching her boyfriend and future husband play basketball at Kansas University.
Today, she spends her days preparing to watch her oldest child, Taylor Manning, suit up for the same school, albeit in a different sport.
"It's definitely going to be a special deal," Julie said Wednesday from Las Vegas, where she and her husband, Danny, were watching their son, Evan, play in a summer basketball tournament. "I haven't really given much thought to it being a similar situation, but, when you put it like that, it's going to be very exciting."
While Danny spent his college days racking up stats at Allen Fieldhouse and on a path to becoming one of KU's all-time greats, Taylor will spend her KU career a few doors down, at Horejsi Family Athletics Center as a member of the KU volleyball team.
For Taylor, the idea of becoming a part of the same tradition her dad added so much to is simply a bonus. It's being a part of such a great team that has her most excited.
"I am so happy to be back, more because I just can't wait to play with a team of that caliber," Taylor said. "It really is a fun team to be around."
Taylor graduated from Free State High in 2009 after starring for the Firebirds' volleyball team for three seasons. She spent her first year out of high school at Div. II Eckerd College in St. Petersburg, Fla., where she established herself as a key part of a team that made a run at the NCAA Tournament.
Her college decision came down to KU and Eckerd, and she chose Eckerd because she always wanted to experience life outside of Lawrence.
"At the time, I chose Eckerd because it was the right place for me," Taylor said. "But now this is the right place for me, and I'm ready to get started."
As a freshman, Manning was among her team's leaders in blocks and aces and was a consistent weapon for the Tritons all season. Now that she has taken her game to a higher level, Manning has brought her expectations down a notch, a trademark of this selfless player whom former friends have praised as "the ultimate teammate" for years.
"My goals are to make myself a better player and to contribute in whatever way I can contribute," she said. "If that's on the court, that's great. If that's pushing people in practice, that's great. If someone just needs a hug, I'll give 'em a hug. Even if it's just that, I'll be beyond happy."
Taylor's track record on the volleyball court suggests her contribution to the Jayhawks will be a little more meaningful. During her high school career, Taylor was a three-time captain and twice was named to the All-Sunflower League team. She was among the team leaders in blocks and kills during all three seasons and showed versatility late in her career by turning her serve into a weapon. That skill continued to blossom during her one season at Eckerd.
But for all of her skills and talent, the one thing that makes Taylor an asset is her unselfishness and attitude.
"It's beneficial for KU because of the kind of kid she is — a great player, a great kid who would benefit any program she played for," Free State coach Nancy Hopkins said. "I'm excited to have her back in town because I might actually get to see her play again."
The return to Lawrence has been more than a homecoming for Taylor. It has been a rebirth. She knows all of the shortcuts, has seen all of the sights and spent most of her childhood with a ho-hum attitude about her hometown. Not anymore.
"It doesn't really feel different, but I definitely appreciate it more," she said. "I mean, I always appreciated KU and the campus and how pretty it was, but I never thought it was that big of a deal. Now, I'm seeing it in a totally different way, and I'm loving it. I just wanted to be a part of something I was familiar with, something that was special to me. I'm just very happy to be back and to get the chance to be part of this tradition."
Taylor will wear No. 18 for the Jayhawks this fall.
More like this story on KUsports.com