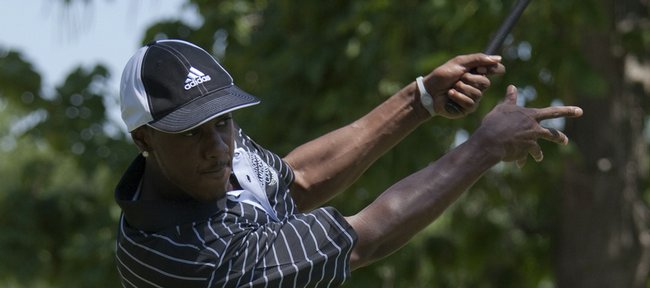 Mario Chalmers sliced the ceremonial tee shot into the trees at last summer's National Championship Golf Classic at Alvamar.
The third-year Miami Heat combo guard — who since last July's tourney has taken up golf as a hobby, lessons and all — hoped to bash a drive down the middle of the fairway to open Friday's second-annual Chalmers-sponsored charity event.
Those plans were derailed last Monday when the 6-foot-1, 195-pounder suffered a high left ankle sprain playing pick-up basketball in Florida. He's expected to wear a cast between two and four weeks.
"I can't put any pressure on my ankle. It's in a full-length cast. I'll let somebody else take the first shot of the tournament to kick it off," former Kansas University guard Chalmers said Saturday.
That "somebody" figures to be somebody mighty important in KU basketball lore.
"The whole starting five from the (2008) national championship will be there — Darrell (Arthur), Darnell (Jackson), Brandon (Rush), Russell (Robinson) and myself," Chalmers said, noting the fab fivesome would attend the pre-tournament VIP mixer/auction, to start at 6 p.m. Thursday, at the Oread Hotel. They'll also all be on hand for the scramble tourney to start at 1 p.m. Friday (information available here) at Alvamar.
"It means a lot that my teammates are coming back. It's the first time we've gotten together in Lawrence since the national championship. It will be good to be with them and have a good time," Chalmers said.
Chalmers had been having a good month prior to hurting his ankle in the pick-up game. Free agents LeBron James and Chris Bosh have joined the Heat, who already had a superstar on the roster in Dwyane Wade.
"As a young player you look to players like LeBron, Dwyane and Kobe (Bryant) to be on your team. To get to play with two of the three is great," said Chalmers, who indicated he has yet to speak with James since LeBron's public announcement on July 8.
"This is going to be different. It's like we're starting all over. We have a new team and new energy," Chalmers added.
There have been rumors — ones that have died down of late — that the 24-year-old Chalmers might be traded. Portland was considered one possible destination.
"I hope they are over," Chalmers said of trade talks. "I talked to (Heat president) Pat Riley the night they introduced them (James, Bosh, Wade at pep rally). He said he'd work hard to keep me and I should work hard and we'd go from there. Our goal is winning the championship."
The Heat, of course, now figure to be one of the teams favored to win it all in 2010-11.
"I wouldn't say it's guaranteed, but it puts me in a good chance to get one," Chalmers said of obtaining an NBA title ring to go with his NCAA championship jewelry.
Chalmers disagrees with those who say James will feel unbearable pressure to win his first championship.
"I wouldn't call it pressure. I think it'll be good (for him)," Chalmers said "He doesn't have to take all the pressure with other great players on the team as well."
Mixer deadline Monday
Deadline is Monday to order tickets ($25) for Thursday's VIP mixer/auction, which will run 6-9 p.m. at the Oread Hotel. Call Patti McCormick at The Oread at (785) 830-3944 to reserve space. Both the auction and tourney benefit the Mario V. Chalmers Foundation, which was created to support community based programs that encourage the positive development of youth through sports and education, and fund initiatives for breast cancer research and treatment. There are also spots available in the tourney. Signup information is available at nationalchampionshipclassic.com.
How did Chalmers hurt his ankle?
"I was playing defense and the guy made a move and kicked the inside of my foot. It was a freak accident," Chalmers said.
Recruiting update
Jabari Brown, a 6-5 senior shooting guard from Oakland (Calif.) High, on Friday received a scholarship offer from KU, Brown told Rivals.com. Brown, who is the No. 13-rated player in the Class of 2011, also is considering Georgetown, Georgia Tech, Wake Forest, UConn, California, Arizona and others.
Dean Smith's condition
Former KU player/North Carolina coach Dean Smith, 79, has a "progressive neurocognitive disorder that affects his memory," Smith's family members said in a letter to former UNC players and coaches.
One of Smith's friends, who lives in Lawrence, said he spoke with Smith last winter.
"He did remember me. We had a good talk," said the person, who wished to remain anonymous. "I feel really bad about this. He always had a brilliant mind, a good memory and was great at recalling names. The Xs and Os of basketball ... his mind, his brain was like a trap. He'd recall names and numbers just like that. I feel really bad about this. It's not the way to go, but it's a fact," Smith's friend told the Journal-World.
This is a sensitive issue. The Associated Press reported that three former UNC players declined to comment on the letter, while at least a half-dozen other individuals didn't return calls or e-mails.
More like this story on KUsports.com