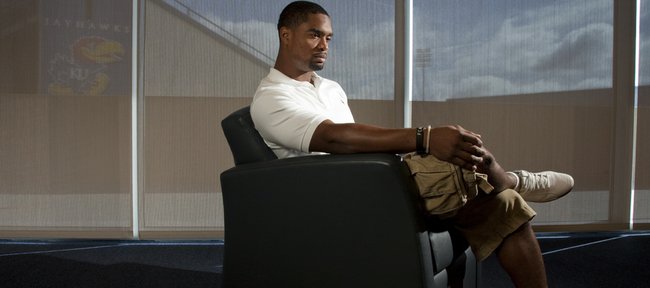 Former Kansas University safety Darrell Stuckey was back in Lawrence this week and, from the look of things, joining the NFL hasn't changed him much.
Stuckey, who was drafted by San Diego in the fourth round of this year's NFL Draft in April, appeared to be, in many ways, the same guy who was one of the most popular Jayhawks in the program during the past four years.
He walked into the Anderson Family Football Complex wearing shorts and a white, collared shirt. There wasn't a shred of bling on his body, and he didn't step out of a Hummer or some other fancy ride. Before he left, he made sure to help the media-relations crew put back the chairs that had been rearranged in the meeting room. Throughout out it all, you couldn't help but sense that Stuckey, a native of Kansas City, Kan., was thrilled to be back in his home state.
"Nothing's ever taken me away from Kansas City except for sport," he said.
Ironically, that was the reason Stuckey was back in town. Wednesday night, the former KU captain was honored by the Kansas City Sports Commission as the co-male collegiate athlete of the year. Stuckey had known about the honor for months, but made sure to return home to be a part of the banquet that also celebrated some of Kansas City's most notable sports figures, including former Kansas City Chiefs great Willie Lanier and current Chiefs running back Jamaal Charles.
"It was amazing. It was breathtaking," Stuckey said. "Sitting back, relaxing and kind of recapping your whole college career, you just think, 'Man, did I really do all those things?' It's been great to give back to the community and to be honored like that."
Wednesday's ceremony wasn't the first time Stuckey has been celebrated in his hometown. It also likely won't be the last. Thanks to a scheduling jackpot, Stuckey's Chargers will open the 2010 season on Monday Night Football at Arrowhead Stadium against the Chiefs.
"It's kind of a confirmation of a blessing in disguise," Stuckey said of his upcoming NFL debut. "I kept hearing this woman in my ear, saying 'You're going to play in Kansas City in the NFL.' And I always thought that meant I was going to play for the Chiefs. Not necessarily, but I am playing in Kansas City. So the hammer hit the nail right on."
There is, of course, a lot of work to be done before that Sept. 13 meeting with the Chiefs. Stuckey will return to San Diego today, a week before Chargers training camp opens on July 25. His fiancee, Lacie Reed, will be joining him, and when they arrive in San Diego they'll have two tasks at the top of their to-do list.
The first will be to check out their new Toyota Highlander, which they bought from Crown Toyota in Lawrence, the one item Stuckey says the couple allowed themselves to splurge on after he signed a four-year deal last month that included a $200,000 signing bonus.
The other will be a meeting with veteran safety Eric Weddle, who already has helped Stuckey during his transition to pro football.
"Weddle always keeps his arms open and lets me know that if I need to ask him questions, he's there," Stuckey said. "I'll probably get with him when I get back just to go over some plays and some terminology to make sure everything's put back together before training camp."
Most of that time will be spent learning the language with which the Chargers' playbook is written.
"The hardest part is the terminology," Stuckey said. "Everything changes. There's no Rosetta Stone for football."
The one thing that's helped Stuckey the most during the past few months is the same thing that allowed him to believe that big-time college football and, eventually, the NFL were realistic dreams when he was younger.
"Any time you transition to a new level, a higher level, it's all about confidence," he said. "You know you're there, you know you can play, but the hardest thing is you don't know the plays yet. You start beating yourself up a little bit, and you start getting insecure. But you gotta relax and realize that you can play at that level."
During San Diego's rookie and mini camps, Stuckey, who will wear No. 36 with the Chargers, had plenty of both moments. But the good seemed to outnumber the bad and, with each day, Stuckey — one of three safeties listed on the Chargers' official roster — felt more and more comfortable in his new surroundings.
"Just being in the locker room itself, I was in awe. But I feel like I belong here," Stuckey said. "You have to pay attention, study your playbook and stay poised out there. Don't go out there and try to think too much. Just let your athletic ability go and just play ball. I don't think it will really hit me until that first game, when you're standing in the stadium with the crowd. But it's been good, real good."
Meier signs with Falcons
The Associated Press reported that the Atlanta Falcons and former KU receiver Kerry Meier have agreed to terms. The Atlanta Journal-Constitution reports they were working on a four-year contract worth $1.947 million.
The contract is believed to include a signing bonus of around $160,000.
Meier was the 165th player taken in the 2010 NFL Draft, selected by Atlanta in the fifth round.
Briscoe in Bengals' plans
The Cincinnati Bengals have signed sixth-round pick Dezmon Briscoe to a four-year deal worth just over $1.89 million, with incentives that could make the contract worth $2.6 million. Briscoe, a former KU wideout, was the first of the Bengals' rookies to sign and is expected to compete for one of the final roster spots at his position.
More like this story on KUsports.com