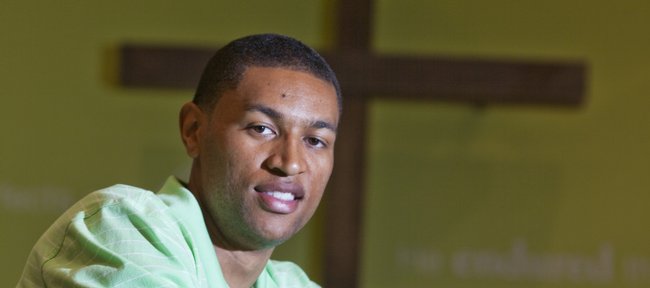 A 2005 first-round draft pick of the Miami Heat, Wayne Simien isn't tempted to come out of retirement to join the LeBron James-Dwyane Wade-Chris Bosh-led squad in South Beach during the 2010-11 season.
"I've been getting a lot of jokes about that, but that's not going to be the case for me," said Simien, a former Kansas University All-American who retired from basketball in May of 2009 after playing two seasons with the Heat and one in Spain.
He was speaking Thursday on the final day of his third-annual Called to Greatness basketball camp at Free State High.
"Literally, you can't pay me to play right now. I enjoy what I'm doing now more than being somewhere playing basketball. I appreciate the opportunity to play in the NBA and overseas, but I'm really excited about what I'm doing now."
That is living in Lawrence with his wife, Katie, daughters Selah (2) and Rael (1) and son, Simon (5 months), and working as director of his Called to Greatness ministry out of Morning Star Church. He's also team chaplain for KU's basketball and football teams and ready to take on an expanded role in mentoring athletes in all KU sports starting this August.
"There's nothing I enjoy more than being a husband and father. It's great to be able to do that back in the great community of Lawrence," said the 27-year-old Simien, who was born and raised in Leavenworth.
"My main focus was with the men's basketball team this past year," added Simien, who started mentoring football players after Turner Gill was named coach. "Lew Perkins (AD) and the rest of the athletic department kind of want to expand that to the other athletic programs, which I'm excited to do. Whether the title (of his job) is official or not, it's something I'm doing on a volunteer basis."
His duties are simple.
"I go to practices, go to games, meet with players individually and do some motivational speaking with teams," he said. "I don't need an office. I'm not in a suit and tie or anything like that. Nothing is mandatory. It's completely up to the coaches or if the players see me on campus and want some encouragement or have a question about something they are going through, I'm going to make myself available to help them through that."
Simien worked with about 100 youths during Thursday's final four-hour session of his camp. At one point, the 6-foot-9, 250-pounder stopped the action and asked the players to sit on the floor as he read passages and taught lessons from the Bible.
"We have ministry time every day. We feel that is the most important time of the camp," Simien said. "A lot of the kids may not be able to hear that on a regular basis, to be provided an encouraging message from the Bible. We coach from a biblical perspective and of course teach them fundamentals of the game of basketball as well.
"The purpose of the camp," Simien explained, "is to communicate the true call to greatness that we have. The greatness isn't found in their athletic achievements or how popular they are or how much money they have, but the greatness is found in being sons of God, and we encourage them that the greatest person they could ever follow in their life is Jesus Christ, and we are able to communicate that through the game of basketball."
One of his Simien's KU teammates, Aaron Miles, stopped by with his young son.
Miles, who played professionally in Greece last season, spoke to the youths after a series of drills.
"It's great because Wayne's giving back to kids, giving back in general," Miles said. "It's something he is passionate about, so I support him. He is a standup guy, a great person, great friend, great husband, great family man. Even as my teammate and a friend of mine, I look up to him as far as what he does. He's still admired by his peers."
Simien has a big school year coming up.
He'll be inducted into the KU Athletics Hall of Fame in September and have his jersey hung in the fieldhouse rafters in a halftime ceremony of a yet-to-be-determined game sometime this winter.
"I'm hoping to have it on a Saturday afternoon game so I can have some family come in to be a part of that," Simien said. "I got a call a few days ago saying I'll be inducted into the Kansas Athletics Hall of Fame, I believe Sept. 25. I'm really excited. It'll be a good fall.
More like this story on KUsports.com