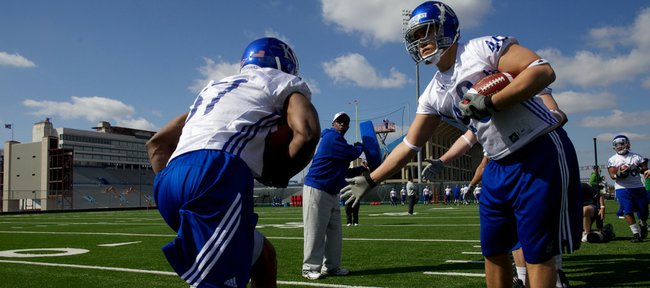 A proposed NCAA rule change that would alter the landscape of summer recruiting in all sports could help even out recruiting battles across the country, says Kansas University assistant football coach Reggie Mitchell, who doubles as the program's recruiting coordinator.
The proposal, if adopted, would prohibit universities from offering scholarships to student-athletes until July 1 before their senior year.
As it stands today, many schools — especially the most successful football programs — turn their attention to the following year's recruiting class the day after the early signing period begins in February. The offers fly off the shelves from February through May, leading many high school seniors-to-be to give oral commitments by June.
"Certain schools have been able to fill up early and get all of their commitments in the summer because of their name brand or whatever, and then they're on to the next recruiting class," Mitchell said. "I think what you're going to find is that (the new rule is) going to force everybody to recruit year-round on the class they're working with."
In many ways, the proposed rule change comes in direct reaction to the rash of earlier and earlier commitments that have popped up in basketball and football during the past decade. In some cases, athletes as young as 13 have orally committed to universities, more than five years before they ever would set foot on campus.
Of the 12 players from the Class of 2011 who have orally committed to Kansas, 11 of them did so before July 1, with the earliest being Wichita running back Dreamius Smith, who committed on March 23.
Had the rule been in place this season, all 11 of those players would have been forced to wait longer to receive an offer from any school. On one hand, that could give other schools more time to swoop in and make their pitch for a given player. On the other hand, though, Mitchell said the schools can make it clear to recruits that they will be receiving scholarship offers without actually offering them until the proper date.
The NCAA already has approved legislation for this summer that prevents schools from sending out written scholarship offers before Aug. 1. But Mitchell said many of the early offers come from word of mouth.
"The kids who are going to get early offers, they kind of know who they are," Mitchell said.
Oral commitments are not binding for the school or the athlete, but establishing a time frame in which they can and cannot be extended would give coaches more time to evaluate talent and provide recruits more time to investigate schools.
"I imagine, as long as everybody's got the same playing field, it won't be that big of a factor," Mitchell said. "We're still going to evaluate and go out and recruit guys, and we'll know who we're going to offer. Then, when the date comes that they say we can offer them, we'll offer them. I think it's going to hurt with early commitments because if you can't offer them, how are they going to commit?"
Like Mitchell, Jon Kirby, recruiting analyst for Rivals.com, said he didn't expect the new rule to make a huge impact. What it may do, Kirby said, is make July 1 much busier for schools such as Oklahoma and Texas.
"Every year, on July 1, (UT Rivals site) Orangebloods.com will have 25 commitment stories," Kirby said.
3 Jayhawks headed to Big 12 media days
The Big 12 Conference on Wednesday released the names of those players headed to Dallas later this month for the league's annual preseason media days, which will run July 26-28.
In addition to first-year KU coach Turner Gill, who figures to receive plenty of media attention, the Jayhawks will be represented by senior cornerback Chris Harris, senior defensive end Jake Laptad and senior offensive lineman Brad Thorson.
Former KU assistant hops to hoops
Former KU cornerbacks coach Je'Ney Jackson, who worked under Mark Mangino for five years, recently left football to take a position as the strength and conditioning coach for the Indiana University men's basketball program.
Jackson, who has a background in strength and conditioning, became the secondary coach at Southern Miss in February, shortly after leaving Kansas as one of nine assistant coaches let go by the university after Mangino's departure.
By July, however, Jackson was gone, much to the chagrin of Southern Miss head coach Larry Fedora.
"It was a decision on his part," Fedora told Patrick Magee of The Hattiesburg American. "It's not something I was real excited about. He felt like that was something he wanted to do. I think it had to do with a whole lot less hours. It's a lot less work so he'd have more free time. So essentially, he didn't want to coach football."
KU will play at Southern Miss at 7 p.m., Friday, Sept. 17 on ESPN.
Southern Miss players arrested
Speaking of Southern Miss, The Hattiesburg American reported Saturday that three USM players were arrested after failing to comply with a police officer's attempt to disperse a crowd at a party.
Wide receivers DeAndre Brown and Johdrick Morris and linebacker Martez Smith were arrested for disorderly conduct. Brown caught 47 passes for 785 yards and nine touchdowns in 2009, and Smith, also a starter, recorded 82 tackles in 13 games.
The court date for the three offenders has not yet been scheduled, but Magee reported Wednesday that suspensions are unlikely.
"I'm going to start the discipline process this next week with them," Fedora told the paper. "Hopefully it will be taken care of before the season. It will all be handled internally unless something else happens. I have enough facts of what went down."
More like this story on KUsports.com