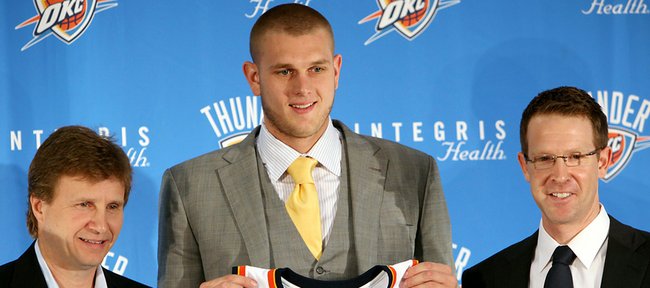 Cole Aldrich wore a gray suit and bright yellow tie to his introductory news conference at high noon Monday at Integris Health Training Center in Oklahoma City, practice court of the NBA's OKC Thunder.
The fashion statement didn't end with Cole's outfit.
The 6-foot-11, 250-pound center out of Kansas University sported a light beard.
"James Harden-style," Aldrich told fans in a live chat on the team's official website.
Aldrich, the No. 11 overall pick in the 2010 NBA Draft who was traded from New Orleans to Oklahoma City on draft day, won some supporters Monday after already familiarizing himself with players such as Harden, the bearded No. 3 overall pick of OKC in the 2009 draft.
"The first time I was ever able to talk to the coaches or guys on the team was when I first got to Orlando on Thursday. That's when the trade finally went through," said Aldrich, who was not allowed to play in the Orlando summer league while awaiting league approval of the deal.
Instead, he sat on the bench and watched the games.
"One thing that impressed me was the family camaraderie. Everybody hangs out with everybody," Aldrich said of the Thunder players. "There's no small groups. That's a huge deal. You don't always see that in the NBA. You hear about so many different things. Everybody goes off and does their own thing. This is really a tight-knit group."
That group includes former KU forward Nick Collison.
"I like Nick a lot," Aldrich said. "There's times that you are a young kid at a university and guys playing in the NBA and you just love to see them come back. You love to see the Nicks, Paul Pierces, Drew Goodens all come back and hang around because you almost idolize them.
"Nick came back quite a bit over the years at KU. We grew a really nice relationship, text once in a while. Being with another KU guy will be fun."
Collison — he is rehabbing his right knee, which needed arthroscopic surgery in mid May — told the Journal-World that, "Cole's the type of guy Sam (Presti, OKC general manager) usually likes to get. He's a good teammate, works hard, is long, athletic and young. He's the same age as most of our guys. He's a good pick-up for our team."
Presti on Monday explained why he's so enamored with Aldrich.
"Cole really shares the same mentality and approach that we try to embody with our team," Presti said. "He's another hard-working, high-character player."
Coach Scott Brooks already has held one private workout with the hard-working Jayhawk.
"We broke him in Thursday morning at 6:45, a quiet little workout," Brooks said with a laugh. "He's about toughness, defensive mentality and doing the right thing every time on the court.
"We have a good team right now, young players committed to getting better. He will fit in there with them all. I like that he does the little things, ones you don't talk about a lot, that win basketball games. He's done that his entire career. From the program he is from, Kansas, we're thankful we were in position to draft him and are excited to have him."
Brooks added that Aldrich, "protects the basket, rebounds, sets great screens, is a great outlet passer. ... we're not looking for him to come in here and be a big-time scorer."
Aldrich believes he can contribute immediately on the defensive end.
He related a story about how he always has loved defense.
"I was … I wouldn't say a bully … on the court, but I was bigger than everybody so I just loved to block shots and rebound," he said of growing up in Minnesota. "If somebody comes in the lane, I don't want them to score. I take real pride in blocking the shot or altering the shot or (making opponents) pass it out. I've always liked to think that the paint is kind of my home, and I don't want anybody coming in my home."
As far as playing time ... Brooks uses a nine-man rotation and all nine players are back.
"It's going to be tough," Aldrich said. "They just don't hand out anything. That's been my whole life. I've had to work for everything."
Aldrich will make $1,772,000 his rookie season.
What will he need to do to earn the money by playing?
"Being a bully is not bad," Brooks said. "Minutes? Who knows. We'll have to see how he continues to get better the rest of the summer and training camp."
Notes: Aldrich's parents, Walt and Kathleen, attended Monday's news conference. ... Cole Aldrich was asked by a fan on a the team's official website how he felt about the squad's colors, jersey and mascot. "Anything is better than purple," he joked of Kansas State's colors. ... Collison to the Daily Oklahoman on his rehab: "You'd always like to be spending more time working on your game than getting healthy, but it's part of the job." ... Thunder GM Presti on Aldrich's college days: "Guys who make the routine play are guys found in winning programs. Speaking of programs, he comes from an elite program in Kansas. The team had the highest RPI this past season, played the toughest schedule in college basketball, was a top-10 defensive team. He's coached by a great coach in coach (Bill) Self, someone our program respects and knows." ... Aldrich will wear jersey No. 45 in OKC. ... Aldrich on KU teammate Xavier Henry being from OKC: "I told Xavier I was going to take over his house — I was going to live rent-free at his house. He didn't like it very much. It's fun to have guys on our team from Oklahoma City. That Midwest personality, that is of a humble, hardworking person." ... Former teammates Darnell Jackson and Jeremy Case and coach Self also hail from Oklahoma, Aldrich noted: "Talking to the guys, they love the town. It's a town of hard workers. You could see it from them when I was on the court with them. It's a town of putting your work boots on every day and going to work."
— The Associated Press contributed to this report.
More like this story on KUsports.com