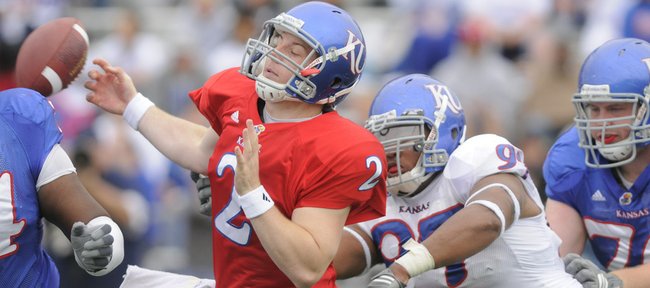 About this series: This is the second in a series of previews of Kansas University's football team by position. The series will run Wednesdays and Sundays in the Journal-World. Coming Wednesday: running backs.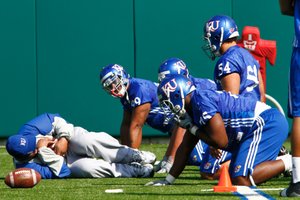 Buddy Wyatt knows that what he's about to say is going to surprise a few people.
After all, the Kansas University defensive line coach was at Memorial Stadium — along with thousands of KU supporters — when his linemen racked up nine sacks during the spring game on April 24.
Still ...
"Not knowing much about the guys going into the spring, I thought they played the run well, extremely well," Wyatt said. "We still need to improve on our pass rush."
KU could definitely use the improvement in rush defense, as the Jayhawks allowed 177.8 rushing yards per game during the Big 12 schedule (10th in the conference).
So how can the current crop of Jayhawk linemen improve their pass-rushing skills?
"We've got to keep working on being more explosive off the football," Wyatt said. "We've got to get off on the ball better. We've got to realize the situation that we're in and anticipate that a little bit better."
Perhaps not surprisingly, Wyatt was most excited about his tackle position after 15 practices in the spring.
In particular, he was pleased with the efforts of juniors Richard Johnson Jr. and Patrick Dorsey.
"They were consistent in their play, in practice and in scrimmages," Wyatt said. "Both of them, they did not make a lot of mistakes. They picked up the system really well."
Johnson, a 6-foot-3, 283-pound junior from Jefferson City, Mo., started five games last season, finishing with 17 tackles — including three for loss.
"His hands, we've got to get his hands better," Wyatt said. "But for the most part, I was really pleased with what he did in the spring."
Dorsey, a 6-foot, 273-pound junior from Houston, made just one start in 2009, recording eight tackles and one sack.
"He graded out extremely well in our scrimmages and in our practices," Wyatt said. "I just liked his consistency and just his approach to the game. I was really impressed with that. He's not the biggest guy in the world, but he played big in the spring."
Part of KU's pass-rushing struggles could have resulted from injury.
Senior Jake Laptad, who led KU with 12 tackles for loss and 6.5 sacks last season, did not participate in any contact drills in the spring because of a shoulder injury.
The two-time, all-Big 12 honorable mention selection was able to go through some individual workouts, but coaches weren't able to see him in any live situations.
In Laptad's absence, red-shirt freshman Kevin Young took many of the additional snaps at defensive end. The 6-foot-2, 256-pounder from Olathe tied for the team lead with two sacks in the spring game.
"Out of the ends that participated, I thought he was the most consistent," Wyatt said. "He's one of the bigger defensive ends that went through the spring, especially because Jake didn't go through much of the spring. I really was impressed with his ability to play the run."
Quintin Woods, a 6-foot-5, 236-pound senior from Flint, Mich., also posted two sacks in the spring game.
"Quintin's deal is that he just has to be more consistent," Wyatt said. "That's what we talked about at the end of spring with him."
Travis Stephens, a 6-foot-2, 255-pound junior that red-shirted last season, also will be in the mix for snaps at defensive end.
The Jayhawks will add three more defensive ends in the fall, as true freshmen Keba Agostinho, JaQwaylin Arps and Pat Lewandowski are all three-star recruits, according to Rivals.com.
"We hope we don't have to play all those guys," Wyatt said, "but those are some young men we brought in that we think that in the future may have a chance to be pretty good for us."
Meanwhile, KU should have plenty of depth at tackle. John Williams, who was limited in spring because of a shoulder injury, started the final seven games last year after being moved over from the offensive line.
Sophomore Darius Parish and red-shirt freshman Randall Dent Jr. also should compete for playing time.
More like this story on KUsports.com