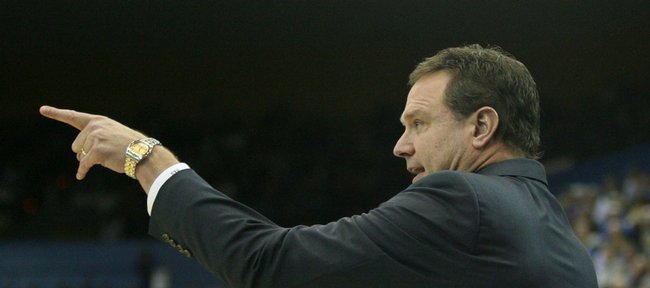 Bill Self's Fourth of July backyard cookout included heaping helpings of baby back ribs, chicken, brats and sausage prepared on a Green Egg grill.
Some relaxing holiday fun with family couldn't have come at a better time for Kansas University's head basketball coach — just before the start of the hectic, time-away-from-the-homestead college basketball recruiting season.
Self and assistants Joe Dooley, Danny Manning and Kurtis Townsend hit the road tonight in preparation for the July summer evaluation period, which runs from Tuesday through July 15 and, after a short break, continues from July 22-31.
"Nah I don't," Self said Sunday, asked if he particularly enjoyed recruiting in this day and age.
"Recruiting is tough. It is a grind. Certainly Joe, Danny and Kurtis have done a good job getting us in on some good kids. I'm excited to go out and study those kids (but) no question recruiting is a grind."
He's not complaining.
"It's work. It's part of the job," Self said of what he realizes is perhaps THE most important facet of his job — stockpiling the tradition-rich KU program with the talent needed to remain at the top of the Big 12 standings and in the hunt for national title honors.
"I love getting to know the families. That's what's fun about recruiting," Self added of the in-home visits that come in September.
Now is the time college coaches travel to places like Augusta, Ga., for the Peach Jam; Las Vegas for the Centerstage Event, Vegas Main Event and Super 64; Orlando, Fla., for the AAU nationals as well as various other stops.
KU has several openings to fill in the Class of 2011.
"We're looking for a little bit of everything with the unknown of who could possibly leave," Self said. "We need possibly a lead guard, definitely a shooter and an explosive big man. From our standpoint you could sign three (players) or anticipate losing a couple (to NBA), too. On paper we have four (scholarships) to give — three seniors (Tyrel Reed, Mario Little, Brady Morningstar) and the extra scholarship (that KU didn't fill this year). We're probably looking at between three and five."
Who will KU be pursuing? KU's coach cannot comment in accordance with NCAA rules.
Recruiting analysts like Shay Wildeboor of Rivals.com, however, annually round up the list of players the Jayhawks figure to be targeting.
Here's a look at some of them in no particular order. Obviously there could be others on KU's wish list.
• Ben McLemore, 6-5, 185, shooting guard, Eskridge High, St. Louis: Rivals.com's No. 21-player in the class of 2011 averaged 28.3 points, 12.5 rebounds and 6.1 assists a game his junior year. He has said KU leads Missouri, Tennessee, Illinois and others.
"I went to a game there and I like the style they (Jayhawks) play," McLemore told Rivals.com. "They run and up and down the court and that is my style of play. Also I have built a good relationship with them."
Of McLemore, analyst Wildeboor said: "He's been to KU's Elite Camp and the Jayhawk Invitational and loved being at both. He's a stud. He can get to the basket, score inside and outside. He loves everything about KU."
McLemore attended the Paul Pierce Skills Academy at the end of June and will be at the LeBron James Academy today through Wednesday in Ohio. The top 30 players from the LeBron event will be invited to the NIKE Global Challenge Beaverton, Ore., to play against top international talent.
McLemore will attend Oak Hill Academy in Mouth of Wilson, Va., his senior year of high school.
• Jabari Brown, 6-3, 205, shooting guard, Oakland (Calif.) High: Rivals.com's No. 13-rated player is considering KU, Washington, Arizona State, California, Wake Forest, Maryland, Georgia Tech, New Mexico, Stanford, Georgetown, Miami and others.
"He can light it up from the outside, attack the rim and has a good mid-range game," Wildeboor said. "He's one of those guys who would be a difference maker, come in right away and compete for starting minutes."
• Josiah Turner, 6-3, 175, point guard, Sacramento (Calif.) High: Rivals.com's No. 12-rated player has a list of KU, Georgia Tech, Wake Forest, Oklahoma, Cal, Illinois, Kentucky, Marquette, Oregon, St. John's, Syracuse, USC, UCLA and others.
Turner, who averaged 27.9 ppg, 5.8 rpg and 3.5 apg last season, was committed to Arizona State before reopening his recruitment. He attended the 2009 Late Night in the Phog.
"He can distribute and score," WIldeboor said. "He has shown a good jump shot and gets guys involved. He trims his list sometime in July."
• Angelo Chol, 6-8, 205, forward, Hoover High, San Diego: Rivals.com's No. 51-rated player has a list of KU, Alabama, UConn, Georgetown and Washington. Chol, who plays for the same high school coach as former KU forward Moulaye Niang, was in town for the Jayhawk Invitational.
"He'll contest, rebound, is long and offensively will provide you some points in the paint," Wildeboor said. "Right now his biggest strength is defense and rebounding."
• Sam Thompson, 6-6, 200, guard/forward, Whitney Young High, Chicago: Rivals.com's No. 30-rated player likes KU, Florida, Georgetown, Oregon State, Ohio State and others.
"I think very highly of the (KU) program," Thompson told Rivals' Wildeboor. "They have great tradition. They routinely get great players and make deep runs in the NCAA Tournament."
Wildeboor said: "He has good ball-handling skills and a jump shot too."
• Norvel Pelle, 6-8, 190, forward, Price High, Compton, Calif.: Rivals.com's No. 44-rated player lists KU, Arizona, Arizona State, Texas, UConn, Baylor, UCLA, UConn, Washington and others. He played in the Jayhawk Invitational.
• Austin Rivers, 6-3, 175, shooting guard, Winter Park (Fla.) High: Rivals.com's No. 3-rated player reopened his recruiting after being committed to Florida. He is looking at Florida, Duke, KU and North Carolina.
"A big-time scoring threat, Rivers specializes at scoring off pull-up jumpers from behind the arc and off a quick first step to his right," said Jerry Meyer of Rivals.com. "He also has an array of finishes going to the basket. His high basketball IQ makes him a dangerous passer."
• Kyle Wiltjer, 6-9, 225, forward, Jesuit High, Portland: Rivals.com's No. 22-rated player lists KU, Kentucky, Oregon, Oregon State, Texas, Virginia, Arizona, Arizona State, Cal and others.
• Chasson Randle, 6-1, 180, shooting guard, Rock Island (Ill.) High: Rivals.com's No. 63-rated player lists KU, Duke, UConn, Illinois, North Carolina, Purdue, Iowa, Iowa State, Michigan, Northwestern, Minnesota, Stanford and others.
• Chane Behanan, 6-6, 250, forward, Bowling Green (Ky.) High: Rivals.com's No. 24-rated player lists KU, Indiana, Kentucky, Louisville, Florida, Cincinnati, Oklahoma State, Purdue, Texas and others.
• Dorian Finney-Smith, 6-7, 185, forward, Norcom High, Portsmouth, Va.: Rivals.com's No. 42-rated player lists KU, Virginia, Virginia Tech, Wake Forest, Florida, Maryland, Alabama, Clemson and others.
• Kadeem Jack, 6-8, 210, forward, Rice High, New York: Jack, who attends the same school as KU grad Russell Robinson, is Rivals.com's No. 82-rated player. He lists KU, Arizona, Seton Hall, Miami, UConn, North Carolina, and others.
Morris a counselor
KU junior forward Marcus Morris will be a camp counselor at the LeBron James Skills Academy in Akron, Ohio. He recently was a counselor at the Amar'e Stoudemire camp in Chicago.
More like this story on KUsports.com