Orlando, Fla. — Consensus All-American Sherron Collins was both shocked and disappointed the night of June 24 when he failed to hear his name called in the NBA Draft.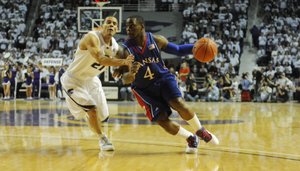 The mood of Kansas University's all-time winningest player brightened considerably shortly after the conclusion of the two-round, 60-player extravaganza, however, when his cell phone rang.
It was Collins' childhood hero, Michael Jordan, on the line.
The Charlotte Bobcats' owner had called to invite Collins to his NBA team's summer camp.
"A couple of minutes after the draft, to get that call, especially from Jordan, that's somebody I idolized all my life," Collins told the Associated Press on Saturday from Orlando, Fla., site of the Bobcats' pre-summer league training camp.
"I'm from Chicago, so I've seen him, and I watched him. It was a no-brainer. I got more calls, but I was taking that call."
Collins said he didn't want "to make any excuses" for not getting tapped in the draft.
Yet he explained what might have hurt his cause.
"I got hurt in Detroit. In my first workout, I pulled my groin. It nagged me through the whole process," said the 5-foot-11 Collins, whose weight fluctuated between 207 and 229 the past couple of months. "I had to stay off it. I couldn't stay fresh. I had a workout, had to rest it three days after that, stay off it. It was nagging. I had to cancel a few (workouts)."
Collins has told Bobcats' management he'd be perfect for the team.
"I think I can help them tremendously. There are things I can do," Collins said. "I stay within my game. I can guard people. I'm a tough guard. That's what I provide. I'm not trying to do too much or do anything I can't do. You can't get mixed up in that. You do what you do."
He arrived in camp to discover one of his college rivals — Kansas State's Denis Clemente — was one of 19 players to be on hand for camp.
"I think it's best for the both of us that I'm not in Manhattan having to play in his hometown. He's not in Kansas (Allen Fieldhouse). It's the same team," Collins said of going against Clemente. "It's always good to see a good person you played with and good friends, too."
The two were reunited Wednesday when they arrived for camp.
"I was happy because I've known him for a long time, since high school," Clemente said. "When I came here I saw him, and he was pretty excited to be here, too.
"Every time we play Kansas it's a hard game, a good game," Clemente added.
Their second matchup last season marked the first time in 52 years both teams were ranked in the top five. Kansas won despite 21 points from Clemente. The Jayhawks completed a three-game season sweep in the Big 12 championship game.
But it was Kansas State that went deeper in the NCAA Tournament, losing to Butler in the West Regional final. No. 1 seed KU lost to Northern Iowa in the second round.
The stocky 5-foot-11 Collins finished the season averaging 15.5 points and 4.5 assists. The 6-foot Clemente averaged 16.6 points and 4.2 assists.
The two are part of a Bobcats' point guard summer crew that also includes Jeremy Pargo of Gonzaga and Jerel McNeal of Marquette. D.J. Augustin, Charlotte's backup point guard last season, is participating in the camp portion, but won't play in summer league games this week in Orlando.
Charlotte assistant Dave Hanners, who is coaching the summer league team, said the point guards have been a pleasant surprise.
"I've done summer league before, and they get caught up in the competition part, and they forget to run the team," Hanners said. "But these guys have all got pretty good heads on their shoulders."
With Raymond Felton, Charlotte's starting point guard from last season, a free agent and unlikely to be re-signed, there could be an opening for a young point guard on the roster next season for a team guided by former Kansas coach Larry Brown.
"They've both been great. They're both really heady players, got a great feel for the game," Hanners said. "Of course, Denis is as quick as you can get. He's real quick and fast with the ball. Both are very unselfish, get other people shots. They both can make an open shot."
And after facing off multiple times with high pressure the past two seasons, Collins and Clemente know a lot about each other's games.
"In college you study those guys moves so much on the scouting report that you've got to relay it out here," Collins said before breaking into a grin. "You don't tell nobody. You just keep it in your head."