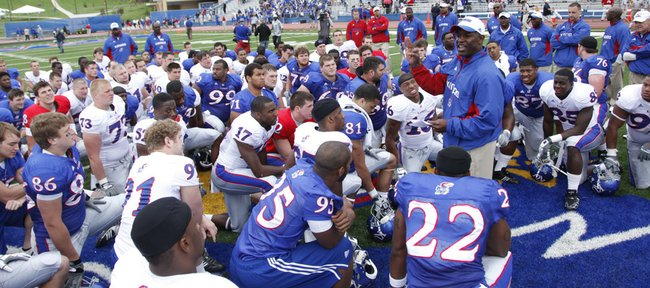 Kale Pick and Jordan Webb may not have taken many meaningful snaps during their college careers. But both Kansas University quarterbacks figure to enter the 2010 season with an advantage that most signal callers around the country won't have — their coaches.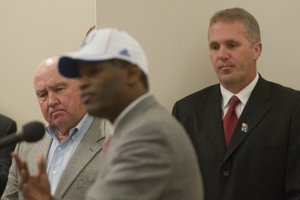 In head coach Turner Gill and offensive coordinator Chuck Long, the KU program has one of the top duos in terms of former college quarterbacks leading the way.
"We've got two guys who definitely know how to handle quarterbacks," Gill said.

Set to enter his first season with the Jayhawks, Gill was a star at Nebraska in the 1980s. He led the Cornhuskers to three consecutive Big Eight titles and finished with a 28-2 record in three seasons as a starter. That run included a 20-0 mark in conference games. He threw for 3,317 yards and 34 touchdowns and gained 1,317 yards and 18 TDs on the ground.

Long, a legend around the corn fields of Iowa, was one of the most successful quarterbacks in Big Ten history. He finished his playing career with a 35-13-1 record, 10,461 yards, 74 total touchdowns and 782 completions. His 1985 season, in which he threw for 3,297 yards and 27 TDs, won the Maxwell (top player) and O'Brien (top quarterback) awards and was an All-American and the Big Ten player of the year, is widely regarded by Hawkeye fans as one of the greatest in college football history.
That year, Long finished second to Bo Jackson in the Heisman Trophy voting, a vote that, until last season, was the closest in Heisman history. Gill also made his mark on the Heisman ceremony, finishing fourth in 1983.
Their history, along with the wealth of knowledge they've stockpiled during their playing and coaching careers — Gill played two seasons in the Canadian Football League and coached at Nebraska, Buffalo and with the Green Bay Packers, and Long played five seasons in the NFL and was the head coach at San Diego State — make the two QB gurus more than qualified to tutor KU's young quarterbacks. Both Pick and Webb are well aware of that.
"Oh, it's great," said Pick, a third-year sophomore. "They've been there. My dad was at Iowa State when (Long) was at Iowa, and he told me how great of a quarterback coach Long was. It's great to have that in your head coach and your quarterbacks coach and offensive coordinator. I think we're very fortunate to have both of them."
This spring, Pick and Webb emerged from a group of six candidates vying to replace former KU quarterback Todd Reesing. Both started in the annual spring game in April, and both had good moments and bad moments throughout their early encounters with their new coaches.
"I wouldn't say there's a leader," Gill said after the spring game. "But I can say Webb and Pick are the two guys. And they're going to continue to battle it out as we go on."
One of the best aspects of this coaching partnership is that Gill and Long possess different strengths while sharing a similar vision.
Gill works more with attitude, impact and accountability at the position, three things that made him beloved by fans and teammates during his playing days.
"I think most guys were anxious until we found out who we got as our head coach," said Webb, a red-shirt freshman. "And then, hearing everything you hear about coach Gill, you just know you're going to be happy playing under him, no matter what kind of plays you're going to run."
Long is more technical in his approach, though he has said repeatedly that things such as demeanor and mental toughness are crucial to performing well at the position.
"Coach Long … he's a picky guy on film," Pick said. "He'll get down to every little thing that you do wrong or you do right. He motivates us, but he also tells us what we're doing wrong and how to fix it. That's what's great. He's so knowledgeable about the game. We're lucky to have him."
Despite the different approach with which they teach, Gill and Long have a common approach for pinpointing which player will become KU's starting QB.
"Obviously, we're going to evaluate their physical skills as far as being able to throw, run or whatever we want them to do," Gill said. "But I'm more interested in how they handle things, good and bad. I want to know how they talk in the huddle, the tone of their voice. You always have to talk with confidence in the huddle, no matter what just happened on the play before. There's a lot of different intangibles, not just how well (a guy) throws or runs."
It's that insight, along with their posing as a limitless sounding board for a couple of quarterbacks with so many questions, that has Pick and Webb believing that they are among the luckiest college quarterbacks in the country.
"I definitely think it's a huge advantage," Webb said. "They know what they're doing with quarterbacks. I couldn't think of two better guys to be coaching us right now."
More like this story on KUsports.com