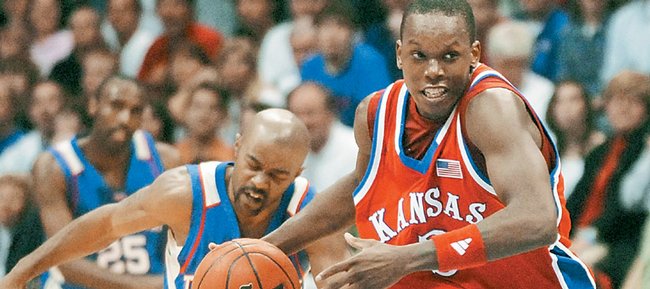 Former Kansas University basketball guard Russell Robinson will play for the NBA Development League Select Team in the upcoming Las Vegas Summer League, Robinson confirmed Wednesday.
The 6-foot-1 Robinson, who averaged 16.3 points per game last season while playing for both the NBADL's Reno (Nev.) Bighorns and Maine Red Claws, first will compete for the Indiana Pacers' summer league team, July 5-9, in Orlando, Fla.
The NBADL team's games run from July 12-18 in Vegas.
Robinson will be joined on the D-League Select team by Bennet Davis, Northeastern; Mike Gansey, West Virginia; Yaroslav Korolev, Russia; Kurt Looby, Iowa; Jared Newson, UT-Martin; Larry Olson, Oral Roberts; Cezary Trybansk, Poland; Mark Tyndale, Temple; Jonathan Wallace, Georgetown and Curtis Withers, Charlotte.
"NBA Summer League represents a fantastic opportunity for our young players to showcase their skills against top NBA prospects and on basketball's biggest summer stage," said Chris Alpert, vice president of basketball operations for the D-League.
Robinson is hoping to gain an invitation to Indiana Pacers' preseason camp in October. Playing for the D-League Select Team could net him an offer from another team in the NBA if things don't work out with the Pacers.
"This is the summer. We'll see how it goes. I'll play my cards from there," Robinson said recently. "Hopefully I'll be in the NBA. If not I'll be somewhere making money."
Darnell's with Bucks: Former KU power forward Darnell Jackson will be playing for the Milwaukee Bucks' summer team in Vegas. He's hoping to land a guaranteed contract from the Bucks, who will play from July 12-18.
Fake third round revealed: NBAdraft.net recently revealed its mythical third-round picks of the 2010 NBA Draft. KU's Sherron Collins was selected ninth by the New York Knicks. There, of course, are just two rounds in the league's draft of college and international players.
"The Knicks get a score-first point guard who is a proven leader, something they have been lacking. Collins takes one look around his current teammates and proclaims, 'Well, I am definitely not in Kansas anymore!' Eddy Curry coughs up a pastrami sandwich from laughter," writes NBAdraft.net.
The reality for Collins is he's playing for the Charlotte Bobcats' summer league team in Orlando. Some other members of the squad: former NBA lottery pick Darius Miles, Kansas State's Denis Clemente, Iowa State's Marquis Gilstrap, North Carolina's Marcus Ginyard, Memphis' Antonio Anderson, Troy's Brandon Hazzard, Marquette's Jerel McNeal, Gonzaga's Jeremy Pargo and Texas' P.J. Tucker.
Julian still trying: Former KU forward Julian Wright of the New Orleans Hornets is about to enter his fourth season in the NBA. The team exercised an option on his contract early last season.
Wright, 23, who averaged 3.8 ppg in limited duty last year, is hoping the arrival of first-year coach Monty WIlliams will help his chances of making the rotation.
Wright told the Shreveport Times he's going to work on becoming more consistent with his jump shot.
"I can take a thousand jump shots, but it's about taking a thousand of the same shots with good fundamentals," Wright told the paper. "That way you know you can make adjustments so you can make it running and when you spot up."
He told the Shreveport paper he's looking for "direction" and "great communication" from Williams.
"I think I'm very open-minded and eager to improve," Wright said. "When you don't know what to improve it's hard."
Brackins in New Orleans, too: The Hornets added first-round draft pick Craig Brackins, 6-10, from Iowa State.
"With David West, I like the way he plays. He's a big man who can shoot. That's me, too," Brackins told the New Orleans Times Picayune. "And they've got my favorite point guard in the NBA in Chris Paul. His pick-and-roll game, I'm a pick-and-roll, pick-and-pop guy, so I feel like I can complement Chris real well on that. You can't get any better than learning from a David West and a Chris Paul. This is a great opportunity for me to learn."
Giles with Golden State: C.J. Giles, a 24-year-old forward/center who was kicked off not one, but two college teams (KU, Oregon State), will play for Golden State in the Vegas summer league.
Giles last spring helped Al Riyadi of Lebanon to a third-place finish in the 10-team FIBA-Asia tournament. Giles earlier had been cut from a team in the Philippines because of disciplinary reasons. He was ticketed to be the first player from the U.S. to play for the Philippine national team until his disciplinary problem.