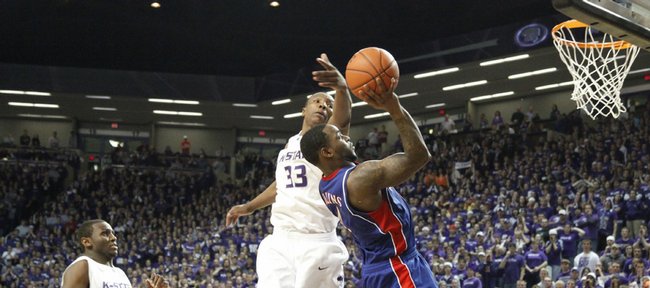 KU-Kansas State
Reader poll
Sherron Collins

63%

2098 votes

Cole Aldrich

21%

721 votes

Tyshawn Taylor

11%

369 votes

Other

2%

95 votes
3283 total votes.
Audio clips
KU-Kansas State basketball
Reader poll
Marcus Morris

17%

3 votes

Cole Aldrich

76%

13 votes

Tyshawn Taylor

5%

1 vote

Other

0%

0 votes
17 total votes.
Reader poll
KU's Sherron Collins

45%

45 votes

KU's Cole Aldrich

12%

12 votes

KU's Marcus Morris

30%

30 votes

KSU's Jacob Pullen

9%

9 votes

KSU's Denis Clemente

2%

2 votes

Other

2%

2 votes
100 total votes.
FINAL: KU defeats KSU, 81-79
Collins checks back in, and just in the nick of time. Off the inbounds, he takes it to the rim, putting in a floater off the glass for two with a foul. That's also the fifth foul on Judge, who had an impressive game with 12 points and nine rebounds.
The best free-three shooter in the conference leaves the free throw short, but Aldrich gets the rebound. KU burns some time, and Morningstar is fouled with 4.3 seconds left. He makes both free throws. KU goes up by five.
Pullen hits a deep three at the buzzer, but it's not enough.
KU comes away with a gritty two-point win.
KU 77/KSU 76 — 16.2 seconds left in overtime
Clemente misses a tough three from the top. Markieff comes down with the crucial defensive rebound.
With a five-second difference between the game clock and shot clock, Martin elects not to foul. Gutsy call by him.
KU calls timeout to set up a play.
KU 77/KSU 76 — 53.5 seconds left in overtime
Xavier checks in.
Aldrich gathers the ball after an out-of-bounds pass, shakes for a move, then puts in a turn-around. KU up one.
KU gets a block, then gathers the rebound. The Jayhawks are still stale offensively, and with the shot clock running down, Taylor is called for a charge on a drive. Xavier checks back out.
Martin calls timeout.
KSU 76/KU 75 — 2:16 left in overtime
Sutton puts in a shot over Aldrich, but KU's big man avoids his fifth foul, which would cripple KU.
Taylor is fouled on a drive, but he only gets one of two free throws. KU down one.
No Xavier. He hasn't played in a long time.
Kelly gets an offensive rebound, and Taylor fouls him to save a two. Kelly misses both, so good foul by Taylor.
Taylor with another drive, putting in a tough shot off the glass with a foul. With KU's offense so stagnant, Taylor is taking advantage of KSU's overpursuing defense. Taylor's makes the free throw after a KSU lane violation. KU up two.
Pullen with a three from the top. KU lost him around a screen.
Markieff Morris hits Morningstar on a backdoor cut, and the junior guard lays it in for two. KU once against counterattacks KSU's aggressive defense.
Collins comes out of the game, grabbing his left hamstring. Reed checks in (and still not Xavier).
Judge gets an offensive rebound, and he hits two free throws. KSU up one.
KU 69/KSU 69 — End of regulation
Collins falls down after getting a pass with 17 seconds left. He gets tied up, but the arrow is pointing to the Jayhawks.
Collins loses his dribble, and after picking up the ball, his pass is stolen away by Sutton. With the clock winding down, Sutton dribbles to the top of the key, but before he gets a shot up, Reed pokes the ball away as time expires. The KSU fans clamor for a foul, but none is called. From under the basket, it looked like a clean pick.
We're going to overtime.
KU 69/KSU 69 — 21 seconds left in 2nd half
Taylor gets a huge steal, picking off a Clemente pass. He follows with a horrible play, though, turning it over on a pass up top. McGruder steals it, puts in a jumper, and is fouled by Morningstar. Collins can't believe it. KSU ties it up after McGruder's free throw.
Self calls timeout with 21 seconds left and 20 left on the shot clock.
KU 69/KSU 66 — 1:10 left in 2nd half
Sutton takes it straight at Aldrich, and with four fouls, Aldrich is forced to simply put both hands straight in the air. He still blocks the shot, then gets fouled by KSU on the rebound.
Aldrich makes one of two free throws, but Morningstar tips the rebound back out to Collins. Huge intangible play for the Jayhawks. Taylor is fouled on a drive, and he makes both free throws. Big two-point swing created by Morningstar.
Pullen misses a fadeaway three, but KSU grabs the offensive board. Martin calls timeout.
KU 66/KSU 66 — 2:15 left in 2nd half
After two free throws from Clemente, KU is whistled for a five-second call on the inbounds. Crucial turnover for KU.
Back to a man defense for KU. Kelly throws in a sky-hook over Aldrich. Tough, tough shot, but great execution over a tall target.
Taylor is fouled on a shot, and he makes two free throws to tie it back up with 3:04 left.
Pullen misses a three, and Markieff hustles to knock the ball off of a KSU player. That's a big 50-50 ball for KU.
Markieff corrals his own miss, and he's fouled by Samuels. That's Samuels' fifth foul, so both teams now have a key player disqualified because of whistles.
Markieff misses both tries. KSU calls timeout.
KU 64/KSU 62 — 3:34 left in 2nd half
Samuels falls down on an offensive rebound, and Marcus Morris is whistled for his fourth foul even though he didn't even touch Samuels. Marcus was just in the wrong place at the wrong time.
Collins hits a long three, but Pullen follows with a long three of his own. Collins, as one might predict, jacks up a quick three to answer Pullen that misses. Pullen answers with a drive and dish to Judge, who dunks it home to give KSU a two-point lead.
Timeout KU, as Collins needs to not get caught up in a one-on-one Chicago battle with Pullen.
Kelly with an ugly fadeaway, but the brick bounces in. Xavier Henry follows with a drive and tough two off the glass.
Sutton takes it to the rim, and he puts it in with a foul on Marcus Morris. That's five for Marcus. Big loss for KU.
Morningstar with a huge three from the corner to put KU up by two. No hesitation on the shot from the junior.
KU 52/KSU 49 — 7:28 left in 2nd half
Pullen with another tough jumper. KSU isn't missing mid-range shots, even though that hasn't been its strength this season.
Jeff Withey — in his first action — tosses a bad pass to Reed that is stolen. Pullen lays it in on the other end, and KSU has regained the lead. Self calls timeout, and Withey checks out.
Taylor turns it over on a pass, though it sure looked like a KSU player kicked it. Self stomps for a foul, but Clemente puts in a layup on the other end. This is the loudest it's been all game.
KU looks passive offensively. KSU's zone has flustered the Jayhawks, who haven't attacked it aggressively.
Samuels hits a free throw, and it's a 7-0 run for KSU.
Collins drains a deep three just when KU needs it. Meanwhile, Pullen is hurt afterwards, laying on the floor. After checking the monitors, the officials must not have seen any flagrant contact, as no one is whistled for a foul or ejected.
Morningstar gets another steal, and Collins finishes on the other end as KU regains the one-point lead. Nice bounceback for the Jayhawks right when all seemed to be spiraling out of control.
Big block and rebound for Aldrich. That's a brave play for the big man when he has three fouls.
Xavier Henry scraps for an offensive rebound, and after ripping it away, he drains a 15-foot shot. Self loves the toughness, shouting encouragement to Henry.
Aldrich with a terrible foul on a reach-in. That's his fourth whistle, and he'll surely sit for at least a couple minutes.
KU 45/KSU 42 — 11:38 left in 2nd half
Clemente gets a three-point play, putting in a floater with a foul. KSU's fans are starting to get back into it.
Aldrich makes a nice move, but misses the short shot. He gets his own miss, but then bricks a wild, twirling shot.
Samuels puts in an 18-footer, and Self calls for timeout. The Jayhawks look rattled for the first time since the opening minutes, but they still have a three-point lead.
Marcus Morris misses, and KU is in an extended drought.
Kelly hits another long jumper, but Collins — who has been silent lately — answers with a jumper.
Marcus Morris picks up a foul underneath, and KSU will shoot the bonus the rest of the way. KU has to avoid fouls. I would think Self will be switching back to a zone because of the whistles.
KU 42/KSU 34 — 15:47 left in 2nd half
Pullen hits a long two, but Marcus Morris answers with a fadeaway from five feet. He looks more comfortable with that shot than a putback layup at this point in his career.
Here are the players with at least two fouls for each team:
Kansas
Aldrich 2, Marcus Morris 2, Taylor 2.
Kansas State
Pullen 2, Colon 2, Clemente 2, Samuels 2, Judge 2.
KU 40/KSU 32 — 17:34 left in 2nd half
Aldrich with a tough turn-around on the baseline. He had missed four straight shots before that.
Aldrich misses, but Marcus Morris cleans up with the rebound and stickback. Self loves it, pumping both fists in front of him in celebration.
Morningstar pokes away a steal, and he draws an intentional foul call on Clemente. Morningstar makes both shots.
Xavier Henry tries to go one-on-one, and his dribble is stolen away. He gets the immediate hook from Self, and the two have a few words before Henry takes his spot on the bench.
Morningstar drains a three from the top, and he holds three fingers up on his right hand, a la Collins. Morningstar has been huge for KU to start the second half.
Frank Martin calls timeout with his team trailing 40-32.
KU scoring — Aldrich 10, Marcus Morris 7, Taylor 4, Collins 4, X. Henry 2, Morningstar 2, Reed 2.
KU was 12-for-27 from the field (44.4 percent), 6-for-11 from the free-throw line (54.5 percent) and 1-for-4 from three (25 percent).
KSU was 12-for-30 from the floor (40 percent), 3-for-5 from the free-throw line (60 percent) and 3-for-8 from three (37.5 percent).
Both teams had 19 rebounds at half. KU had eight turnovers to KSU's seven.
Halftime thoughts
• Great job by KU limiting KSU's free-throw attempts. It probably can't hold up through two halves, but the Wildcats have had to rely on jumpshots to stay in the game.
• Marcus Morris, besides missing two easy layups, has shown good energy for KU. He leads all players with nine rebounds and also has added a couple of hustle plays.
• My, how Xavier Henry has fallen. Just eight minutes for him with three turnovers and also a forced shot that was rejected by three different Wildcats. Many considered Henry to be KU's X-Factor today, but in his time out there, he hasn't contributed much at all.
• One positive for KU: Pullen and Clemente combined to make just 4 of 15 shots in the first half.
KU 31/KSU 30 — Halftime
KU goes back to the Triangle-and-two. Wally Judge hits a long jumper against it. Judge is already above his season average for points (four today, 3.4 per game this season).
The Jayhawks have done a great job of forcing the ball inside. Aldrich gets it again inside, and he's fouled by Pullen.
Smart play by Pullen, who flops into Aldrich to draw the big man's second foul. Self points to his temples telling Aldrich to be smarter. Aldrich will sit for the rest of the half.
Judge with another offensive rebound, sticking in a KSU miss. This freshman coming-out party against KU resembles what Pullen did two years ago against the Jayhawks in Manhattan.
Markieff Morris comes back in with his left ankle wrapped tightly.
KU has a shot-clock violation in its final possession of the half, but it's not all bad, as the Jayhawks waste all but 2.4 seconds on the game clock.
Pullen misses a half-courter, and KU takes a 31-30 lead into halftime.
KU 26/KSU 23 — 3:41 left in 1st half
Collins curls around a screen and hits a layup. That breaks an 0-for-4 start for him.
Pullen hits a three with Morningstar all over him. Not much you can do about that if you're KU. The Wildcats are 3-for-7 from deep (42.9 percent) so far.
KSU is overplaying defensively, and the flipside is that the Wildcats are vulnerable to dribble penetration. Tyrel Reed takes advantage, taking his man to the bucket before putting in a short floater off the glass. That's not typically his shot, but it was a good job of recognizing that a dribble drive is what the defense is giving him.
KU 21/KSU 16 — 7:00 left in 1st half
KSU's aggressiveness is paying off. KU already has five team fouls. Remember, the Wildcats average 33 free throws per game.
Collins with a lob to Taylor, who dunks it in on the break. That ties it at 14.
Taylor with an awful entry pass that bounces off Marcus Morris' hands and out of bounds. The pass was way too high, and he was only a few feet away.
Another nice entry pass from Morningstar, and Marcus Morris finishes with a layup and foul. That's Marcus' first points (and shot) of the game.
KU has gone to a weird defense. I don't have a good angle, but it looks like a Triangle-and-two. So far so good, as KU gets a missed shot from Clemente and a KSU turnover.
KU scraps for another tough offensive rebound, and Marcus Morris drains a three. On the next possession, Marcus hits a turn-around.
Markieff Morris is hurt underneath the near basket, and it looks like a left ankle injury. He walks off under his own power but gingerly.
KSU 14/KU 12 — 11:45 left in 1st half
Five turnovers for KU in the first five minutes. I think it's safe to say KU won't win if it continues to give it away once per minute.
Markieff Morris gets a nice bounce pass from Brady Morningstar, and Markieff is fouled on the way up. That's two fouls on KSU big man Luis Colon, so expect the Jayhawks to continue to cram the ball inside.
Clemente puts in a deep three, giving KSU its first lead at 9-8.
Nice hustle by Markieff, who sprints to slam a ball off a KSU player before it sails out of bounds. Aldrich turns the possession into points, following a Tyshawn Taylor miss with a tip-in.
KSU isn't double-teaming Aldrich. The KU big man fools Wally Judge with an upfake, drawing a foul on the way up. Aldrich 3-for-3 from the floor and 2-for-2 from the free-throw line for eight points.
Jamar Samuels is whistled for a hold, and that's his second foul. KSU's big players are in some serious foul trouble.
KU 6/KSU 4 — 14:57 left in 1st half
Cole Aldrich gets the ball deep in the post, hitting a short turn-around for KU's first points.
Good defense by Collins, who forced Jacob Pullen into a tough pull-up fro 18 feet. Marcus Morris clears the rebounds.
Already, KU has two unforced turnovers. It usually happens with a crazy atmosphere like this. The Jayhawks need to settle down a bit.
Aldrich gets a foul while battling for a defensive rebound. He needs to avoid his second foul at all costs for KU.
Xavier Henry with an illegal screen. Third turnover for KU in two minutes.
Marcus Morris gets whistled for a foul underneath on the offensive glass, and eight feet away, I'm not sure what he did. That's the fourth turnover and third foul for KU.
Dominique Sutton puts in a layup at the 16:30 mark for KSU's first points.
KSU is dominating the battle of the backboards so far. The Wildcats have five offensive rebounds before the first media timeout.
6:04 p.m.
I guess "Octagon of Doom" is now official, as it was used in the pregame introduction by the PA announcer.
5 p.m.
OK, I've fired up a pregame chat. Remember, use the "Post a question" button to comment, post a question, give a score prediction or just say hi.
I'll be hanging out there until gametime.
Today's off-the-wall topic: Best pep band song (not including fight songs).
4:48 p.m.
The KSU students have completed their full sprints down the stairs at Bramlage and are settled into their midcourt seats. And already, the boo birds are out, as Cole Aldrich, Sherron Collins and Tyshawn Taylor are getting their warm welcomes onto the court.
Do any fans boo more than KSU fans?
As the "El-e-va-tor" chant starts amidst boos, I'll go ahead and give you some notes about today's game.
• Kansas State averages 33 free throws per game. In fact, three KSU players (Jamar Samuels, Curtis Kelly, Jacob Pullen) are in the top 35 nationally in fouls drawn per 40 minutes. KU averages 24.3 free throws per game.
• Twenty-seven percent of KSU's scoring comes from free throws. That's a high number considering the Wildcats have made just 65.4 percent of their free throws this year.
• KSU averages 16 offensive rebounds per game. The Wildcats get offensive rebounds on 42.8 percent of their misses, which is tied with West Virginia for the highest percentage in the country.
• KSU plays the 18th-fastest tempo in the country.
• Jacob Pullen was 7-for-11 from the floor and 5-for-6 from three in his last game, scoring 25 against Baylor.
• Sherron Collins is leading the Big 12 in free-throw shooing, making 87.3 percent of his freebies.
• KU has won 38 of the last 40 meetings against KSU.
• Since Big 12 play began, KU is last in the conference in three-point percentage defense. Opponents are making 40.9 percent of their threes against the Jayhawks in conference games.
4:22 p.m.
Welcome back to the Newell Post Live, coming to you from Bramlage Coliseum in Manhattan where the No. 2 Kansas Jayhawks are getting set to take on the 11th-ranked Kansas State Wildcats.
Everyone should be happy to know that my personal streak at Bramlage is still intact.
I am two-for-two in getting booed while making my way into Bramlage Coliseum.
We tried our hardest not to get booed, too. Beat writer Gary Bedore and I rolled up in a vehicle with nothing identifying us as from Lawrence.
Still, after getting out of the car, we were booed by a few hundred KSU students who were waiting to make their way into the arena.
Believe it or not, I think we were booed because my Columbia coat is a shade of dark blue. So, to continue my math from last year, Coat=Blue=KU=Bad.
One student was kind enough to tell me that my mother was a, well, it rhymes with "chore".
I might try a different coat next year, just to see what happens, but I have a sneaking suspicion that even if I do, my personal streak might somehow live on.
We'll get to more analysis as we get closer to gametime. We'll also have our normal pregame chat starting an hour before the game.
Be sure to vote in our poll on the left and also use #kubball to have your Tweets appear on the left side of the page.