Document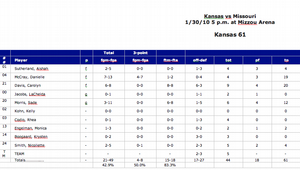 Columbia, Mo. — Freshman forward Carolyn Davis recorded a career-high 20 points and pulled down nine rebounds to lead Kansas University's women's basketball team to a 61-59 victory over Missouri on Saturday, its first Big 12 Conference road victory of the season.
Kansas improved to 13-7 overall and 3-4 in the Big 12. MU fell to 11-9 and 1-6.
In the first half, KU and MU traded baskets until the 14:02 mark, when the Jayhawks went on a 10-0 run fueled by Davis' six points to go up, 17-7. The teams stayed close until Missouri closed out the half with a 5-0 run to trail, 30-26.
KU senior Danielle McCray scored in the first minute of the second half to put Kansas up, 32-26, but the Tigers stayed within six until the 12:04 mark , then tied it at 44. McCray and senior Sade Morris scored the next 13 points for the Jayhawks.
With 4:07 left, the teams were tied at 55. McCray and Davis scored the next four points, but Missouri answered.
KU took a 61-57 lead with 1:50 left, but the Tigers pulled within two with 1:02 left and regained possession of. The Jayhawks stepped it up on defense and held on to win. Davis, McCray and Morris scored all but two of the team's 31 points in the second half.
McCray finished with 19 points (4-of-7 from three), four assists and four rebounds, while Morris had 12 points and six rebounds for the Jayhawks. Davis was 8-of-8 from the charity stripe and has scored in double figures in four of the last five games since moving into the starting lineup.
he Jayhawks held Missouri to 35.6 percent from the field and only 18.8 percent from three-point range. In addition, Kansas outrebounded Missouri, 44-26, with 17 of those coming on the offensive end. The 11 Missouri defensive rebounds marked the lowest amount for a Kansas opponent this season.
The Jayhawks shot 43 percent from the field, 50 percent from three and 83 percent from the free-throw line.
Jessra Johnson and Shakara Johnson led the way for the Tigers with 16 and 12 points, respectively.
Kansas will return home to host Kansas State for the third-annual Jayhawks for a Cure "Pink Zone" game on Sunday. Tipoff is 1 p.m.