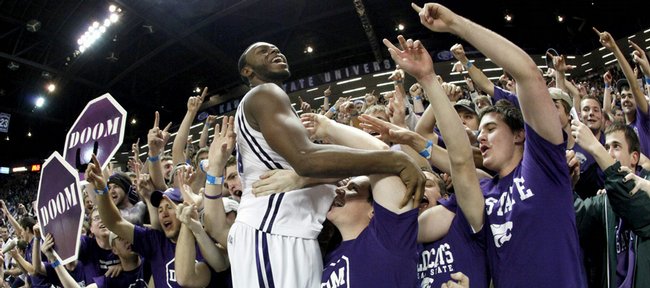 Kansas State University's basketball team takes a 4-0 record against ranked squads into tonight's Sunflower Showdown in sold-out Bramlage Coliseum.
Syracuse, at 5-0, is the only school with a better mark.
"We don't get wrapped up in thinking that, 'Oh wow, we're playing the big almighty-whoever,'" Kansas State coach Frank Martin said of the philosophy of his No. 11-ranked Wildcats. They take a 17-3 record, 4-2 in Big 12 games, into a 6 p.m. home battle versus No. 2-rated Kansas University (19-1, 5-0).
"We get wrapped up in who we are, and we believe in ourselves, and then we go figure out what we have to do to win the next game on the schedule."
The Wildcats, who have beaten nationally ranked Dayton, UNLV and Baylor, also had an historic victory over No. 1-rated Texas, 71-62, on Jan. 18 in Bramlage Coliseum.
An obvious question with No. 2 in town: Is this game bigger than the Texas game?
"For who?" K-State senior guard Jacob Pullen said. "Texas was No. 1 when we played them. KU's No. 2. But at the end of the day, it's still a game in the Big 12 we need to win. We need to protect the court like we didn't do last weekend (in losing to Oklahoma State, 73-69) and we need this game so people know that Kansas is human."
The Jayhawks, who have won five straight Big 12 titles, are a game ahead of second-place Texas in the league standings. KSU, Oklahoma State and Missouri have two losses apiece.
"It's huge for them and huge for us," KU coach Bill Self said. "Certainly it would put us in a very favorable position with the league race, although it's so early. It's way early."
To win today, KU, which has defeated KSU in 38 of the last 40 Sunflower Showdowns, including 25 of the last 26 games in Manhattan, likely must surpass the 'Cats in the toughness department.
"We really get out there in practice and beat up on each other, and when we get the opportunity to play other teams, we try to beat up on them," Pullen said. "We really want to impose our will on teams as far as the offensive rebounding and just being physical overall."
KU has outrebounded its opponents an average of 41.8 to 33.2. KSU has outboarded foes 40.0 to 33.8.
"It's going to be a game of toughness. It's going to be a game of a lot of possessions," said KU senior guard Sherron Collins, ready for another battle against fellow Chicagoan Pullen. "It's who will get more loose balls. We've got to leave it all out there. It will be one of those scrappy, sloppy games with a lot of possessions. Those are the games we like to play."
Noted KU center Cole Aldrich, who will have his hands full with the likes of Curtis Kelly, Luis Colon and Jamar Samuels: "They are really physical. They have a lot of hard workers on that team. It's a team that gets after it every game."
Samuels was asked if he feels any pressure to play well against KU.
"I've never heard of that word," he said, noting his mom, who will attends today's game, "calms me down."
Samuels plans to clip his beard before tipoff. Some of the 'Cats and 'Cat fans have taken to copying the bearded Pullen, who is subject of a "Fear the Beard" campaign this season.
"My mom's already said if it's not cut off my face, I'm in trouble as soon as she gets here," Samuels said.
For the fans
KSU senior Denis Clemente, who was suspended by his coach for a game after striking Brady Morningstar and Tyrel Reed in the game in Bramlage last season, would like to reward the KSU faithful with ESPN Game Day in town.
"We've got to make those people happy. I'm so proud they come to every game and support us every game. We've got to do something for them. Tell the fans to go crazy, man," Clemente said.
Man-to-man
KSU tonight faces man-to-man pressure from KU after going against Baylor and Okie State zones the past two games.
"We obviously have to spend more time on our man-to-man stuff to prepare for Kansas, but they've played zone this year, and last year they gimmicked us, too. They played zone and they triangle-and-two'd and box-and-one'd us, so we have to be prepared to face everything," KSU coach Frank Martin said. "Bill (Self) leaves no stones unturned, and he does an unbelievable job of preparing his teams and doing what they have to do to win the next game on their schedule. So we have to do the same."
Tough atmosphere
Cole Aldrich is ready for ear-splitting noise tonight.
"Since I been here, it's probably one of the best atmospheres we've played in as a road game," Aldrich said. "Their fans are crazy. Their fans are a lot of fun, too."
He said he'd not received any unsolicited phone calls from KSU fans yet this year.
"I got calls last year for a week and a half," Aldrich said. "I had quite a few hundred messages. I just deleted them."
More like this story on KUsports.com