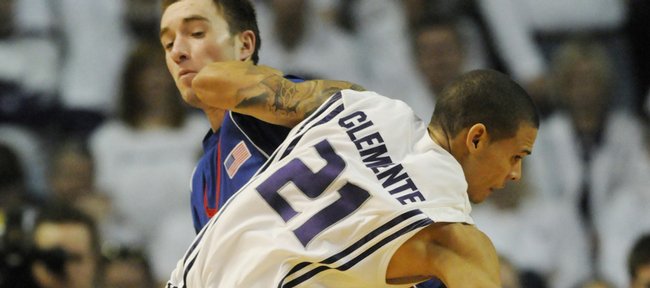 Kansas State guard Denis Clemente paid the price for elbowing Kansas University's Brady Morningstar in the back and popping Tyrel Reed in the head during last year's Sunflower Showdown in Manhattan.
KSU coach Frank Martin suspended the 6-foot-1 guard from Bayamon, Puerto Rico, for one game, which put an end to the issue, as far as Morningstar is concerned.
"Nah. Nope," KU junior guard Morningstar said Thursday, asked if he harbored any lingering resentment heading into Saturday's 6 p.m. KU-KSU game at Bramlage Coliseum.
"It is what it is. It's the heat of the battle. I don't hold any grudges. Oh well .... it didn't hurt too bad," Morningstar added with a smile.
A media report — one denied by KU players and coaches and later refuted by Clemente — surfaced after the game that an unnamed Jayhawk yelled a racial insult at Clemente during KU's 85-74 Valentine's Day victory.
"Don't be stupid because you can't lose your mind," Clemente said Thursday, asked what he learned from the suspension. "You've got to be focused for 40 minutes and pay attention to what you are doing. You just can't be crazy because of the crowd, then this thing happens.
"You've got to be focused and that's one of the things I did learn. Don't get frustrated. That's one of the things I did last year in the game here when I punched at the guy. I apologized because I'm not that type of dude. My game is (to) play hard and not hurt anybody."
He was asked by KSU beat writers Thursday if he thought the Jayhawks would try to "get in his head" Saturday.
"I don't care about that. I'm going to play my game and run my team," said Clemente, who was whistled for a technical foul for his contact with Morningstar, but no foul on the slap of Reed. "I don't care what they want to do. If they want to play dirty, play dirty, but that's not my type of play."
Emotions figure to be running high again Saturday when No. 2 KU (19-1, 5-0) meets No. 11 KSU (17-3, 4-2).
"The crowds are ridiculous. The student section is huge. It's a fun place to play," Morningstar said. "I think it's probably the best road atmosphere we've played against. It was at Missouri but I think K-State may have them beat."
Asked which team he disliked more as a child — KSU or Missouri — Lawrence native Morningstar cracked: "I don't like to wear purple, so if had to wear any colors it'd be yellow and black (MU). I don't like either. That's a tough one."
Buddies
KU coach Bill Self was asked a batch of questions about KSU coach Martin on Thursday at Self's weekly press conference. Self said he considers Martin a friend.
"I think he's a coach's coach. I think he's a guy's guy," Self said. "I think he's one of those guys that does his job and at the end of the day, he gets it as far as how tough our job is and respecting the people you work with and go against on a daily basis. He would be a guy I enjoy having dinner with ... as long as he buys," Self added with a laugh. "I just think he's a good guy."
More like this story on KUsports.com