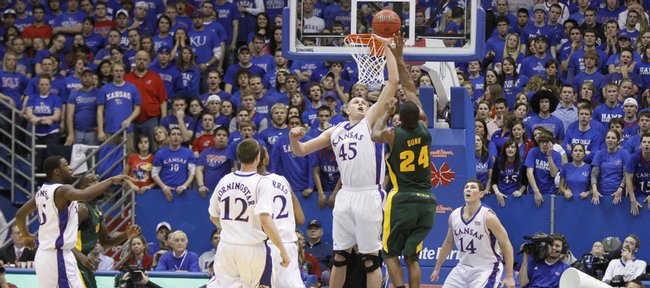 Kansas University junior center Cole Aldrich, who blocked a season-high seven shots against Missouri on Monday night, now has something in common with his mentor, Danny Manning.
Both have 200 career blocks, good for fifth place on the Jayhawks' all-time list.
"He better," KU assistant coach Manning joked on Tuesday night's weekly Hawk Talk radio show, asked by host Bob Davis if the 6-foot-11 Aldrich would pile up some more rejections this season.
"Cole is one of the true shot blockers in the country," Manning added in a serious tone. "He goes up and tries to find the ball every time somebody shoots it in the paint. He alters a lot of shots he doesn't get credit for (on stat sheet). He's a very intimidating presence in the paint, which we saw last night."
Aldrich is 19 blocks from passing Scot Pollard and moving into fourth on the all-time rejections list. Eric Chenowith is third (242), Nick Collison second (243) and Greg Ostertag No. 1 all-time (258).
Aldrich does have the most blocks in a game in KU history — 10 last season against Dayton. Ostertag (twice) and Rick Suttle each had eight blocks in a game, while Manning, Ostertag, Pollard, Chenowith, Collison and Paul Mokeski, as well as Aldrich have had seven blocks in a single contest.
The ever-consistent Aldrich has had six blocks in one game this season (Belmont), five blocks three times (Memphis, LaSalle, Cal), four blocks three times (Hofstra, Tennessee Tech, Tennessee) and three blocks 10 times.
"It's the player I am. I'm going to continue trying to block shots," Aldrich said. "I'm really trying to play hard. Over the last few games, I'm starting to get back in a groove of how I was playing last year. I'm having fun again (after bout of bronchitis and worrying about his grandmother, who recently died following a long illness) playing the game I love."
Aldrich constantly gives credit for his progress to Manning. Former KU great Manning, who rarely speaks publicly, discussed his work with KU's bigs while subbing for KU coach Bill Self on Hawk Talk.
"I spend most of our practice time on the court with those guys," Manning said, "when we have big-little breakdown — the big guys on one end of the court working on things they need to do to be successful. They come by the office every day. They want to watch tape, go over scouting report issues. We spend a lot of time together, quite a few hours every day.
"I enjoy teaching and sharing," Manning added, "sharing experiences you've gone through and letting them know, 'this is what I did and it worked for me' or 'this is what I did and it didn't work for me,' and let them make their own decisions."
KU outrebounded Missouri, 56-28, in Monday's 84-65 victory over the Tigers in Allen Fieldhouse.
Aldrich grabbed 16 boards, while Markieff Morris had 11, Marcus Morris nine and Thomas Robinson two. Perimeter player Xavier Henry contributed seven rebounds.
"Those guys have been working hard in practice going after the basketball," Manning said of KU's bigs. "It's something we must continue to do, especially against K-State (6 p.m. Saturday in Manhattan). They are one of the best rebounding teams in the country, not only the big guys, but the guards have to go in and help us out."
Manning on the Hawk Talk show was asked a pair of questions about KU 7-foot freshman Jeff Withey, who figures to grab major minutes next season taking over for Aldrich, who is expected to turn pro.
"Jeff is in a similar position Cole was in his freshman year. Cole played against Darrell (Arthur), Darnell (Jackson) and Sasha (Kaun) every day in practice. He took his lumps, but continued to battle and get better. The Carolina game (Final Four semifinal) was his coming out party. He worked extremely hard all year and got a chance to show what he'd been doing at practice.
"Jeff is getting better day in and day out, going against Cole and the twins. We expect great things from Jeff down the road. Jeff came in and played great defensively, was very active on the boards — eight (points) and five (rebounds) in 12 minutes (in Saturday's win at Iowa State). He had some great minutes for us and gave a great contribution (to that victory)," Manning noted.
Recruiting
Rivals.com reports that KU coach Self was in Menomonee Falls, Wis., Tuesday to visit J.P. Tokoto, a 6-5 small forward from Menomonee Falls High, the No. 4-rated player in the Class of 2012. Tokoto is considering KU, Duke, North Carolina, Kentucky, Iowa, Iowa State, Marquette, Minnesota, Tennessee, Wisconsin and many others.
More like this story on KUsports.com