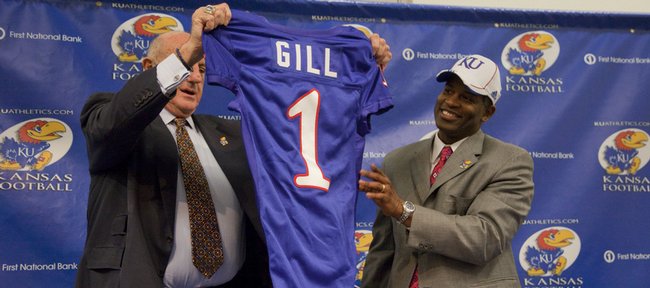 New Kansas University football coach Turner Gill has signed a contract that will pay him $2 million a year over the next five years and make him the Big 12's fifth highest-paid coach, the university announced Wednesday.
In addition to his annual salary ($229,900 will come as a base salary, $1,770,100 for media responsibilities), meanwhile, Gill will receive bonuses of $25,000 if Kansas wins a Big 12 regular-season championship, $50,000 if the team participates in a BCS bowl, $100,000 if he is named national coach of the year and $200,000 if Kansas wins a national championship.
He will also receive one month's salary if KU participates in a bowl game and a retention payment of $500,000 — $100,000 for each year of his contract — if he remains at Kansas throughout his five-year term.
"Turner Gill is a winner," KU athletic director Lew Perkins said in a statement. "He is an excellent coach and a terrific person. With Turner and the outstanding staff he has assembled, Kansas fans can look forward to many exciting Saturdays at Kivisto Field at Memorial Stadium."
Gill's contract represents a slightly less lucrative deal than that of Kansas' former coach, Mark Mangino, who signed a contract extension worth $2.3 million annually in the summer of 2008 before being forced to resign in December following an investigation into his treatment of players.
Mangino's contract also included bonuses if Kansas played in a New Year's Day bowl ($100,000) or sold 40,000 season tickets before Sept. 1 ($125,000), and a $50,000 bonus if Mangino was named Big 12 coach of the year.
Gill arrives in Lawrence after four seasons as head coach at Buffalo, where he turned a downtrodden program into a regular conference contender. Under his watch, the team won two Mid-American Conference titles and made its first bowl appearance in the program's history.
He was named Mid-America Conference coach of the year honors in both 2007 and 2008 and was a finalist for the Bear Bryant national coach of the year award in '08.
More like this story on KUsports.com