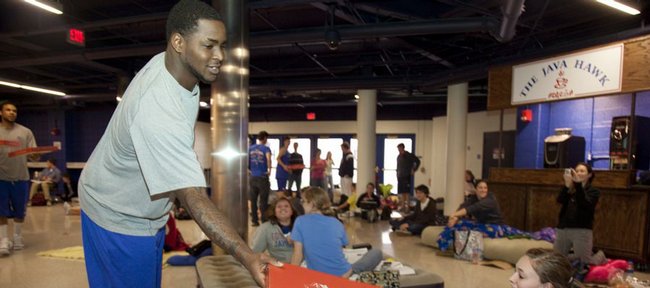 Kansas University's basketball players fed their hungry fans at 2:45 p.m. Sunday in Allen Fieldhouse.
The Jayhawks carried two to three boxes of pizza apiece from their locker room into the lower-level north concourse, providing a midday feast for more than 100 loyal student campers.
Those same campers have helped the Jayhawks pile up 53 straight home victories heading into today's 8 p.m. Border War clash against Missouri in Allen Fieldhouse.
"It's a tough atmosphere. They really support their team," Missouri senior guard J.T. Tiller said of the KU fans. "Kansas just really feels comfortable in there. It's just a tough environment to play in."
The Jayhawks, who have the country's longest homecourt win streak — the Tigers rank third at 31 straight victories in Mizzou Arena, one behind Siena — have won 10 straight over the Tigers in Allen.
"The building shaking," MU sophomore Miguel Paul said, asked what he remembers most about playing in Allen in last year's 90-65 MU defeat. "It looks like everybody is looking down on you. It was pretty loud."
"It's a great atmosphere," noted MU coach Mike Anderson, 0-3 against KU in Allen and 1-2 in Mizzou Arena. "If you are a basketball player, I think you look forward to playing in great venues, and it's a great venue."
The Jayhawks (18-1 overall, 4-0 Big 12 Conference) take a healthy dose of respect for Mizzou (15-4, 3-1) into tonight's game. The Tigers, who have double-digit scorers in Kim English (14.8), Marcus Denmon (11.2) and Laurence Bowers (10.9), average 81.6 points per game while allowing 63.1.
KU averages 84.5 points and allows 61.5.
"I think they always have our attention," said KU senior Sherron Collins, asked if MU's run to the Elite Eight a year ago gave the Jayhawks renewed respect for Mizzou. "Just the way they play, and they are well coached. They are a good team. They try to speed you up. We like to play fast, but they can speed you up faster than what you like to play."
The Tigers have forced 20.9 turnovers a game, using their pressing style.
"If we go into Kansas playing their style of game, we definitely don't have a chance," Tiller said. "But that's with any team in the Big 12. We have to go in there and play our game and impose our will for us to have the best chance at winning."
KU coach Bill Self, whose Jayhawks clubbed Iowa State, 84-61, on Saturday in Ames — the same day MU beat Nebraska, 70-53, at MU — had his players feverishly studying MU on Sunday as well as delivering pizza.
"We have one day to prepare for a team that plays differently than anybody else. That'll make it a little harder," Self said. "They do a great job, and this is a serious compliment to their staff, of putting their players in position to make plays the way they want to play."
Both teams will be energized, that's for sure.
"It's going to be a great game," KU sophomore Marcus Morris said. "Missouri is going to come in and give it their all, and we're going to try to do the same."
"We know its going to be a big challenge," MU's Anderson said, "but I think that's why they play the game."
Notes
KU leads the all-time series, 167-94, including an 86-33 record in Lawrence and 39-14 mark in Allen. ... KU has won six of the last seven and 10 of the last 13 meetings. ... Since the inception of the Big 12, KU holds a 20-9 series advantage against MU — 18-8 in regular-season play and 2-1 in the conference tourney. ... MU sophomores Marcus Denmon and Steve Moore and freshman Michael Dixon were teammates of KU soph Travis Releford on the Kansas City Pump N' Run AAU team.
More like this story on KUsports.com