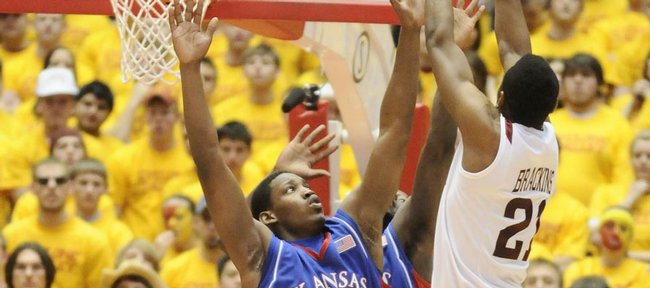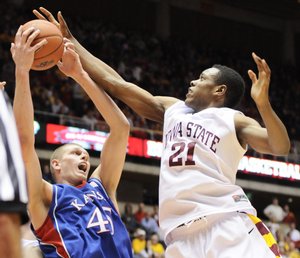 Ames, Iowa — Craig Brackins, whose eye-opening stat line stood at 42 points, 14 rebounds and counting, took a seat on Iowa State's basketball bench with just under a minute left in last year's Kansas University-ISU basketball battle in Hilton Coliseum.
Though the 6-foot-10 forward was just two three-pointers shy of a record-setting performance against the tradition-rich Jayhawks, Brackins had no problem abdicating to the Cyclone reserves, who ran out the clock on an 82-67 defeat.
"Coach 'Mac' felt we couldn't win the game. He didn't want anything stupid to happen, me getting hurt or anything like that," Brackins said of coach Greg McDermott. "He did the right thing. I think it was the right move."
Maybe McDermott was giving Brackins something to shoot for today — Jackson State's Lindsey Hunter lit up the Jayhawks for a single-game record 48 points in 1992 — when the Cyclones again play host to the Jayhawks in a 1 p.m. tipoff in Hilton.
"I don't know. If my shots fall, probably, but that's a lot of points," Brackins said, asked if he could envision scoring, say, 50 or more points in a college or NBA game.
"Forty is a lot, too," he added with a smile.
Indeed.
His 42 points were ...
• seventh most points scored versus KU and most since Oklahoma State's Randy Rutherford's 45-point explosion on March 5, 1995, in Allen Fieldhouse;
• most surrendered by KU in a Big 12 game, exceeding the 39 scored by Kansas State's Michael Beasley on March 1, 2008 in Allen;
• most by an ISU player versus KU, surpassing Chuck Duncan's 37 in 1955;
• fourth highest total in ISU history, behind only Lafester Rhodes (54 vs. Iowa in 1987), Barry Stevens (47 vs. Morgan State in 1985) and Herkle Ivy (43 vs. Colorado in 1975).
"After the game, a lot of people told me," Brackins said of all his feats set last Jan. 24. "It didn't really matter because I was so bummed about the loss. I felt we could have beat them."
Just a few hours before tipoff, Brackins figured he'd have a tough time scoring one basket, much less finishing 11-of-19 from the field (3-of-5 from three) and 17-of-21 from the free-throw line.
"I didn't feel confident going into that game. I couldn't make a shot in shootaround," Brackins said. "It was one of those days. Those are the days you try a little harder to make shots.
"I guess the way they guarded, I felt a lot more comfortable. I think I hit my first couple shots. You can ask my coach. If I hit one shot right away, that's when I feel like it's going to be a good day."
It turned out to be a career day, one he has not yet duplicated.
Brackins — he averages 16.2 points and 8.2 rebounds for the Cyclones (12-6, 1-2 Big 12) — scored a season-high 28 points against Mississippi State on Nov. 22 and again against Iowa on Dec. 11.
"That was a lot of points. I never saw myself scoring so many points," Brackins said. "It was just one of those games where a lot of shots fell for me, and it went my way."
He didn't have nearly as productive a game in the rematch in Allen Fieldhouse. Brackins scored 20 points off 7-of-21 shooting in the Jayhawks' 72-55 victory on Feb. 18.
"When we played them in Lawrence, they pressed me a lot," Brackins said. "Every time I shot the ball, they tried to get up under me a little more. They didn't want to give me much space. I think playing them again, I probably pressured a lot of shots.
"It was an OK game. We couldn't score toward the end, and we lost it."
ISU actually may have beaten the Jayhawks last season in Ames if not for the play of guard Sherron Collins.
The 5-11 point guard exploded for 18 points the first 12 minutes, had 18 at the half to Brackins' 22, and finished with 26 points off 10-of-19 shooting. Cole Aldrich added 16 points, while Tyrel Reed and Tyshawn Taylor totaled 10 apiece.
"Maybe themselves — if they don't show up to play," Brackins said, asked to pinpoint any possible weaknesses of the No. 3-ranked Jayhawks. "Kansas is a real strong basketball team. It'd be tough to beat them, but I'm sure it could be done."
Brackins is hoping for a huge win today, one that would bolster Iowa State's NCAA Tournament hopes. He desperately wants to play in the postseason in what could be his final season in Ames.
"Win the Big 12, just be in the top half of the conference, make the NCAA Tournament, win 20 games. There's a lot of goals. Basically to win. Do what it takes to win," he said, indicating he's playing for ISU's loyal hoops fans, who are desperate for a winner.
"The fans … I mean, they are so loyal," Brackins said. "If we are 0-20, Hilton Coliseum is almost packed every game. If we're 20-0, it's definitely packed every game. The loyalty is great."
Those same fans would love to see Brackins put his Cyclone teammates on his back again today and pile up similar stats as a year ago. It'd be a nightmare relived for KU if that happens.
"He put on a show. I wish I could tell you that our game plan was to stop everybody else and make him make all the plays. That was not the case," KU coach Bill Self said.
"I thought we did the best job late when Cole switched on him," Self said of 6-11 Aldrich, who guarded Brackins after the Morris twins, Mario Little and Quintrell Thomas gave it a shot. Marcus Morris is expected to open on Brackins today.
"We could have put Cole on him, but we wanted to save him (from foul trouble)."
Aldrich remembers the late-game assignment well.
"It was definitely up there," Aldrich said, asked if it was the best performance he has seen from a big man. "He was throwing up shots. He probably could have gotten it inbound and just thrown it up there and it would have gone in. I think it was one of those games for him. It's fun to see a player like that really play hard."
It was also fun to watch Collins that day.
"It was crazy. He got the best of me, but we got the win," Collins said. "I don't want him to get 42 again. Hopefully that's not the way it goes."
Whenever a player hits for 42, the opposing coach has to feel relieved to leave with a victory.
"After the game, I told him, 'I've been doing this awhile. I don't think anybody has ever had a game like that against us. I don't think anybody's busted us for 42.' It was as good a performance as we've had against us," Self said.
More like this story on KUsports.com