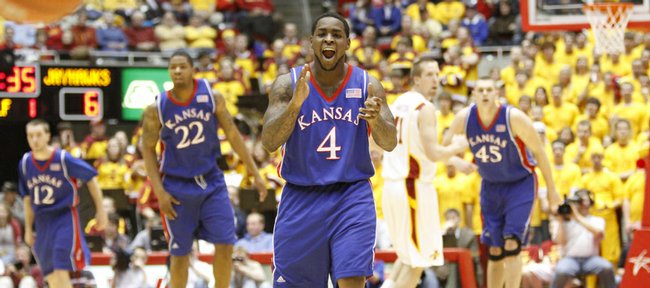 KU vs. Iowa State
Reader poll
Cole Aldrich: 19 points, 8-for-11 shooting, 11 rebounds, 3 blocks, steal, 31 minutes

56%

1353 votes

Jeff Withey: 8 points, 5 rebounds, block, turnover, 12 minutes

41%

991 votes

Undecided

1%

36 votes
2380 total votes.
Reader poll
Cole Aldrich

53%

70 votes

Jeff Withey

30%

40 votes

Thomas Robinson

1%

2 votes

Brady Morningstar

11%

15 votes

Other

3%

4 votes
131 total votes.
Reader poll
Sherron Collins

51%

29 votes

Craig Brackins

42%

24 votes

The two will tie

1%

1 vote

Undecided

3%

2 votes
56 total votes.
3:50 p.m.
Update: C.J. Henry did not travel with the team because of a deep bone bruise on his tailbone.
KU scoring — Aldrich 19, Marcus Morris 16, Collins 11, Withey 8, Morningstar 7, Taylor 7, Robinson 6, X. Henry 4, Reed 3, Markieff Morris 3.
KU was 36-for-77 from the floor (46.8 percent), 3-for-17 from three (17.6 percent) and 9-for-10 from the free-throw line (90 percent).
ISU was 20-for-53 from the floor (37.7 percent), 4-for-10 from three (40 percent) and 17-for-26 from the free-throw line (65.4 percent).
KU out-rebounded ISU, 44-34. ISU had 17 turnovers to KU's 11.
FINAL: KU defeats ISU, 84-61
Two alley-oops — one to Robinson and one to Withey — highlight the final minutes for KU.
Elijah Johnson dribbles out the final few seconds, and KU wraps up a 23-point victory.
KU 75/ISU 56 — 2:59 left in game
Morningstar goes down the middle of the lane, splitting ISU defenders for a layup.
Marcus follows his own miss with a stickback, and Aldrich puts in a tough jumper on the baseline over a double team.
Most ISU fans grab their coats at the final media timeout.
KU 69/ISU 51 — 5:40 left in game
Just when ISU seems to have found a rhythm offensively, KU comes back with an answer each time. Markieff Morris drives in for a layup with a foul. Taylor, on a fast break, uses good body control to put in his own shot off the glass with a whistle.
After Taylor's basket, Collins put both arms up, flexing his biceps for a brief second. I think we know who the intended recipient of that signal was.
Marcus Morris with another spinning shot in the lane. The next time down, though, he misses three straight chippies under the goal. I guess he's earned that right with how well he's played in the last four games.
Collins shows the quick trigger on the break, bricking an open three. Self throws out his hands in disgust. With a 20-point lead, the coach would like to slow this game down and see his team play with more control.
Collins with another bad shot in the lane, and one-handed floater that clangs away.
KU 57/ISU 42 — 11:43 left in game
Gilstrap puts in a vicious, one-handed dunk with a foul. He holds both arms up, flexing his biceps for the cameras. Meanwhile, ISU is still down 13.
Markieff Morris draws a double-team inside, and he kicks out to Tyrel Reed for a wide-open three that he swishes.
Markieff takes a few dribbles inside to draw a pair of defenders, then drops off to Withey for a jam.
Collins fouls Laron Dendy hard on a fast break, nd he's whistled for a flagrant foul. It was a hard foul, but it sure looked to me like Collins was playing the ball. Self talks to the officials, and McDermott makes his way all the way over toward the KU bench to try to break up the conference. Self doesn't seem too pleased with the ISU coach at the moment.
KU 50/ISU 35 — 15:31 left in game
Collins gets a shot rejected on a backdoor cut, but an official calls a foul from the backside. The ISU fans have been unhappy about lots of calls today, but that time, they have a reason to gripe, as there didn't look to be any contact inside. In any case, Collins makes both freebies.
Marcus Morris, after sitting most of the first half with two fouls, continues his stellar play. He boards an Xavier Henry miss, then sticks it back in for two. The next possession, he backs down Brackins, then, without fear of getting blocked, drops in a short shot in the lane. McDermott calls timeout with ISU falling behind by 17.
Out of the break, Marcus catches on the baseline, fakes a drive, and puts in the 13-footer. If he keeps hitting those types of shots, he's nearly impossible to guard with his quickness and size.
Gilstrap puts in two straight three-pointers. ISU needs more long-range shots if it wants to get back into this one.
KU scoring — Aldrich 9, Marcus Morris 6, Morningstar 5, X. Henry 4, Robinson 4, Withey 4, Collins 4, Taylor 2.
KU was 16-for-38 from the floor (42.1 percent), 1-for-10 from three (10 percent) and 5-for-5 from the free-throw line (100 percent).
ISU was 9-for-23 from the floor (39.1 percent), 1-for-4 from three (25 percent) and 6-for-9 from the free-throw line (66.7 percent).
KU had 21 rebounds, while ISU had 16. The Cyclones had 13 turnovers, while the Jayhawks had eight.
One halftime thought/interesting stat
• KU's smalls combined to go 6-for-22 (27 percent). KU's bigs combined to go 10-for-16 (62.5 percent).
KU 38/ISU 25 — Halftime
Withey and Aldrich stand on opposite sides of the rim, playing volleyball on the offensive boards. What a luxury it is for Self to have a seven-footer to bring in if he needs him.
Withey, after missing an 18-footer, comes to the bench smiling, but you can tell he hasn't come to the bench often. He plops himself in Self's seat, and assistant coach Kurtis Townsend tells him, politely, that he can't sit in coach's spot.
Xavier Henry is out of it today. Three straight three-point attempts don't hit rim, as two of them are blocked and one is an airball.
Weird play to end the half, as ISU tried a full-court pass that went out of bounds without being touched by anyone. The timekeeper still started the clock. letting the 1.1 seconds tick off. KU's coaches — Self, Townsend and Danny Manning — all talked with officials, telling them the ball didn't touch anyone, but the stripes refused to listen. Surprisingly, they didn't look at the monitors, either.
Either way, KU takes a 38-25 lead into the break.
KU 34/ISU 23 — 3:58 left in 1st half
After a foul on KU, things get a little chippy. Collins tries to rip the ball away from Marquis Gilstrap, and Gilstrap claps a few times in Collins' face. Collins gets real close to Gilstrap, then says some more words to him before officials split them up.
Withey comes back in and continues his impressive game, following a miss with a two-handed slam.
Withey guards Brackins for a possession, and Brackins bricks a shot from the baseline. Good defensive possession for Withey, but I'm not sure why Brackins is trying to shoot over a seven-footer instead of going around him.
KU 30/ISU 18 — 7:05 left in 1st half
I know KU is in some foul trouble, but I don't know how long Self can keep Robinson out there. He's a liability on offense with two turnovers already. He's just trying to do everything too quickly. He hitches up an 18-footer with the shot clock at 30 seconds that clangs off the backboard and rim. To Self's credit, he's being patient with the freshman today.
Taylor checks in for his first action.
Self's patience with Robinson pays off. He grabs an offensive rebound before putting in the stickback, then makes a move down the lane, putting in a finger-roll. After thinking about it, he's probably in there more for his defense, as he's closest to Marcus athletically, and you need a quick and long defender to guard Brackins.
Aldrich bangs in a turn-around jumper, and KU has built up a 30-18 lead.
Bad pass by Morningstar in transition, as he throws it ahead to Robinson on the side. Robinson tries to dribble to the rim, and he has it stolen away quickly. Robinson gets the turnover, but perhaps it should go to Morningstar.
KU 20/ISU 14 — 11:31 left in 1st half
It doesn't look like C.J. Henry made the trip with the Jayhawks. Interesting.
A three-point play by Justin Hamilton gives ISU a 12-11 lead. That's a 12-2 run for the Cyclones.
Jeff Withey with a nice move inside, up-faking to get his defender in the air before leaning under him for a shot off the glass.
Markieff Morris is whistled for an illegal screen. That's four turnovers already for KU. Meanwhile, the Cyclones' defense only forces 13.6 turnovers per game.
Morningstar buries another three. ISU coach Greg McDermott, meanwhile, is livid that Withey wasn't called for an illegal screen.
Marcus Morris rattles in a baseline shot, and KU has regained a comfortable lead at 20-14. Marcus picks up his second foul on an over-the-back call, though, so he might have to sit out the rest of the half. Who will guard Brackins now?
KU 11/ISU 9 — 15:57 left in 1st half
In its pregame video, Iowa State showed footage of the Cyclones beating the Jayhawks in the 1996 Big Eight championship game. Seems like a long time to go back to find a highlight.
The taunts don't seem to have worked against Morningstar and Collins. Morningstar swishes a three after the tip, and Collins follows later with a long jumper.
Marcus Morris adds a nice turn-around jumper and also a layup in transition, and KU's 9-0 start forces ISU to call timeout.
Brackins puts in a dunk over Morningstar, giving ISU its first points at the 17:30 mark.
Marquis Gilstrap puts in a one-handed dunk, and he taps his right bicep twice on his wayback down the court. Funny thing to do while down five.
Thomas Robinson steps over the end line when inbounding the ball after a Scott Christopherson three. That's the second turnover for KU already when inbounding the basketball.
Jeff Withey will check in for KU.
1:11 p.m.
Brady Morningstar will start his second straight game over Tyshawn Taylor.
12 p.m.
The chat is now up. Just a reminder: Though it says to "Submit a question," really you can use that form to simply post a comment as well.
11:56 p.m.
Welcome back to the Newell Post Live, coming to you from Hilton Coliseum in Ames, Iowa, where the No. 3 Kansas Jayhawks are getting set to take on the Iowa State Cyclones.
Much like last game, I'll go ahead and fire up a pre-game chat one hour before the game starts. You can find the link in the upper-left corner of this blog.
Before we get to that, here are some notes about Iowa State, which enters with a 12-6 record.
• Iowa State makes 42.1 percent of its three-pointers, which is fourth nationally. The Cyclones' three top three-point shooters in attempts all shoot over 42 percent (Marquis Gilstrap 42 percent; Craig Brackins 46 percent; Scott Christopherson 50 percent).
• ISU's Lucca Staiger, who quit the team earlier this week, was shooting 43 percent from three. He also had 113 attempts from three.
• Defensively, ISU doesn't force many turnovers, as opponents average just 13.6 giveaways per game.
• Opponents only make 42.9 percent of their two-pointers against the Cyclones, which is the 31st-best mark in the country.
• ISU opponents average only 15 free throws per game.
Be sure to vote in our poll on the left, and also use the hashtag #kubballl to have your Tweets appear on our grid on the left side of the page.