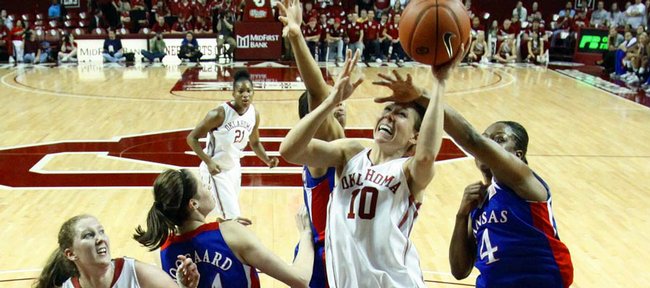 Document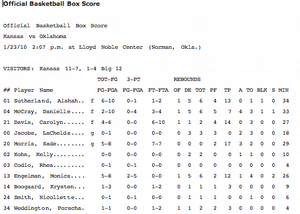 Norman, Okla. — Another Big 12 Conference road game. Another loss for Kansas University's slumping women's basketball team.
Oklahoma blitzed the Jayhawks late in the first half on the way to an 81-69 victory Saturday afternoon at the Noble Center.
It was KU's 17th loss in its last 18 league road contests over the last three seasons and the Jayhawks' fifth defeat in their last six games.
For the second game in a row, Kansas senior standout Danielle McCray was ice-cold. After scoring just six points in Wednesday's loss at Iowa State, the 5-foot-11 senior managed only seven points Saturday before fouling out with 4:18 remaining.
In those two sub-par contests, the Big 12's second-leading scorer missed 18 of 23 shots, including all nine of her attempts from three-point range.
"The bottom line is, if you can't make a shot, I still need you to rebound and guard," KU coach Bonnie Henrickson said of McCray, "and she wasn't guarding."
At the same time, Henrickson wasn't overjoyed with the Jayhawks' overall performance.
"We've got to be a team that we all play well, not Danielle plays well and nobody (else) plays well," Henrickson said, "or we play well and Danielle doesn't play well, because I think we've got a chance to be pretty good when we all play well."
Kansas started quickly, bolting to a 16-6 lead before self-destructing. OU guard Nyeshia Stevenson scored 21 of her 22 points during an eight-minute first-half stretch as the Sooners went on a 31-8 run to post a 37-24 lead at the break.
In the second half, KU outscored OU, 45-44, but never could close the gap to single digits.
In losing, the Jayhawks may have found a point guard to replace injured Angel Goodrich, who will undergo knee surgery Monday. Sade Morris, playing in her hometown, scored 15 of her team-high 17 points in the second half while operating almost exclusively at the point.
Starting front-liners Carolyn Davis and Aishah Sutherland added 14 and 13 points, respectively, and Monica Engelman contributed a dozen points off the bench.
The Sooners (14-4, 4-1 Big 12) defeated Kansas for the 13th straight time while giving Shari Coale her 300th coaching victory.
Kansas (11-7, 1-4) will entertain Colorado on Wednesday night before hitting the road again for a Saturday date at Missouri.
Notes
• KU senior forward Porscha Weddington made her season debut, scoring three points and grabbing two boards in four minutes of work. Weddington was out with mono.
• Joanna McFarland, an OU freshman from Derby, posted career highs in points (11) and rebounds (8).
• OU outscored Kansas, 42-22, in the paint and 25-4 in points off turnovers. KU had 18 giveaways, Oklahoma eight.
• OU's 81 points are the most the Jayhawks have surrendered in a game this season.
More like this story on KUsports.com