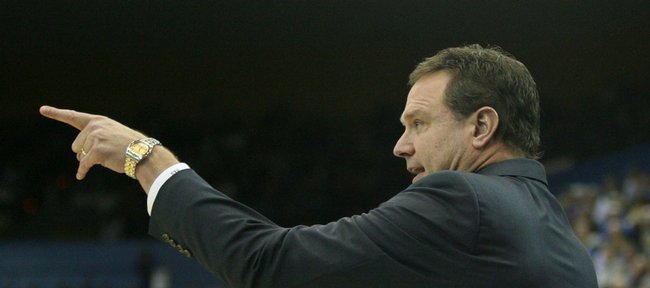 Ames, Iowa — Tyshawn Taylor's days of posting controversial messages on Facebook appear to be over.
"You will never ask me another question about that," Kansas University coach Bill Self said Friday during a pre-Iowa State media session in Allen Fieldhouse.
"It won't be a problem from this point forward. Ever," he added, strongly implying he has told Taylor to cease and desist all social-media postings with severe consequences if the sophomore guard disobeys orders.
Self said he had talked to Taylor about rumors that the player indicated on Facebook he was considering leaving KU. This is the same Taylor who posted comments after the basketball team's fight with the football team early first semester.
"I don't think that that's even remotely true," Self said of Taylor Facebooking about a possible transfer. "But, if he has said that, which I do not think to be the case, then that's the reason why he's not playing well. Because his head's not right. But I don't believe he said that.
"What I think has happened is, he's probably frustrated, probably said some things because of his frustration. Because of his popularity and things like this, everybody can take anything that any one of my players say and spin it in a direction that it wants to be (spun).
"I'm not remotely concerned about that. If any of our players are thinking about that (transferring), trust me, I will be the first to help them find a place when the season is over."
This current flap began when a fan posted on the Internet that Taylor's Facebook had comments about his frustration with his current situation at KU.
"Some of the things posted on Facebook ... I heard yesterday somebody reported on Facebook, but didn't even know the exact deal, what they were reporting," Self said. "I'm not going to even comment on that, because I've talked to him about that. That's a non-factor."
Regarding Taylor's role, Self said: "I think he's been in a funk. I think he's a good player that hasn't played as good as he's capable of playing. He'd be the first to agree with that.
"I thought against Baylor, he played well defensively and gave us some good minutes against LaceDarius (Dunn). He's had a little bit of a sophomore funk, so to speak. You know what? I told Tyshawn, what people sometimes don't realize, we've played 50 percent of our games, but 95 percent of our season remains, because nobody cares what you do in November and December. So we've still got 90, 95 percent of our season left, so he has a chance to impact that last half, that last part that everybody cares about in a big way. His head's got to be right. I think he's on the verge of having that come through."
Taylor was at Friday's practice but was not available for comment.
Junior Cole Aldrich said players have been told to watch what they write on Facebook and Twitter.
"I wouldn't say (we've been) barred. We are just kind of under a microscope from all coaches and the guys on the team to make sure what it says (isn't inappropriate)," Aldrich said.
"It goes for anybody, not just us but any athlete. In this day and age, the Internet is so popular."
Aldrich said some players have found other ways to voice their opinions on matters.
"Some guys I know have written small journals they just keep to themselves after practice," Aldrich said. "To reflect on practice. I think our guys have matured over the past weeks and months on the court and off the court. I don't think it's a problem."
This, that
Aldrich said he had several relatives planning to drive from Bloomington, Minn., to Ames for today's 1 p.m game against Iowa State. His late grandmother Ann's memorial service was Friday in Northfield, Minn. ... Sherron Collins attended the memorial service of his great grandfather, Robert, Thursday in Chicago and made it back for Friday afternoon's practice. ... Iowa State lost a key player this week when Lucca Staiger (9.4 ppg, 48-of-113 from three) decided to return to Germany to play pro ball. ... Senior Marquis Gilstrap averages 14.9 ppg. ... KU will play Missouri on Monday in Allen Fieldhouse and K-State Saturday in Manhattan. "We're concentrating on Iowa State. We know they have a great team and are always tough to play, especially there," Aldrich said. "We have some tough ones with big rivals coming up, but we're trying to focus on Iowa State."
• A previous version of this story was updated.
More like this story on KUsports.com