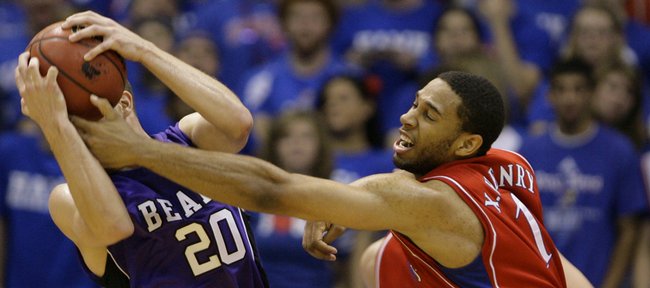 Best known for his offense, Xavier Henry was dandy on defense in Kansas University's 81-75 basketball victory over Baylor on Wednesday night in Allen Fieldhouse.
The 6-foot-6 Henry, who plucked seven steals, tied Tony Guy (1979 vs. Kansas State) and Darnell Valentine (1977 vs. Fordham) for most thefts by a Jayhawk freshman in a single game.
The seven steals, which tied for the third best mark in KU history, were the most since Mario Chalmers' seven-steal effort versus DePaul on Dec. 8, 2007.
Aaron Miles had a school-record nine steals against Iowa State on Feb. 16, 2003.
"The ball was coming to me. When it gets by me, I just swipe at it, and I come up with it," Henry said.
His previous high was four steals three times — against Tennessee Tech, Alcorn State and Cornell.
"I could tell during the game I was getting a lot of steals. I didn't know I had seven, but I knew I was stealing the ball a lot," Henry said.
KU finished with 15 steals and forced 20 turnovers — which proved important on a night Baylor hit 52.1 percent of its shots, including 10 of 21 threes.
"It was another game that had a lot of possessions, a lot of turnovers and a lot of runs," Henry said. "It was a fun game to play in."
Henry, who is KU's second leading scorer at 14.9 points a game, missed 10 of 13 shots — including five of seven threes — en route to 12 points.
Obviously, KU's team leader in steals (34) didn't let his offensive struggles affect his 'D.'
"Defense is fun," Henry said. "Before I got here, I wasn't a big defensive guy, but when coach (Bill Self) taught us the principles and stuff like that, I got real big on defense."
Junior center Cole Aldrich said Henry's defensive work has reminded him of a certain Jayhawk player now in the NBA.
"Two years ago we had Mario, (Chalmers, Miami Heat) who seemed like he'd steal the ball eight times every game," Aldrich said, "and that's one thing we were kind of missing over the past few games, getting out in the passing lanes and gapping and getting steals. And I think if we continue to do that, it's going to be tougher for offenses to score."
Henry has come a long way since his high school days, when he averaged 28.3 points a game while focusing almost completely on scoring.
"He's got a great body, but he's got great hands," Aldrich said. "He's starting to figure out where defenders are going to be and that really helps."
The star of Wednesday's game — Sherron Collins —had two steals to go with his 28 points.
"He takes over for us when we need him and he puts us on his back," Henry said. "He's always amazing. That's how he comes to play every game. That's why we love him."
Henry said he was proud of Collins and Aldrich handling a pair of deaths in their immediate families. Collins was to attend the funeral of his great grandfather, Robert, on Thursday in Chicago. Aldrich will not be attending services for his grandmother, Ann, today in Northfield, Minn. He'll practice with the team at noon and ride the charter bus to Ames.
"It doesn't seem like it's affected them a lot. I haven't heard too much from them, but we are all praying for them," Henry said.
Rumors
KU coach Self said he would have no comment on rumors that soph guard Tyshawn Taylor implied on a Facebook entry that he might transfer. Taylor's Facebook was taken down after the rumors started. Taylor, who was replaced by Brady Morningstar in the starting lineup Wednesday, had no points, five assists and no turnovers versus Baylor. He was at practice as usual on Thursday.
Next
KU will next meet Iowa State at 1 p.m. Saturday at Hilton Coliseum in Ames. KU is 17-1, 3-0; ISU 12-6, 1-2.
More like this story on KUsports.com