Document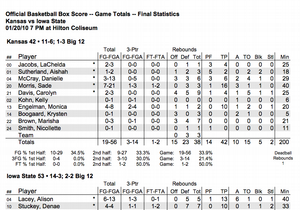 Ames, Iowa — Danielle McCray has to be glad she won't have to play in Hilton Coliseum again.
Kansas University's preseason All-America candidate was in foul trouble early and finished with only six points as Iowa State pinned the Jayhawks, 53-42, on Wednesday night.
McCray's half-dozen points were the fewest she had accumulated in a game since two years ago, when she also scored six on ISU's home floor.
On Wednesday, McCray picked up her second foul with 121⁄2 minutes remaining in the first half, and coach Bonnie Henrickson sat her until the break. At the time, McCray was 0-for-3 from the field and scoreless.
With McCray out, fellow senior Sade Morris tried to take up the slack, scoring 10 of the Jayhawks' 20 first-half points. But Iowa State led, 25-20, going into the second 20 minutes.
After her long rest, McCray nailed her first two shots of the second half and appeared rejuvenated. But she wouldn't score again until 15 seconds remained, and by then the Jayhawks were cooked.
As it turned out, freshman Monica Engelman came off the bench to provide a spark that enabled the Jayhawks to close within three points with seven minutes remaining.
Engelman, a 5-foot-11 wing from San Antonio, Texas, scored all 10 of her points during a 41⁄2-minute stretch that cut the Cyclones' lead to 43-40.
Following a media timeout, however, the Jayhawks stumbled and wouldn't score again until McCray's meaningless jumper in the waning seconds. During that fateful sinking spell, KU missed eight straight shots and committed three turnovers.
Two of those give-aways led to layups by senior guard Denae Stuckey, and those baskets by the sister of Kansas football player Darrell Stuckey turned the game around.
Stuckey's first coast-to-coaster followed a Carolyn Davis turnover, and her second game-changer came after she stole the ball from McCray.
Minutes later, Chelsea Poppens' basket gave the Cyclones a 49-40 lead, and the Jayhawks were doomed to their third straight road defeat. Kansas fell to 11-6 overall and 1-3 in Big 12 play.
Morris launched a career-high 21 shots and made seven to lead the Jayhawks with 16 points. Engelman was the only other KU player in double figures with 10.
Kansas will travel to Oklahoma on Saturday. KU's next home game will be Wednesday against Colorado.
More like this story on KUsports.com