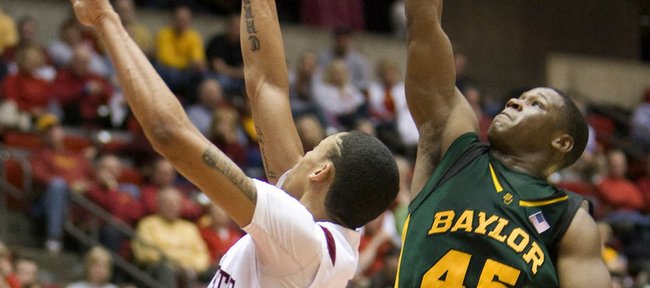 When Baylor University senior Demond Carter reflects on his days as a child in Louisiana, he'll admit he had no problem keeping his family up at night.
"I used to cry a lot," the guard said with a laugh.
The Carter family had to do something to lower the volume of his cries. So one day, Carter's grandmother turned on the television and placed Carter in front of the set.
"I was crying, and my grandmother put a show on," Carter recalled. "It was the tweety bird. I stopped crying. She said, 'You know what, I'm going to call you Tweety.'"
From that point, any time the Carter family wanted their child to sleep, on came the show with the energetic bird.
Fast forward nearly two decades, and the 5-foot-11 Baylor guard nationally known as Tweety bears a slight resemblance on the basketball court to his favorite childhood cartoon.
"That bird's a little quicker than me," Carter said, laughing. "He's a little bit quicker. That bird is something, though. He's kind of got something special."
As does Carter, whose No. 25 Baylor squad (14-2, 2-1 Big 12) will take on No. 3 Kansas (16-1, 2-0) at 8 tonight in Allen Fieldhouse.
From an early age, Carter had a natural gift on the basketball court. He played varsity ball in Reserve, La., as a seventh grader.
As Carter matured and became a standout prep guard at Reserve Christian, it became clear he could score in bunches. On Dec. 5, 2005, for instance, Carter poured in 74 points in a single game.
In choosing Baylor, Carter became the first McDonald's All-American in Bears history. He didn't score as much as he did in high school (8.7 points per game his freshman year, 9.6 ppg his sophomore year), but the Bears were making progress. By Carter's sophomore season (2007-2008), BU was an NCAA Tournament team for the first time since 1988.
Last season — Carter's junior year, in which he averaged 10.6 ppg — the Bears fell in the NIT finals to Penn State.
This season, as the only senior guard on the Baylor roster, Carter's role has drastically changed since his prep days. Instead of being an all-out scorer, Carter is primarily a distributor. He currently leads the Big 12 and is second in the country with seven assists per game.
"Tweety has done a phenomenal job," Baylor coach Scott Drew said. "He really has a good feel of when and where the ball needs to go."
He still sees his chances to score. But Carter (15.6 ppg) is typically looking for backcourt mate and three-point sharp shooter LaceDarius Dunn, who averages 19.1 ppg, third in the Big 12.
"Their guard play may be as good as we have in our league," Kansas coach Bill Self said.
As he's gotten older, something else has changed about Carter's game: His attention to detail on defense. Baylor plays a lot of 2-3 zone, which requires Carter to be active at all times along the perimeter.
"I want to stop everybody," Carter said. "My defense is the thing I take most seriously."
Carter said former Baylor guard Curtis Jerrells, the only Bears player in school history to lead BU in scoring and assists in all four of his seasons (2005-2009), was the most difficult player he's had to defend.
How about the toughest defensive assignment from another team?
"It probably would be Sherron Collins," Carter said of KU's 5-foot-11 senior guard who averages 15.6 ppg. "His willingness not to be guarded and not to be denied, no matter who's guarding him. Any time you have to play against an offensive mind like that, he's going to be tough to guard."
The two floor generals will likely guard each other quite a bit tonight. Carter and Collins have known each other awhile from their high school days on the AAU circuit. They were both 2006 McDonald's All-Americans and played on opposing teams.
"He is a good friend of mine, one of my best friends throughout college," Collins said of Carter. "He is a good player. He has a jump shot, and his range is unlimited. He can shoot from anywhere."
Added Carter: "Every time we see each other, it's like, 'Man, how you been over there?' That's one of the great things about it. You don't forget each other."
Baylor's zone has a recent history of limiting Collins. Last season, Baylor used its 2-3 zone to knock out top-seeded Kansas in the Big 12 tournament. The Bears held Collins to 6-of-20 shooting (4-of-12 from three-point range) and 16 points. He didn't visit the foul line.
"It'll be fun," Collins said about meeting back up with the Bears. "They take the challenge the same way we do. They won't back down. Hopefully we'll be on, and if they play zone, hopefully we'll be ready for it."
More like this story on KUsports.com