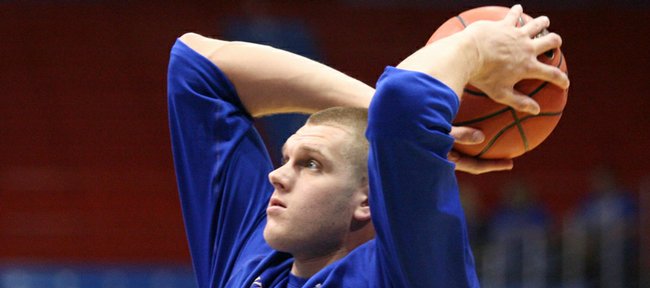 Cole Aldrich's eyes welled with tears as he talked about his late grandmother, Ann, on Monday afternoon in Allen Fieldhouse.
"I love her, but this is one of those things you've got to deal with. It's hard, but it's a part of life," Aldrich, Kansas University's junior center from Bloomington, Minn., said.
Ann Aldrich, mother of Cole's dad, Walter, died late Friday night in Northfield, Minn., following a bout with cancer. She was 78.
"Cole was close to his grandmother, real close," KU coach Bill Self said on Monday's Hawk Talk radio show. "This has been something weighing on him a long time. We all go through it at some point in time. Nobody can ever be prepared for it. He is hurting, but there is a sense of relief in that she's been struggling."
Indeed, Ann Aldrich had been in hospice care since last spring.
"We miss her, but it's a blessing, too. She was in pain," said Walter Aldrich, who told Cole of Ann's passing about 45 minutes after Saturday's 89-63 victory over Texas Tech in Allen Fieldhouse.
"She went in hospice at the end of May or beginning of June. They (doctors) figured three months. She stuck it out twice as long."
Aldrich family members were able to visit with Ann over the Christmas holiday.
"She was going downhill. She told me, 'You've got to get me the heck out of this place,''' Walter recalled. "I walked her out to the truck and gave her a ride around the block. The nurses were worried. I said, 'I can handle it,''' Walter recalled.
"I had the radio on in the car and Christmas carols were on. She was singing them. We drove around about an hour."
Stories like that one tend to help families during tough times like these.
"He was down (Saturday afternoon)," Walt said of his son. "We had dinner and told a couple grandma stories. I think he felt better then."
Funeral services for Ann are slated for Friday in Northfield, Minn., Walt said. Cole, who has a game Saturday afternoon at Iowa State, has not yet decided whether he will be able to attend the services.
"I don't know yet," Cole said. "I still have to figure some stuff out."
He said he appreciated the support of KU's players and coaches. "They really are," he said, asked if they are helping him out.
Aldrich's teammate and buddy, Sherron Collins, learned of the death of his own great grandfather right before the Texas Tech game Saturday.
"People are keeping my head up. He lived a full life. He got to 87," Collins said Monday.
Collins said he'd attend funeral services of his mom Stacey's grandfather Thursday in Chicago.
"Both are handling it really well," Self said of Collins and Aldrich.
Must-see TV
The Jayhawks, like most folks in Big 12 country, were to be glued to the tube for Monday night's Texas-Kansas State game.
Aldrich was asked who he'd be rooting for.
"Eh ... the refs?" he said with a smile. "The refs never lose. I don't really know who to root for. I like both teams. Both will give us a great game at their place. I'm really looking forward to a good basketball game."
Self was asked which team he wanted to win (K-State won).
"I am neutral. Can they both lose?" he cracked. "I don't really care. If Texas wins, it'd put them in a great position. If K-State wins, they put themselves in good position, too. If you can steal away a game like that, it will definitely put you in a situation you can afford a slip up. I think you'll see 10 men on the court at the same time. Both teams get after it."
Rare airballs
Xavier Henry, who has averaged 15.1 points a game off 47.2 percent shooting, actually airballed a pair of three-point shots on Saturday.
"Never in my life," Henry said, asked when that last happened. "The other day, but other than that, never. I got it out of the way.
"I don't know what I was doing wrong. We've not looked at the tape of it or anything. I just hope it goes a little farther. It's not a big deal to me. I was always taught to keep shooting, just make sure the next one has the best shot to go in. No big deal."
He hasn't heard much ribbing about the airballs.
"Only coach (Joe) Dooley because he is mostly our shooting coach. He's the only one," Henry said.
Self was asked about Henry's lefthanded stroke in which there is a pronounced flick of his wrist.
"I don't think it's your imagination. I think he can get 'wristy' sometimes," Self said. "His shot is soft. You see a lot of guys there's a more definite snap. He has a definite snap to his shot."
Haiti relief
Self, his wife Cindy, and KU women's basketball coach Bonnie Henrickson are matching funds raised at last weekend's men's and women's games for the earthquake relief effort in Haiti.
"I'm hopeful we could raise a minimum of 25(000) and match it to get 50(000)," Self said. "I think it'd be a good number. Watching CNN, the problems there are just beginning. They don't have water or food. Diseases are settling in. We've got to help them. I think it affects all mankind. We should do everything to do to help those who can't help themselves."
Next up
KU (16-1, 2-0) will next meet Baylor (14-2, 2-1) at 8 p.m. Wednesday in Allen Fieldhouse. The Bears have won 10 of their last 11 games after beating Oklahoma State, 83-70, on Saturday in Waco, Texas. The Bears and Jayhawks are two of the top five defensive teams in the country. KU's opponents have hit 35.5 percent of their shots; the Bears 36 percent. Baylor primarily uses a 2-3 zone defense.
More like this story on KUsports.com