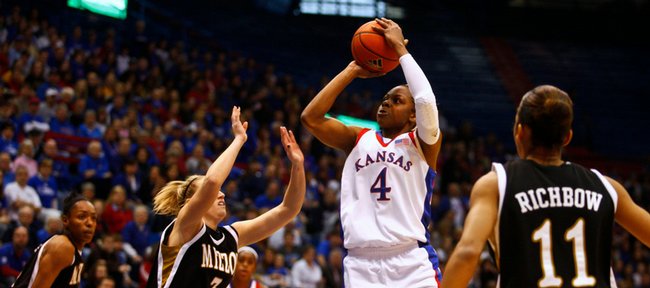 Bonnie Henrickson listed her as Plan C, but Sade Morris looked more like Plan A-1.
Morris made her collegiate debut at point guard Sunday and helped Kansas University salvage a 72-59 women's basketball victory over Missouri in Allen Fieldhouse.
"We have three options," KU coach Henrickson said about the point-guard position. "Plan A, Plan B and Plan C, and (Morris) is Plan C."
Henrickson shifted Morris from wing to point guard with about nine minutes remaining because the Jayhawks were in a sinking spell, slowly frittering away their massive 46-18 halftime lead.
Mizzou was on a 15-0 run when Henrickson opted to use Morris in place of starter LaChelda Jacobs and back-up Rhea Codio.
"I was pleasantly surprised she was that aggressive," Henrickson said of Morris. "I liked the way she attacked."
Attack is what Morris did. On three straight possessions, she took the ball down the lane, and Missouri, obviously caught off guard, fouled the 5-foot-11 senior each time.
Morris converted four of five free throws to help restore order and eventually scored 10 of the Jayhawks' last 15 points.
"I played point a little bit here and there in high school," Morris said, "and I was comfortable with it. I'm confident. We've done it enough in practice."
Actually, the Jayhawks have practiced just two days with Morris taking reps at the position vacated Tuesday when starter Angel Goodrich was lost for the season due to a knee injury.
"It was something new for us," said Danielle McCray, who led KU with 26 points. "(Morris) did a good job, and it gives us more options."
Henrickson put in only two plays for Morris — one obviously was driving the lane — and plans to add a few more prior to Wednesday's trip to Iowa State.
"But she's not going to run a full playbook," the KU coach said.
Until Morris made her debut at the point, the Jayhawks were in a little-girl-with-a-curl situation. When they were good — the entire first half — they were very, very good, but when they were bad — the first 11 minutes of the second half — they were horrid.
"You have to play two 20-minute halves in this league," Henrickson said, "and we didn't do that today."
After starting the same five players in the first 15 games, Henrickson made two lineup changes. One, of course, was replacing Goodrich with Jacobs (and later Morris), but the other was a bit of a surprise.
Carolyn Davis, a 6-3 freshman from Houston, opened in place of slumping Krysten Boogaard and posted career highs in minutes (28), points (13) and rebounds (6).
"She's been productive in practice," Henrickson said. "We've asked everybody to step up, and she's done the best of the post players. Those were big numbers for her in her first start."
Boogaard logged just 10 minutes Sunday, but the 6-5 junior was productive, too, accumulating eight points and two blocks.
"Krysten needs to be at her best for us to win," Henrickson said, "whether it's starting or coming off the bench."
Kansas will play three of its next four on the road. The next home game is Jan. 27 against Colorado.
Notes
• Nick Marshall, who lives in Lawrence, officiated in the first half because Melissa Barlow, one of the scheduled officials, was delayed by fog and didn't arrive until intermission.
• KU had a season-high 23 turnovers, 15 in the second half. McCray was charged with six giveways and Jacobs five.
• Kansas is 11-5 overall and 1-2 in the Big 12. Missouri (10-6) has lost four in a row and is the only winless team (0-3) in league play.
More like this story on KUsports.com