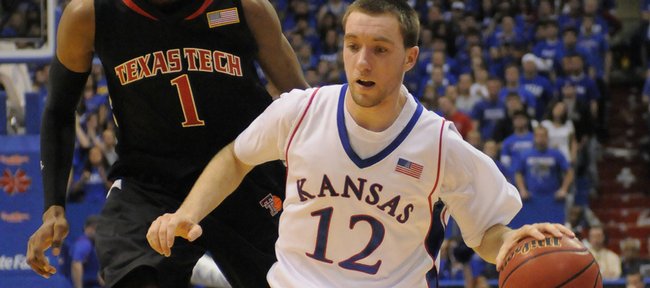 KU vs. Texas Tech
Audio clips
2010 KU-Texas Tech
Reader poll
Marcus Morris

50%

1176 votes

Brady Morningstar

31%

736 votes

Tyrel Reed

10%

238 votes

Cole Aldrich

6%

152 votes

Undecided

1%

42 votes
2344 total votes.
Reader poll
Marcus Morris

33%

58 votes

Brady Morningstar

52%

91 votes

Tyrel Reed

13%

24 votes

Other

1%

2 votes
175 total votes.
Reader poll
Yes

23%

17 votes

No

73%

53 votes

Undecided

2%

2 votes
72 total votes.
KU scoring — Marcus Morris 20, X. Henry 14, Aldrich 14, Collins 9, Morningstar 8, Markieff Morris 7, Reed 5, Taylor 4, Robinson 4, Withey 2, Johnson 2.
KU was 29-for-67 from the floor (43.3 percent), 7-for-23 from three (30.4 percent) and 24-for-27 from the free-throw line (88.9 percent).
TTU was 21-for-64 from the floor (32.8 percent), 5-for-18 from three (27.8 percent) and 16-for-19 from the free-throw line (84.2 percent).
KU out-rebounded TTU, 48-37. KU had 17 turnovers to TTU's 16.
FINAL: KU defeats TTU, 89-63
One of the highlights of the final few minutes for KU is Jeff Withey, who puts in two free throws and also registers a block.
The final highlight, though, belongs to Elijah Johnson, who takes off from about eight feet away for a one-handed slam over a defender. That one might make SportsCenter. Johnson puts on a big smile as he returns to the defensive end.
The Jayhawks wrap up the 26-point victory.
KU 83/TTU 57 — 3:14 left in game
Nice entry pass from Collins, and unlike me in pickup games, Marcus Morris hits his uncontested layup.
Mike Singletary misses a shot, and Tech's leading scorer (15.4 points per game) has yet to score in this one (0-for-4 shooting). Give credit to Marcus Morris for that.
KU is showing its athleticism late. Aldrich skies for an offensive board, then lays in the follow. The next possession, Xavier Henry lobs to Robinson for an emphatic dunk over a defender. KU's starters should be out of the game before too long.
KU 70/TTU 46 — 7:36 left in game
Aldrich screens two different defenders in a matter of a couple seconds, freeing Morningstar for a wide-open three that he drains. Aldrich's work inside was the key.
What a weird sequence. Self is frustrated by a call on KU, but as he's ripping into Steve Welmer, TTU coach Pat Knight marches onto the floor and gets a technical foul himself. So, while Self continues screaming at one ref, another one is busy T'ing up the Red Raiders' coach. I'm blocked by the foundation of the basket on this end, so I'm not sure what Knight was upset about.
Aldrich shows a bit more aggressiveness when getting the ball inside, taking a drop step toward the rim to put in a short shot with a foul. No fading away that time.
For the third straight possession, KU looks Aldrich's way, and for the third straight time, the big man draws a foul on a shot. With two free throws, Aldrich hits double figures for the first time in the last three games.
KU 56/TTU 38 — 11:23 left in game
Roberson puts in another three. There haven't been many negatives for KU, but Collins' perimeter defense on Roberson has been one of them. The guard has 13 of Tech's first 28 points.
After an offensive rebound scramble, Roberson is left alone again, and he cans another three. A disgusted Self signals for timeout following an 8-0 TTU run.
Roberson again beats KU on the dribble, dropping to Cohadarevic for a two. Taylor's shot is blocked on the other end, and Cohadarevic gets his second straight bucket, this time on a tip-in following an offensive rebound. Self calls his second timeout in a minute, as TTU has reeled off 12 straight points.
KU 54/TTU 26 — 15:51 left in game
Morningstar starts the second half over Taylor.
Marcus Morris has come out fired up to start the second half. The first two possessions, he rips down offensive rebounds and follows with stickbacks — drawing a foul on the second one.
Collins swishes his first three, but gives up one defensively to Roberson on the other end.
Aldrich rattles in a long hook shot on the baseline. We haven't seen too many of those go in for Aldrich lately.
Aldrich misses a slingshot 18-footer, but Xavier Henry goes way above the rim for a one-handed stickback. I'm not sure if it should have been offensive goal-tending or not, but it was impressive regardless.
KU scoring — Marcus Morris 11, X. Henry 7, Morningstar 5, Reed 5, Taylor 4, Markieff Morris 4, Aldrich 2, Collins 2, Robinson 2.
KU was 14-for-31 from the floor (45.2 percent), 3-for-9 from three (33.3 percent) and 11-for-12 from the free-throw line (91.7 percent).
TTU was 5-for-24 from the floor (20.8 percent), 0-for-5 from three (0 percent) and 8-for-10 from the free-throw line (80 percent).
KU out-rebounded TTU, 23-15. TTU had 14 turnovers, while KU had 10.
Halftime thoughts
• KU's two All-America candidates combined for four first-half points, and KU leads by 24. I think that says volumes about what can happen when KU shares the wealth offensively and plays well defensively.
• KU had nine first-half steals, so I guess my pre-game blog was a bit premature.
• Reed (3 steals) and Morningstar (2 steals) were as active on both ends in the first half as I've seen them during their three years at KU.
KU 42/TTU 18 — Halftime
C.J. Henry has a three partially blocked from the corner, but Morningstar hustles to tip it back to Reed. Robinson finishes the play with a strong move inside, dumping the ball over the rim for two.
Robinson swats away a shot and comes away with the basketball, but he tries to do a bit too much. After dribbling it all the way up the court, he throws it out of bounds on a pass intended for Marcus.
Xavier Henry puts in a three from the wing, and that's his first field goal of the game.
What an amazing pass from Morningstar, who tossed a no-look pass to Marcus Morris on the break under the basket. Marcus put it in for two with a foul, and it might have been most surprising because KU's least flashy player (Morningstar) made perhaps the flashiest pass of his career.
Following a steal, Marcus is all alone, and he cups the ball in his right hand for a thunder jam. KU's fans rise to their feet and boost the noise level after that one, as the Jayhawks are playing their best basketball in a while.
KU 29/TTU 14 — 3:30 left in 1st half
Texas Tech has followed through with its trends so far. With two free throws from Robert Lewandowski, seven of Tech's 13 points have come from the free-throw line (where the Red Raiders are 7-for-8).
How impressive is it that, after a switch on a screen, Marcus Morris can cut off TTU's John Roberson defensively? The big man does a great job of shuffling to stop the penetration, then after a miss, comes down with the defensive rebound as well.
After penetrating to the lane, Reed drops a nice bounce pass to Markieff Morris, who finishes strong with a left-handed layup. Timeout TTU, but it's the offensive end — the Red Raiders have made just 3 of 17 shots — where Knight needs to find some answers.
Risky wrap-around pass by Robinson, but Markieff does a great job of snatching it with a defender on his shoulder before putting it in for two.
Another nice post feed by Reed, and Marcus Morris puts in the layup. The Jayhawks have made it look easy offensively in the last few possessions.
KU 19/TTU 11 — 7:59 left in 1st half
Morningstar steps in to poke the ball away from Cohadarevic, and he's fouled by the big man on a layup. Cohadarevic has a few choice words for Morningstar, who leans toward the big man's ear to deliver a few words back.
Tyrel Reed nearly gets a steal with the full-court pressure, but Texas Tech dives to corral it. Reed leaps high a few seconds later, this time coming away with the steal. His long outlet pass is stolen, though.
Things gets sloppy from both teams after that. Though the pace is frantic, KU doesn't value the ball, as Robinson and Taylor commit consecutive turnovers. KU assistant coach Joe Dooley seems to permanently have his head buried in his hands. An upset Self goes down the bench and nearly throws Collins and Xavier Henry back into the game.
Collins runs the break, but he turns it over, too. TTU has nine turnovers, while TTU has eight.
KU 17/TTU 6 — 11:53 left in 1st half
Once again, a post touch immediately leads to two points for KU. Aldrich gets it inside and is immediately double-teamed before passing it out to Taylor, who then puts up a shot fake before driving to the lane for a short, one-handed jumper.
Maybe the Jayhawks just needed to be home again to turn up the defensive intensity. TTU is up to five turnovers already, with two of those the result of KU steals.
Brady Morningstar finds Tyrel Reed on the wing, and the Burlington native drains the three.
After a timeout, KU's full-court press produces another steal, as Morningstar pokes the ball away from Darko Cohadarevic. If KU keeps producing a steal every time it presses, Self might have to keep facing questions about why it's not a greater part of the Jayhawks' gameplan.
KU 8/TTU 4 — 15:26 left in 1st half
KU gets an immediate post touch to Marcus Morris, and he rewards the Jayhawks by swishing a turn-around on the baseline.
After two made free throws by Marcus, KU goes to its full-court pressure, and a sped-up Red Raiders team turns it over under its own basket. The fans clap a bit too loud for the turnover, perhaps trying to send the message that KU should full-court press more.
Sherron Collins curls around a screen and sinks an 18-footer for KU. It's 6-0 KU.
After getting their first four points from going inside, the Jayhawks forgot about their big men. KU settles for long jumpers early in the shot clock, and all of them bounce away.
Taylor beats TTU down the court after a defensive stop, and after getting a pass from Collins, he puts in a finger-roll to extend KU's lead.
12:45 p.m.
The fans are a bit more fired up here after a nice rendition of the National Anthem by Paige Padgett, who couldn't be more than about six years old.
In other news, the "Ain't No Seats" sign guys are back in the student section.
Also, Self and TTU coach Pat Knight shared an extended handshake before the game. The two guys are buds, as Eric Sorrentino mentioned in his column on our site.
And Marcus Morris is back in the starting lineup for KU.
12:35 p.m.
Here are some notes about Texas Tech, which comes into the game with a 12-4 record.
• Texas Tech doesn't shoot nearly the same number of three-pointers as it did a year ago. The Red Raiders have shot just 13.9 three-pointers per game this year, making 35 percent of their attempts. In last year's game against KU, TTU made 15 of its 27 three-point attempts. On Wednesday against Missouri, TTU made 12 of its 27 three-pointers.
• The Red Raiders shoot a ton of free throws. They average 28 free throws per game, and also shoot an impressive 72 percent from the line.
• Six-foot-6 forward Mike Singletary leads the Red Raiders with a 15.4 point-per-game scoring average. He has made 54 percent of his two-point attempts this year. He scored 18 against KU last year in TTU's 84-65 victory.
• Six-foot-1 guard Nick Okorie averages just 8.8 points per game this year, but he had 17 against the Jayhawks last year.
• Defensively, Texas Tech has been poor as of late, giving up at least 75 points to seven straight opponents.
• According to KenPom.com, Texas Tech plays the 17th-fastest of all NCAA teams. To win against KU, the Red Raiders will most likely have to score in the 80s and 90s.
11:35 p.m.
Welcome back to the Newell Post Live, coming to you from Allen Fieldhouse where the No. 3-ranked Kansas Jayhawks are getting set to take on the Texas Tech Red Raiders.
I think it will be important for the Jayhawks today to get back to what they do best defensively, which is pressuring the ball to force teams into turnovers.
A look at the last four games reveals a troubling trend for KU's defense, as the Jayhawks aren't getting the steals they're accustomed to.
In the last four games, here are KU's steal totals: five against Temple, eight against Cornell, three against Tennessee and four against Nebraska.
For reference, this season, KU is averaging 8.8 steals per game.
That indicates to me that KU's guards lately aren't pressuring as well as they did early in the season.
Another problem could be this: KU doesn't have any defensive specialists at the guard positions this year.
Looking back to past teams, Aaron Miles, Russell Robinson and Mario Chalmers all provided the Jayhawks with defenders on the perimeter that also had a knack for picking up steals by anticipating passes.
But who is that player on this year's team? Brady Morningstar is good at following him man like a shadow, but he's not a big steals guy.
Looking down the Jayhawks' roster, the "perimeter defensive that can get lots of steals" label really could only be achieved by one player: Tyshawn Taylor.
Sherron Collins, with his scoring prowess, will always simply be a complementary player on defense (though his steals are way up this year, but that's for another blog).
Xavier Henry is a wing player, and asking him to guard shorter, quicker players would probably be asking too much. He still leads the team in steals this year, but his opportunities will be limited because he is defending players off the ball. Tyrel Reed has improved his defense immensely, but he still just has 12 steals this season.
Taylor, despite playing 390 minutes this season, has just 20 steals. That's too few for an athletic and quick guy like him.
I didn't see anything wrong with Taylor last week wondering aloud about his role. What he said was true: Guys are constantly trying to find their place on a team as new people shuffle in and out of the rotation.
However, if Taylor looks at the situation a little closer, I think he'd find that he's the only player in the regular rotation with the athleticism and tools to be a lockdown perimeter defender and also a "steals guy" for KU.
And, to me, that's about as important of a role as there is.
We'll have more analysis as we get closer to gametime. In the meantime, be sure to vote in our poll on the left and use the hashtag #kubball to have your Tweets appear on the left side of the screen.
Also, no guarantees, but http://justin.tv/sremlahc10, password: phog could be of help to those folks surfing the Internet looking for the game.