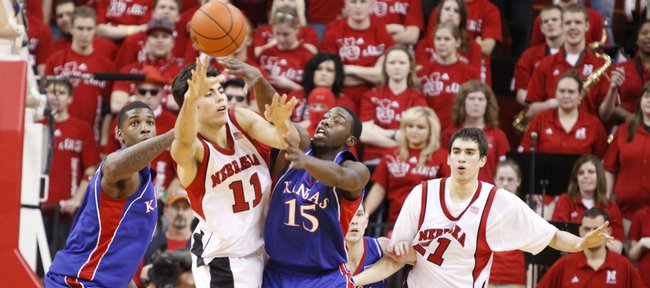 Lincoln, Neb. — Nebraska basketball coach Doc Sadler wasn't in the mood to talk about moral victories following his team's 84-72 loss to Kansas University on Wednesday.
"There are just so many positive things, but, obviously, I'm tired of losing at home," Sadler said. "You can't lose at home to these guys. You've got to beat them, and we didn't. I can talk about how good we played, but the bottom line is, we didn't get it done."
So where did it all go wrong for the Huskers?
For one, Sadler said his team played to the Jayhawks' strengths.
"You can't get into a scoring match with Kansas," Sadler said. "If they're going to score in the 80s, you're not going to win many games. That's ultimately what happened."
NU also couldn't overcome a hot shooting night for KU, as the Jayhawks made 13 of their 21 three-point attempts (62 percent).
In KU's last game against Tennessee, the Jayhawks went just 7-for-27 from behind the arc (26 percent).
"Flip a coin. They've not been making them, and they made them tonight," Sadler said. "When you play a team like that, you're going to give up something."
Nebraska led, 44-43, at halftime but couldn't keep up with KU after the break. The Huskers, who used just seven players, even saw some full-court pressure from the Jayhawks in both halves.
Though the extended pressure was an uncharacteristic move from a Bill Self-coached defense, Sadler said the strategy didn't surprise him.
"(Self) wanted them to come in here and be aggressive. I knew what was going to happen," Sadler said. "He challenged them. I'm sure, in his opinion, and probably most of you all's, that 1-13, he's probably got the advantage, so he's going to come after you — just like he's going to do most of the teams in this league — and take his chances over a 40-minute ballgame.
"He's trying to play a lot of people, and he can do that."
KU's 84 points were the most allowed by Nebraska in a non-overtime home game during Sadler's four years with the school.
The coach said playing fast was the wrong way to attack the Jayhawks.
"You're falling into a trap when you do that against those guys. That's what they want. They want the possessions," Sadler said. "I told our team, when we look at the time of possession, I bet we lost it. If you're not two minutes-plus against a team like that or against a team like Texas, you're not going to win many games. You're going to play a lot of close ones."
Added NU guard Brandon Richardson: "It was tough because once you get them guys going, it's kind of tough to slow them down. I think we didn't really do a good job of that."
With the loss, Nebraska (12-5, 0-2 Big 12) had an 11-game home-court winning streak snapped.
"When you play Kansas and you play Texas, it's a free ballgame," Sadler said. "You've got to beat them, though. You've got to beat one of the two of 'em."
More like this story on KUsports.com