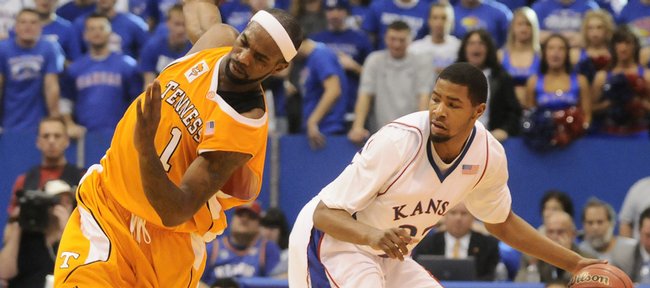 Knoxville, Tenn. — It takes somebody cool, calm and collected to inbound the basketball against full-court pressing Tennessee.
Somebody like Kansas University junior guard Brady Morningstar, who connected on three deep baseball passes to teammates — good for six points — in the unranked Jayhawks' 92-85 victory over the No. 14-ranked Volunteers last Jan. 3 in Allen Fieldhouse.
"It is a big assignment, to get the ball on the court," said Morningstar, eager to try it again during today's KU-Tennessee rematch, set for a 3:30 p.m. tip at Thompson-Boling Arena.
"You have to have your eyes open and look for open players. You can't panic. You have to be aware of your surroundings and where the Tennessee players are. They are running around, trying to trap everywhere, so you have to throw the ball to a comfortable place on the court where the guard can turn and square up and not get trapped so easily," added Morningstar, who remembers last year's UT game as "the hardest time we had getting the ball inbounds all year."
The Jayhawks suffered 17 turnovers to the Vols' 13. Just two of those turnovers came off inbounds plays. That's a pretty solid effort against a team that, according to coach Bill Self, "is the best in America at keeping opponents from getting the ball inbounds, wherever it is.
"Last year they forced a minimum of three turnovers a game when the opponent had the ball out of bounds. We had a stretch against them last year where we couldn't get it in," Self said.
The No. 16-ranked Vols (11-2) — whose depth has taken a huge hit following the dismissal of senior Tyler Smith and the suspension of three other rotation players — have forced 13 turnovers on inbounds plays alone, while also inducing seven timeouts and four five-second calls.
"You have to play in attack mode," Self said.
He will likely assign Xavier Henry entry-pass duties to open the contest, since Henry has replaced Morningstar as a starter this season.
"I'll give him a little advice," Morningstar said. "(That is) to hit the first available person. Don't try to make too tough a play. Xavier does a fine job of it. He hasn't had a problem with it all year."
The Jayhawk rotation players practiced five against eight this week to prepare themselves for the Vols' pressure.
"Coach will sub him (Morningstar) in if he needs to, but 'X' has got it. I've got it. Sherron's got it. We'll take care of it. Brady will when he's in, too," sophomore guard Tyshawn Taylor said.
"We know it's important we get it in, because once we get it in, they can't really do anything with us."
Taylor learned a lot by watching Morningstar's inbounds work a year ago.
"I said, 'How do you feel taking the ball out all the time?' He said, 'Man, it's tough every time,''' Taylor said of Morningstar, who played 33 minutes versus UT last year and has averaged 20.0 minutes in five games since returning from suspension this season. "Brady did a great job beating their pressure."
The revamped Volunteers — who forced 16 turnovers in an 88-71 victory over Charlotte on Wednesday — are led by Scotty Hopson, a 6-foot-7 soph from Hopkinsville, Ky., who averages 13.5 points a game.
Wayne Chism, a 6-9, 246-pound senior, and Bobby Maze, a 6-3 senior, contribute 11.5 and 7.9 ppg, respectively. J.P. Prince, a 6-7 senior, and Renaldo Woolridge, the 6-8 sophomore brother of KU signee Royce Woolridge, average 6.3 and 4.1 ppg, respectively.
Tennessee's 13 opponents have committed an average of 20.2 turnovers per contest. The Jayhawks have committed 12.4 bobbles per game.
"I think he was the right guy then and I think he will be now, too," sophomore Markieff Morris said of inbound man Morningstar. "That's one of the major parts of the game that doesn't get any credit. Brady can do it. He's one of the calmer guys on our team. Even when he does make mistakes, he tries to change it."
More like this story on KUsports.com