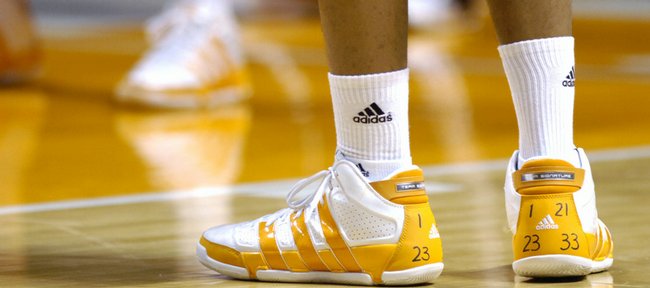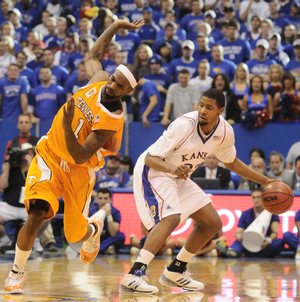 University of Tennessee all-SEC forward/team captain Tyler Smith, who scored 21 points and grabbed nine rebounds in the Vols' 92-85 loss to Kansas University last Jan. 3 in Allen Fieldhouse, won't be around for Sunday's rematch in Knoxville.
Smith on Friday was kicked off the team by UT coach Bruce Pearl following his New Year's Day arrest on drug and weapons charges.
Three other Vols who also were arrested — Cameron Tatum, who had 10 points versus KU; Melvin Goins and Brian Williams — remain on the squad but have been ruled out for the 3:30 p.m. tip in Thompson-Boling Arena.
"They obviously will miss their full complement of players," KU coach Bill Self said Friday. "They didn't play like they did against Charlotte (in 88-71 home victory on Wednesday).
"Now this will be a chance for Scotty Hopson to take over and do what he's capable of doing. He's their best prospect."
Hopson, a 6-7 sophomore guard, averages a team-leading 13.5 points a game.
"They'll probably go with Wayne Chism (11.5 ppg, 5.8 rpg) more, and he does things that are hard to guard," Self said of the 6-9 senior, who scored 17 points with six blocks against KU last year.
"Maybe with the depth situation they'll back off a little bit, but I can't imagine that playing at home. It'll be the same (pressing) style," Self added of the Vols, who used an eight-man rotation Wednesday.
KU sophomore Tyshawn Taylor said he was disappointed the No. 16-rated Vols (11-2) wouldn't be at full strength against top-rated KU.
"Tennessee is a great school. They are ranked high, but I think we are at a disadvantage because they don't have their full team," Taylor said. "If we beat them, people are just going to say, 'Oh, they didn't have their full team.' If we win, we are not going to get the credit we deserve for it, but I mean, we are going to go in there with the mindset that everybody is playing. We are hungry just like they are hungry."
Junior Cole Aldrich said it'd be a test playing in a hostile arena that seats 21,678 fans.
"They can still be a great team. They played Charlotte with these guys and played well," Aldrich said. "It doesn't matter if those (four) guys are playing or not. It still will be a great game, a fun game."
The four Tennessee players were in a rental car stopped for speeding by Knoxville police. Two guns and a bag of marijuana were discovered in the vehicle. Smith, a Pulaski, Tenn., senior who transferred to UT from Iowa after his freshman year, had considered leaving for the NBA Draft after his junior year. He led the team in minutes played and assists.
"I am deeply troubled and saddened," UT coach Pearl said. "Playing basketball at the University of Tennessee is a privilege, and where conduct is displayed that is detrimental to the team and the university, this discipline is required."
Smith, who faces misdemeanor charges, apologized Friday.
"One day soon I hope I can finish the 12 classes that I need for my degree. My recent actions do not reflect who I am, and I can only hope that what I do in the future can make everyone believe in me again," he said.
At least one of Smith's teammates was stunned by the news.
"I didn't just lose a teammate. It was like I lost a brother, so it hurts," senior guard J.P. Prince told the Associated Press. "This is one of the few days I wasn't excited to practice just thinking about not having him alongside me anymore. You just hate the way things ended."
Web presence
Self will begin answering fans' questions once a week at BillSelf.com. His first Q and A chat session will take place at 2 p.m. Monday. He also said he had opened a Twitter account and would start tweeting Monday.
"From a recruiting standpoint, I think it'll be good," Self said. "I'll tweet every so often, maybe daily, maybe three or four times a day. It probably depends on how the game goes the night before. It kind of will let our recruits and fan base follow us a bit.
"I've been very much against this ever since people started doing it, but from what I gather it is a way to get to potential recruits because they do check it out."
Self said he would not post controversial material.
"I've learned some things not to tweet based on some professional athletes, and I will not tweet at halftime. That will definitely be policy," Self said.
Don't go
Self was asked about reports Missouri may leave the Big 12 for the Big Ten.
"I hope it does not occur from a selfish standpoint and fan standpoint. It'd take away something if we were just playing once a year in St. Louis or Kansas City, which I'm sure we'd still try to do," Self said.
"I hope that's not the case, but if they do, they do. Our league is fine regardless. Trust me, it'd still be the Big 12 because there would be some school of the same caliber that would want into our league desperately. I hope it doesn't happen because I don't think it's best for everybody involved outside of Missouri, but if it's best for them, they've got to do what they've got to do. From what I understand there's numerous schools on that list that potentially the Big Ten may think about adding."
More on Reed's treys
Tyrel Reed, whose big three gave KU a 61-60 lead with 3:55 left against Cornell — was asked about Tyshawn Taylor comparing his role to that of a football field goal kicker, who enters to provide needed points for the team on a steady basis.
"I never thought of it that way. I guess maybe in that game, it (role) was ... three points like a field goal at the end of the game," Reed said. "I don't know if that's a good comparison, but it sounds all right," he added, laughing.
The Jayhawks enjoyed watching Reed's fist pumping and chest thumping in the film room a day after the victory.
"We saw him go crazy in film yesterday. We were all teasing him about it," Aldrich said. "Tyrel's a little reserved. He is fun, though, because whenever he steps on the court he tries his hardest," Aldrich added. "It' great to see him out there. He's my roommate. I love the kid. He tries so hard. He's one of those kids you look up to."
More like this story on KUsports.com