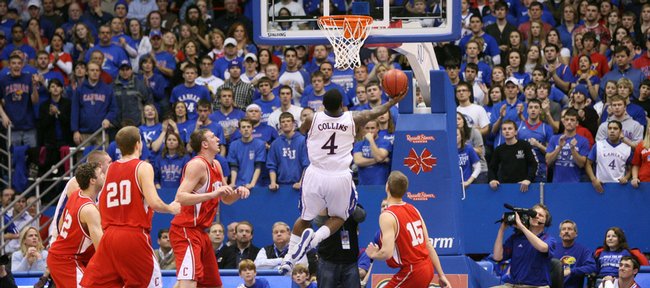 KU scoring — Collins 33 (career high), Xavier Henry 14, Aldrich 13, Markieff Morris 4, Reed 3, Morningstar 3, Marcus Morris 1.
KU was 18-for-49 from the floor (36.7 percent), 7-for-15 from three (46.7 percent) and 28-for-36 from the free-throw line (77.8 percent).
Cornell was 24-for-55 from the floor (43.6 percent), 9-for-26 from three (34.6 percent) and 9-for-14 from the free-throw line (64.3 percent).
KU out-rebounded Cornell, 35-34. Cornell had 16 turnovers to KU's 10.
FINAL: KU defeats Cornell, 71-66
Wittman misses a three from the top. Morningstar was all over him, and Wittman had to double-pump on the shot. Xavier Henry gets the rebound and is fouled with 5.7 seconds left. He makes both free throws.
Louis Dale misses a last-second three, Collins tosses the ball high in the air in celebration, and the Jayhawks escape with a five-point win.
KU 69/Cornell 66 — 12.8 seconds left in 2nd half
Collins takes the ball straight to the rim, putting in a layup with a phantom foul. Cornell's Reeves was so upset with the call that he was nearly T'd up by Steve Welmer. Collins free throw gives KU a two-point lead.
Wittman gets a semi-open look but his three bounces off. Collins gets the rebound, but misses the first free throw. He makes the second to put KU up, 67-64, with 25.2 seconds to go.
Taylor is called for a foul for being in the wrong place on a loose ball scenario, as Wittman falls to the floor in a scramble. Wittman makes both ends of the one-and-one to trim KU's lead to one with 16.8 seconds left.
Collins is fouled immediately with 15.5 seconds left. He makes both free throws to put KU up three.
Cornell calls timeout with 12.8 seconds left.
Cornell 64/KU 63 — 49 seconds left in 2nd half
Wittman, with a double-team, is forced to pass with the shot clock winding down, and Foote misses a short shot off the glass. KU clears the board.
Collins misses a finger-roll, but again, KU gets the benefit of the whistle, as an official says the guard was hit on the head.
Louis Dale cuts to the basket and gets a layup to fall. Collins misses a deep shot on the other end.
Cornell calls timeout with 8 seconds left on the shot clock. After the break, Wroblewski misses a leaner, and Aldrich clears the board.
Xavier Henry misses a shot inside, and he complains to a nearby official. On the other end, Foote puts in a layup as Cornell regains the lead. Timeout KU.
KU 61/Cornell 60 — 3:28 left in 2nd half
Xavier Henry misses another layup. Aldrich misses the follow jam. KU can't get anything to go in.
Collins squirts to the rim, drawing a foul before making two free throws.
Collins, on a drive, has it stripped, but the official calls a cheapie foul from the backside. Two free throws later, and KU is only down two.
Big swing of momentum for Cornell. Foote missed the front end of a one-and-one, but KU couldn't grab the defensive board. Two passes later, a driving Foote put in a layup.
Collins, on a drive, has the ball go off his hands out of bounds. Self calls timeout.
Morningstar defends Wittman well, as his three falls off. On the other end, Collins finds Aldrich, and the big man puts in his second turn-around.
After a Cornell travel, Collins drives before pitching to Reed for a three that gives KU a 61-60 lead. Reed pumps his arm in the air in celebration.
Cornell 58/KU 52 — 7:52 left in 2nd half
Taylor drives and picks up an all-important foul: Cornell's seventh of the half. KU will shoot free throws on each foul the rest of the way.
It won't help, though, if KU can't make the freebies, as Taylor and Xavier Henry both miss the front of one-and-ones.
After getting fouled in the backcourt, Aldrich hits one free throw, but not two. Nothing is coming easy for the Jayhawks tonight.
A flurry of scoring after that. Two twos by Wittman. A three from Collins.
An interesting turn of events after that, as Self told Taylor to switch with Morningstar to guard Wittman. Morningstar wouldn't give up the defensive assignment, and Taylor yelled at him to play defense. The next break in action, Self had words with Morningstar, and Morningstar yelled something at Self, throwing his arms up while backing away. Whatever happened, Morningstar stayed on Wittman after the timeout.
Cornell 51/KU 46 — 11:41 left in 2nd half
Xavier Henry steals an alley-oop attempt, and much like the Jayhawks have been playing all night, he doesn't hesitate to go one-on-two without looking at a teammate. Xavier draws a foul, but misses both free throws.
Xavier forces up another shot in the lane that misses. He's now 3-for-10. The Collins/Xavier and no one else offense isn't working recently.
Aldrich comes away with a block and steal in the lane, and he tosses ahead to Collins, who gets fouled. The senior makes both free throws to end a KU drought.
The crowd comes to its feet, and forced into a corner, a Cornell player calls timeout.
Following the break, Alex Tyler calmly sinks an open 18-footer to quiet the crowd.
KU keeps getting steals but can't convert. Marcus Morris gets the ball underneath but turns back into his freshman self, falling away from a missed layup instead of going strong into the contact.
The good news for KU is the pace has picked up dramatically. A faster pace should mean tired Cornell players down the stretch.
Cornell 49/KU 43 — 15:58 left in 2nd half
Collins makes a tough shot, then misses a tough shot. It appears he's going to win or lose this game for Kansas, and his teammates might not even get a chance to help him offensively.
Cornell 49/KU 41 — 17:19 left in 2nd half
Not a good possession to start the second half for the Jayhawks. Blown assignment on a screen leads to open three. Three misses. Cornell gets offensive rebound. KU double-teams post. Cornell finds open man. Easy layup.
Meanwhile, Xavier Henry tries to shoot his way out of a cold streak, clanking an 18-foot baseline shot with a hand in his face.
KU gets the idea on the next possession offensively. Aldrich gets it inside, draws a crowd, then finds Xavier Henry alone on the perimeter for a wide-open three that swishes through.
Marcus Morris steals a crosscourt pass, but Aldrich misses a turnaround that would have tied it. Geoff Reeves breaks open for another three, and he buries it.
Wittman follows with an off-balance three, and Cornell has opened up an eight-point lead. Timeout KU, and it's officially danger time for the undefeated Jayhawks.
KU scoring — Collins 14 (6-for-10 shooting), Xavier Henry 9, Aldrich 8, Markieff Morris 4, Morningstar 3.
KU was 11-for-27 from the floor (40.7 percent), 4-for-8 from three (50 percent) and 12-for-13 from the free-throw line (92.3 percent).
Cornell was 14-for-26 from the floor (53.8 percent), 6-for-13 from three (46.2 percent) and 7-for-11 from the free-throw line (63.6 percent).
Both teams had 15 rebounds at the break. Cornell had eight turnovers to KU's six.
Some thoughts
• Where would KU be in this game if it hadn't made 92 percent of its free throws?
• Getting Aldrich back in at the beginning of the second half should help KU. He had eight points in just six first-half minutes before picking up two fouls.
• KU has held 87 straight opponents to under 50-percent shooting. The Big Red made 53.8 percent of its shots in the first half. With the limited first-half possessions, the Jayhawks had to play especially poor defensively to give up 41 points.
• Who can KU stick on Ryan Wittman? He's up to 15 points on 4-for-7 shooting from three. KU needs to find an answer quickly, whether it's Xavier Henry or Morningstar.
Cornell 41/KU 38 — Halftime
Out of the timeout, Collins hits a big three for KU, with the assist coming from Xavier Henry. Both guys yell at each other to try to pump each other up.
Collins finishes a tough drive with a layup and foul, and he admires the play afterwards, putting his arms around his knees while sitting and bobbing his head a few times.
Cornell's Alex Tyler gets called for an offensive foul on a rebound, and in anger, he throws an elbow at one of the Morris twins. Self leaps up, demanding a technical foul on the Big Red big man. The coach is going to have to be careful, or he's going to get himself kicked out of this game.
Markieff Morris hits two free throws to put KU up one, but with the fans all standing, Louis Dale answers with a three over Morningstar.
Collins rolls in another tough shot in the lane, but KU is trading twos for threes. Wittman knocks down a deep three to extend Cornell's lead.
Collins once again answers, using some fancy dribbling before hitting a tough, stepback, fadeaway jumper at the buzzer.
Still, KU trails 41-38 at the break.
Cornell 30/KU 26 — 3:05 left in 1st half
If Self wants his team to win ugly, he's getting a glimpse of it here.
Collins misses a forced three, but Xavier Henry picks off two offensive boards before getting fouled. Markieff Morris hit the floor while banging inside for the ball. Self stands to applaud the effort.
C.J. Henry checks in at the 6:25 mark of the first half. Perhaps he can give KU an offensive spark.
Following a three from Wittman, Collins shows some razzle-dazzle, going behind his back with the dribble before putting in a left-handed floater off the glass.
Cornell responds, though, as Chris Wroblewski puts in a three without anyone around him.
The ball is sticking quite a bit for KU right now. Xavier and Collins are trying to take over offensively themselves, shooting early in the possession without looking to teammates.
Xavier Henry puts in another three — this time a wide open one on a crosscourt feed — and Cornell calls a quick timeout to regroup while still up one at 27-26.
Another three for Wittman. KU has to do a better job of getting out to him.
Self once again is hot this timeout. Official Steve Welmer is trying to settle him down, walking him back toward the bench.
Cornell 18/KU 16 — 7:24 left in 1st half
Foote makes two free throws out of the break, and he follows with a layup to push Cornell's lead to three.
Thomas Robinson attempts a move inside and loses the handle, turning it over. Self bangs his hand loudly against the Chipotle sign next to him. That's KU's fifth turnover already, and Cornell's defense isn't known as one that forces a lot of turnovers.
Aldrich breaks KU's slump with two free throws, and in transition, Morningstar dumps a nice pass over the top to Aldrich for an easy two. Self, who hasn't been happy for most of this one, even stands to applaud the play.
Aldrich picks up his second foul with 8:46 left. He'll most likely sit the rest of the half.
Self is really getting on the official near the bench, and his temper boils over after Cornell puts in a layup. The coach calls timeout, then marches over to the official on the other side, saying, "That's a travel right in front of you," motioning a travel with his hands. The outburst earns Self a quick technical foul, but maybe that will be something that gets the team and fans fired up.
Collins gets to the rim on a drive for two, and predictably, the crowd is as loud as its been all night.
KU 10/Cornell 9 — 11:35 left in 1st half
Cornell goes to a zone (What was wrong with holding KU to four points in 4 1/2 minutes?) and immediately, Xavier drains an open three. Cornell wisely switches back to its man defense after that.
Markieff Morris tries to dump a pass into his brother, Marcus, but the pass is intercepted in traffic. The bad play seems to affect Markieff defensively, as he commits a foul that contributes to a three-point play on the other end. Self quickly checks him out.
It's no secret that Cornell's gameplan is to limit possessions as much as possible. The Big Red is taking almost all the time off the shot clock each possession.
Brady Morningstar throws home a three, and KU has regained the lead at 10-9.
An early nomination for KU student sign of the year: "I've got 99 problems but Aldrich ain't one." I got a chuckle out of that one.
KU 4/Cornell 4 — 15:43 left in 1st half
So far, the offense for Cornell hasn't been from the guards, but instead from seven-footer Jeff Foote inside. The big man gets the ball in the lane the first two possessions and takes it right at Cole Aldrich, putting in a short turnaround then a longer hook shot off the glass.
Meanwhile, after a layup 10 seconds in by Aldrich, KU goes cold offensively. Xavier Henry and Sherron Collins miss tough shots, and Xavier and Tyshawn Taylor also give away unforced turnovers on poor passes.
KU allows three straight offensive rebounds before a Cornell player has the ball slip out of his hands and out of bounds. Self stands up from the bench to scream at Markieff Morris before the media timeout begins.
7:03 p.m.
I have to admit, I underestimated the KU fans a bit.
Though we're not full, people have filled in nicely into the empty spots. There are still some gaps in the upper northwest corner, the upper southwest corner and in the south end zone, but we're not talking about more than four or five rows.
6:55 p.m.
Here are some last-minute notes about Cornell, which enters with a 12-2 record.
• Cornell's opponents have made 39.4 percent of their three-point attempts this year. The NCAA average for three-point percentage is 34.2 percent.
• The Big Red has made 45.6 percent of its three-pointers in true road games.
• Cornell has a 10-game winning streak and is 9-1 away from home this year.
6:37 p.m.
I'll go ahead and say it now so folks won't freak out when they turn on the TV tonight: This isn't going to be a full Allen Fieldhouse.
It's as empty right now as I've ever seen it 23 minutes before a game. Not only is the dreaded northwest corner empty, but the other three corners and both end zones have plenty of empties as well.
Looks like the snow and poor road conditions have kept many of the out-of-town travelers at home tonight.
5:53 p.m.
Welcome back to the Newell Post Live, coming to you from snowy Lawrence and Allen Fieldhouse where the Kansas Jayhawks are getting set to take on the Cornell Big Red.
So what's the most important thing about tonight's game for KU, other than the Jayhawks getting the victory?
I'll be most interested in watching the Jayhawks' perimeter defense against Cornell's sharp-shooters.
The Big Red comes in with perhaps the most impressive collection of three-point shooters statistically that I've seen in a college game.
Let's go over the numbers.
• Cornell is shooting 43.3 percent as a team from three, good for third nationally.
• The Big Red have shot 305 three-pointers this year — an average of 21.8 per game.
• The three players that have shot the most threes for Cornell this year are all shooting above 43 percent from beyond the arc. Ryan Wittman (181 attempted) is shooting 43.8 percent, Chris Wroblewski (56 attempted) is shooting 44.6 percent and Burlington native Geoff Reeves (46 attempted) is shooting 47.8 percent.
To KU's credit, it has been a good three-point defensive team so far this season. Opponents have made 26.5 percent of their threes against the Jayhawks, which is the fifth-best mark nationally.
That doesn't mean there isn't room for improvement.
When KU coach Bill Self was asked about his team's three-point defense against Temple (the Owls were 5-for-29 for 17.2 percent), Self commented that he wasn't particularly happy with his team's effort, saying that teams don't shoot 29 threes if they're not getting open looks.
Either way, it will be interesting to see how KU matches up tonight. I'm guessing Tyshawn Taylor will start on Wittman (18.9 points per game), though I'd expect to also see Brady Morningstar on him some as well.
One perimeter defender isn't enough against Cornell, though. KU will need contributions from Sherron Collins, Xavier Henry and Tyrel Reed (who I thought played great defensively against Temple) tonight.
Self won't be able to hide a weak perimeter defender. If someone is late around a screen or slow getting out to the arc, we should see Cornell cash in with three points.
Be sure to vote in the poll on the left, and also use #kubball to have your tweets show up on the left side of this page.
http://justin.tv/sremlahc10, password: phog also is the answer that many of you will be looking for.
More like this story on KUsports.com